Publié le par Bernard Duyck
Located in Syria, and difficult to visit for the moment, the volcanic field Es Safa (or Al Safa, Tulul al-Safa) is only revealed on the satellite images.
This basaltic volcanic field is part of one of the largest volcanic fields located on the Arabian tectonic plate: The Ash Shamah Harrat, which runs parallel to the Dead Sea Fault Zone (DSFZ), and extends from northeastern Israel through southern Syria and Jordan to Saudi Arabia. Its surface covers more than 50,000 km².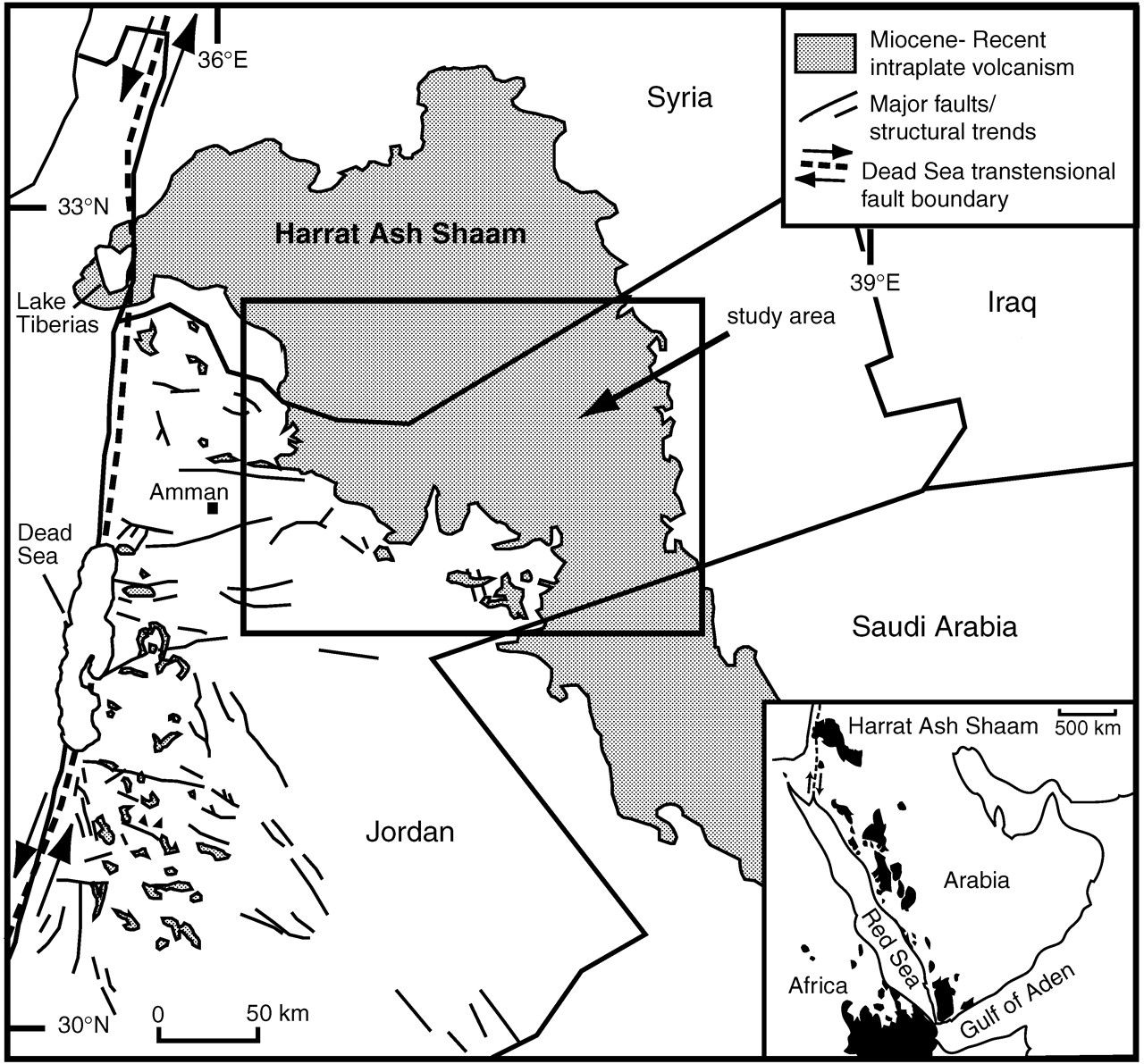 Map of the intraplate volcanic field Harrat Ash Shamah along the DSFZ - In the insert, map of the Afro-Arab region with its volcanic fields in black.
Its thickness varies between 100 meters and 1500 meters, and even reaches 1800 m. on the Syrian plateau.
In Jordan, its average thickness is less than 150 meters and covers an area of ​​11,400 km².
It is characterized by a series of subhorizontal lava flows of about 25 m. thick, numerous slag cones, extensional faults and large eruptive fissures in association with feeder dikes.
The lavas are composed of alkaline basalts, basanites, tephrites, hawaiites, mugearites, and rare trachytes and phonolites.
The Harrat Ash Shamah field is dated by the K-Ar method between the Oligocene (34 Ma) and the Quaternary, with an interruption between 22 Ma and 13 Ma, which corresponds to a decrease of volcanism and a tectonic activity restricted to the region. of the Red Sea.
A resumption of volcanism along the western edges of the Arabian Plate around 13 Ma is likely associated with a leftward movement along the Dead Sea transform fault, and may reflect the emergence of upper mantle upwinds beneath the plate.
The Es Safa volcanic field, about 17 km in diameter, is located southeast of Damascus and contains many cones, active at the beginning of the Holocene (a period that begins approximately 12,000 years ago.)
These cones are aligned on a north-west / south-east axis, indicating faults through which the magma has risen, two parallel alignments are visible in the image below.
Its most recent activity dates back to 1850, when there is a boiling lava lake. In the images, the recent flows form a very dark zone, which covers older flows, with the surface lightened by the accumulation of sediments in weak depressions.
The Syrian crater area has long been inhabited by Druze communities; they used these slag cones as a refuge during the war years.
Sources:
- Global Volcanism Program - Harit Ash Shamah
- Petrogenesis of the largest intraplate volcanic field on the Arabian plate (Jordan): a mixed lithosphere-asthenosphere source activated by lithospheric extension. by J. Shaw et al. / Journal of Petrology. - link
- GFZ Potsdam - Magma genesis and mantle dynamics at the Ash Shamah Harrat volcanic field (southern Syria) - M.-S. Krienitz & al. - link