Publié le par Bernard Duyck
At Piton de la Fournaise, despite some fluctuations, the intensity of the eruptive tremor (indicator of the intensity of the eruption) remains relatively constant.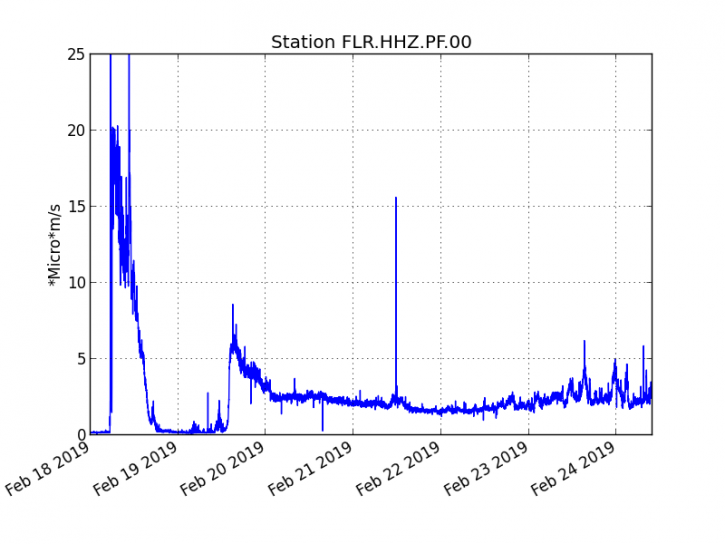 Piton de la Fournaise - Evolution of the RSAM (indicator of the volcanic tremor and the intensity of the eruption) between 09:48 (05:48 UTC) February 18 and 14:00 (10:00 UTC) February 24 on the seismic station of FLR. (© OVPF / IPGP)
Over the past 36 hours, 10 superficial superficial volcano-tectonic earthquakes (above sea level) have been recorded.
After a deflation of the building related to magma transfer that occurred on 18/02/2019, the deformations of the summit zone do not show any particular signals.
The CO2 concentrations in the near field soil (volcano deposit area) remain high.
Over the last 36 hours, surface flows estimated from satellite data, via the HOTVOLC platform (OPGC - University of Auvergne), fluctuated between 2.5 and 13 m3 / s.
Observations from the OVPF webcam located in Piton des Cascades show that the casting front has not progressed or very little since 21 February.
Source: OVPF
Retrouvez l'ensemble des informations relatives à l'activité du Piton de la Fournaise sur les différents médias de l'OVPF-IPGP:
- le site internet (http://www.ipgp.fr/fr/ovpf/actualites-ovpf),
- le compte Twitter (https://twitter.com/obsfournaise?lang=fr),
- et le compte facebook (https://www.facebook.com/ObsVolcanoPitonFournaise/)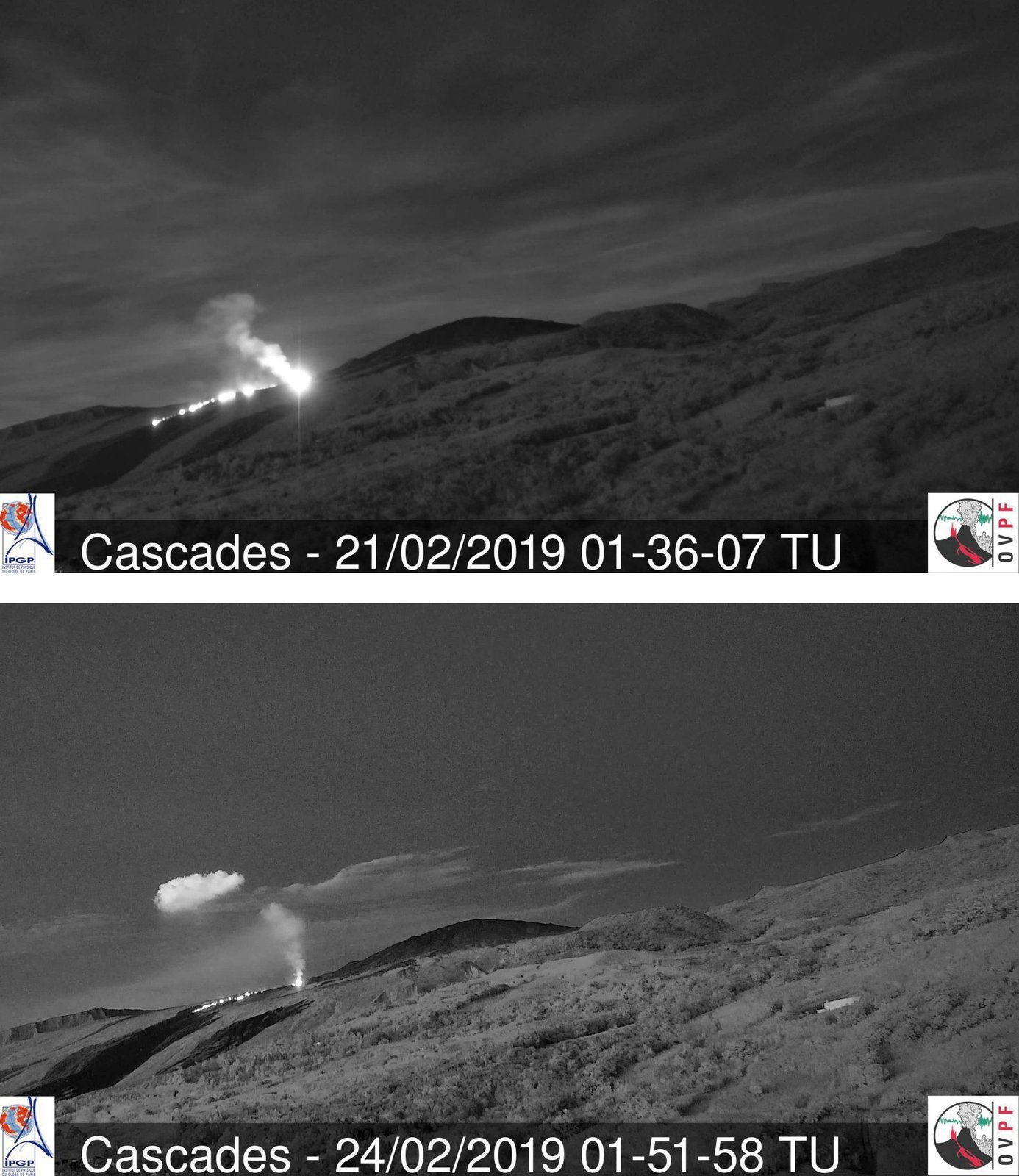 Piton de la Fournaise - between 21.02 and 24.02, the lava front has not really progressed - webcam Cascades / OVPF
A moderate eruptive activity continues in Karymsky on the Kamchatka peninsula. On February 24, a plume of ashes rose on February 25 at 2:53 to 3,000 meters asl., drifting then to the ESE for 80 km.
The VONA stays orange.

Sources: KVERT & VAAC Tokyo
In Nyamuragyra, a neighbor in Nyiragongo Central Africa, the activity in progress since 18 April 2018 has continued; the seat of activity in the caldera is located in a pit crater, almost full.
A recent helicopter expedition took place in February; Patrick Marcel sent us an aerial photo of the caldera and its activity.
Slight thermal anomalies were detected by Mirova, when cloud cover permitted, between 3 and 21 MW on 23 February.
Sources: Patrick Marcel, Global Volcanism Program and Mirova