Publié le par Bernard Duyck
In Costa Rica, Poas experienced some eruptions in the morning of 8 February.
Four eruptions are reported between 5 and 7 o'clock, accompanied by plumes between 100 and 200 meters above the active crater.
At 10h10, a new eruption, with a black plume that rose straight 200 meters above the crater, lasting 2 minutes, is observed by the Ovsicori and the RSN.
At 10:47, the eruptive activity is marked by a plume rising 100 meters above the crater.
At 12:44, an eruption lasting 2 minutes was accompanied by a plume at a height of 200 meters above the crater.
Sources: Ovsicori & RSN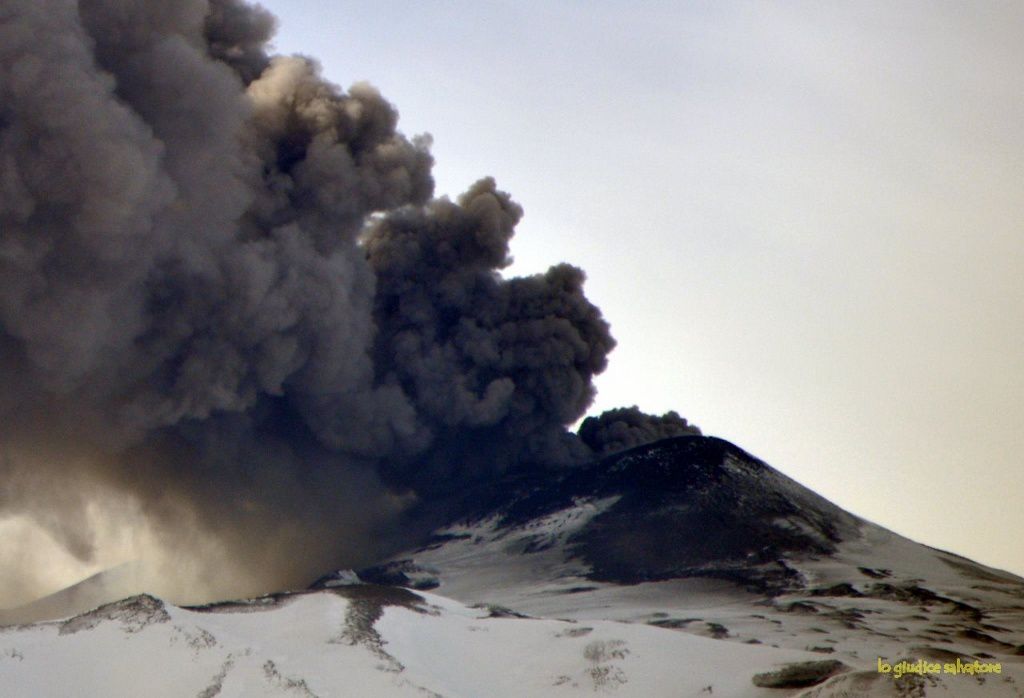 Etna - ash emission from the northeast crater 08.02.2019 - photo from Linguaglossa / Salvatore Lo Giudice
At Etna, violent strombolian explosions are observed at the northeast crater from 8:40 am on February 8, accompanied by a dense ash plume pushed by the wind blowing from the north to an east and south-east sector.
The risk unit at Fontanarossa Catania Airport, a moment in a state of pre-alert, allowed all the air movements, given the direction taken by the ashes.
Sources: Salvatore Lo Giudice, Gio Giusa, Guide Vulcanologiche Etna North and Mobilita / Catania
In Chile, the Villarica has presented these 7 and / or February Strombolian explosions.
On February 7, ballistic projections were observed on the webcam at 29 meters above the crater rim; On February 8th at 4:57 am, incandescent bombs were reported on the north-east upper flank.
The dynamics of the lava lake remain fluctuating, and the POVI reports similar episodes on January 3 and 24.
Sources: POVI & Sernageomin
At Merapi, on the island of Java, the activity of the summit dome continues with regular glowing avalanches and sometimes observed over a long distance.
Some surveys: on February 7th, at 18:28 WIB, the episode lasted 215 sec, for an amplitude of 70, and an avalanche length of ± 2 km in amont of Kali Gendol; On February 9, at 4:34 WIB, the episode lasted 130 sec. for an avalanche of 1,300 meters long.
The activity level remains at 2 / waspada
Sources: BPPTKG & PVMBG