Publié le par Bernard Duyck
The activity of Popocatépetl, begun on February 14th at 9pm and mentioned yesterday, lasted seven hours; this episode of Strombolian activity consisted of explosions and ejections of incandescent fragments over 1,500 meters on the flanks of the volcano, accompanied by a plume of ashes going up to a height of 2,000 meters, scattered towards the southwest.
Ash fallout is reported from the communities of Hueyapan, Tetela del Volcan, Zacualpan, Temoac, Jantetelco, Cuautla, Ocuituco and Yecapixtla, Tochimilco, and Puebla.
The seismic activity then returned to previous levels.
In addition, 67 exhalations of steam and gas and five explosions were recorded during the day; ten minutes of harmonic tremor have been recorded.
The activity remains within the framework of the amarillo alert fase 2.
Sources: Cenapred, Mirova & Luis Garcia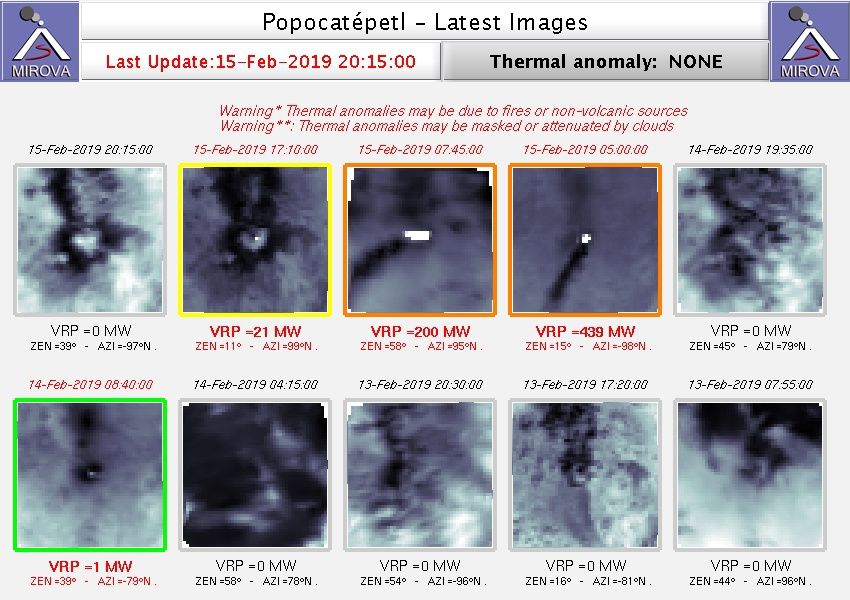 Popocatepetl - thermal anomalies on 15.02.2019 / 20h15 & high activity on 15.02.2019 - Doc. Mirova Modis
The Sernageomin informs two explosive episodes at Nevados de Chillan this February 15, respectively at 01:09 local and 04:52 local; both explosions were accompanied by emissions of gas and pyroclastic material at high temperatures, which were deposited near the center of emission. They are associated with an LP earthquake, in relation to fluid movements in the system.
This activity is interpreted as a new episode of partial destruction of the Nicanor Dome.
Source: Sernageomin
In Costa Rica, Poas and Turrialba experienced eruptions on February 15.
In Turrialba, an episode at 8:34 local was accompanied by a plume 300 meters above the crater, and another at 13:30 local, a plume at 1,000 meters above the crater.
In Poas, the eruption continues with ash emissions of fluctuating intensity while recorded seismic signals remain stable and low. The CO2 / SO2 and H2S / SO2 ratios remain low and stable.
Sources: Ovsicori & RSN
At the Piton de La Fournaise, still in level alertness, there are many volcano-tectonic earthquakes: on February 14, 29 earthquakes VT, the strongest of M1.63 are recorded, and on February 15, 11 earthquakes VT , including the strongest of M0.48.
The GPS record inflation, witnessing the pressurization of a superficial source and a deep source.
Far-field CO2 emissions from the ground: low concentrations
Near-field soil CO2 emissions: stable at high levels since mid-December.
Source: OVPF
Find all the information related to the Piton de la Fournaise activity on the different media of the OVPF-IPGP:
- internet (http://www.ipgp.fr/fr/ovpf/actualites-ovpf),
- Twitter (https://twitter.com/obsfournaise?lang=fr),
- Facebook (https://www.facebook.com/ObsVolcanoPitonFournaise/)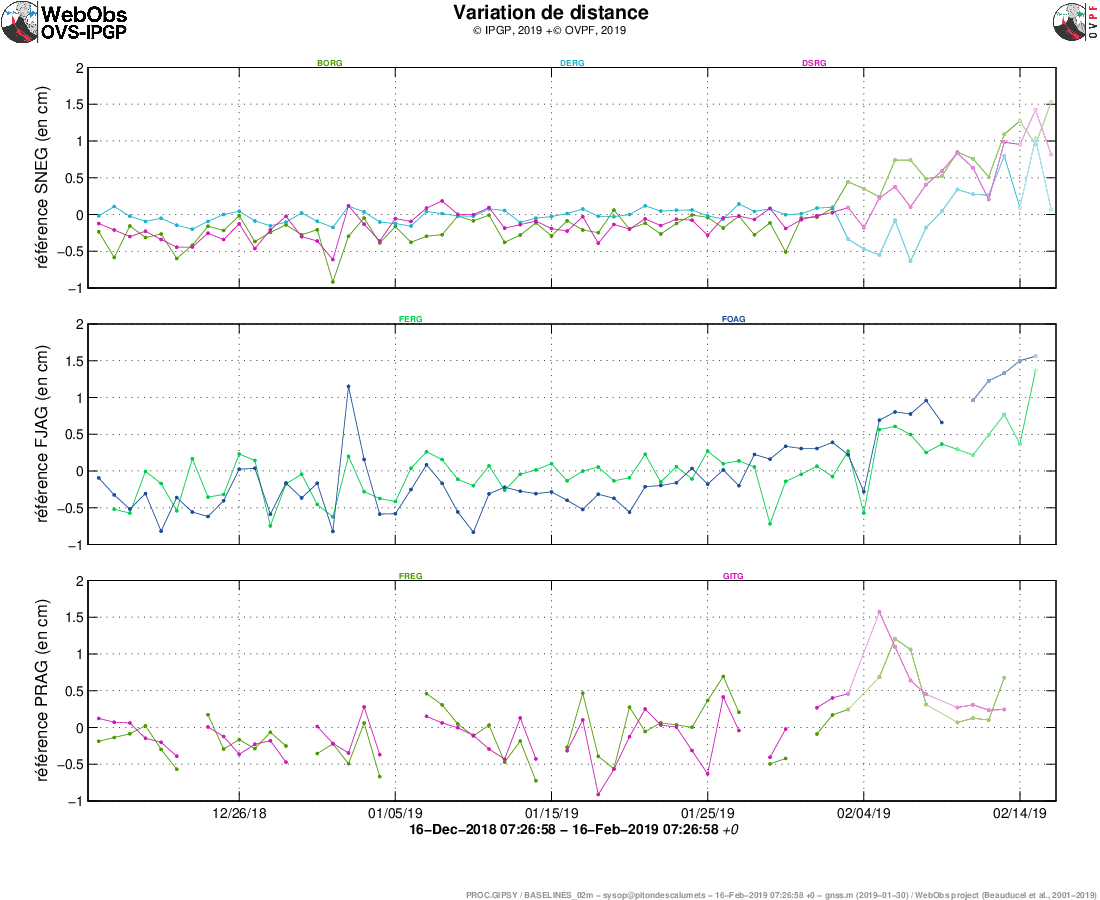 Piton de La Fournaise - Illustration of the deformation from 16,12,2018 to 16,02,2019 - Are represented here baselines (variation of distance between two GPS receivers) crossing the building of Piton de la Fournaise, at the top (at the top), at the base of the terminal cone (in the middle) and in the far field (at the bottom) (see location on the associated maps). A rise is synonymous with elongation and therefore swelling of the volcano, inversely a decrease is synonymous with contraction and therefore deflation of the volcano. Any periods colored in light pink correspond to eruptions. - Doc. OVPF