Publié le par Bernard Duyck
The Karangetang lava flow has reached the ocean: the encounter between lava and seawater produces a white plume of steam and volcanic gases; Given the low fluidity and the lower temperature, compared to the lava / water encounter during the recent eruption of Kilauea, the reaction seems moderate ... but the possible health problems, due to acid plume and particles, remain identical. The block collapses at the level of the lava flow raise brown ashes.
In the last 48 hours, the authorities evacuated 110 inhabitants from 5 villages. Four boats are deployed for immediate evacuation in case of danger.

Sources: Kompas video and The Watcher
Karangetang - entry of lava at sea - KOMPAS TV Added on Feb. 5 2019
Karangetang - Vision of the summit and surrounding areas made by drone in 2018; crater views start at 5'29. - hshdude video
In Chile, eruptive activity continues in Peteroa this February 6, with continuous emissions of ash.
This activity is part of the Amarillo level alert.
Source Sernageomin
Peteroa - continuous ash emissions from 06.02.2019, at 7:11, 10:11, 14:42 and 18:22 - photos CNEA - SEGEMAR - one click to enlarge.
Recent photos of Villarica show a volcano with an open conduit, which houses a permanent lava lake in its crater.
Continuous gas explosions, mainly H2O, CO2, and H2S, eject lava spatters, which form a crust of pyroclastic materials by agglutination, and small cones of slag, as seen in the photos.
When the crust or walls of the slag cone collapse, small columns of ash can be observed.
The Villarica is for the moment in Verde technical alert.

Sources: Volcanologia in Chile, and Sernageomin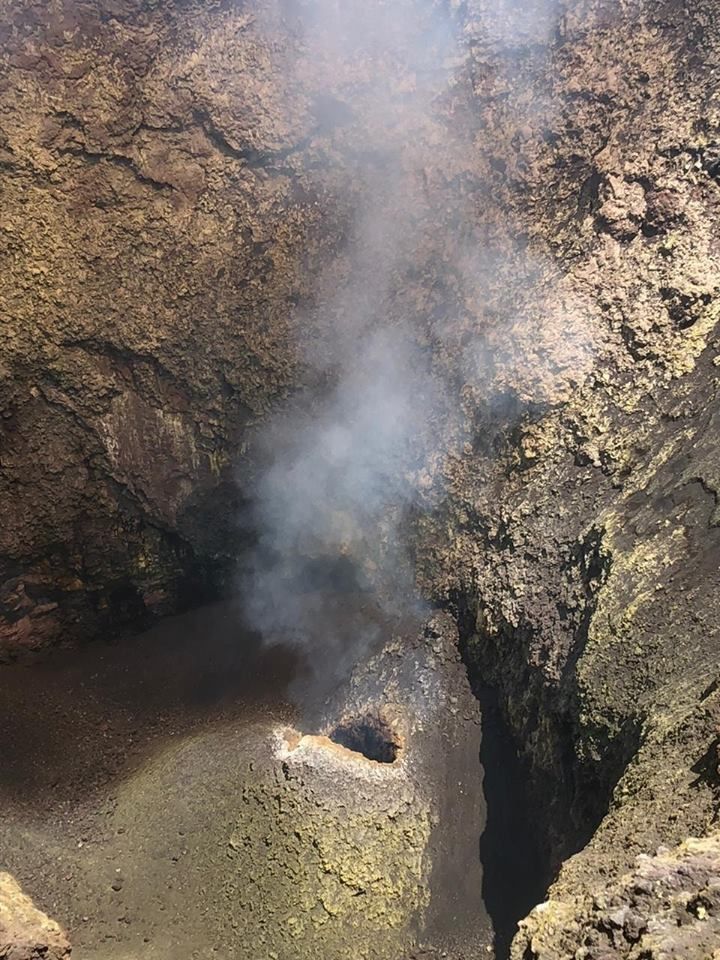 Villarica - crater and its internal scoria cone - photo Nicolás Luengo / Volcanologia en Chile - one click to enlarge
The Fuego, in Guatemala, continues to present explosive activity in recent days, with 13 to 16 weak to moderate explosions accompanied by ash plumes at 4.400-4.700 meters asl, scattering over a wide area according to the winds.
Incandescence is observed at 200 -300 meters in height, as well as avalanches in the contours of the crater and the barrancas.
Ash falls are observed in El Rodeo, El Zapote, Celan, La Rochela, Panimache, Morelia, Santa Sofia, and Sangre de Cristo.
Source: Insivumeh & Sentinel 2 / via Rüdiger Escobar Wolf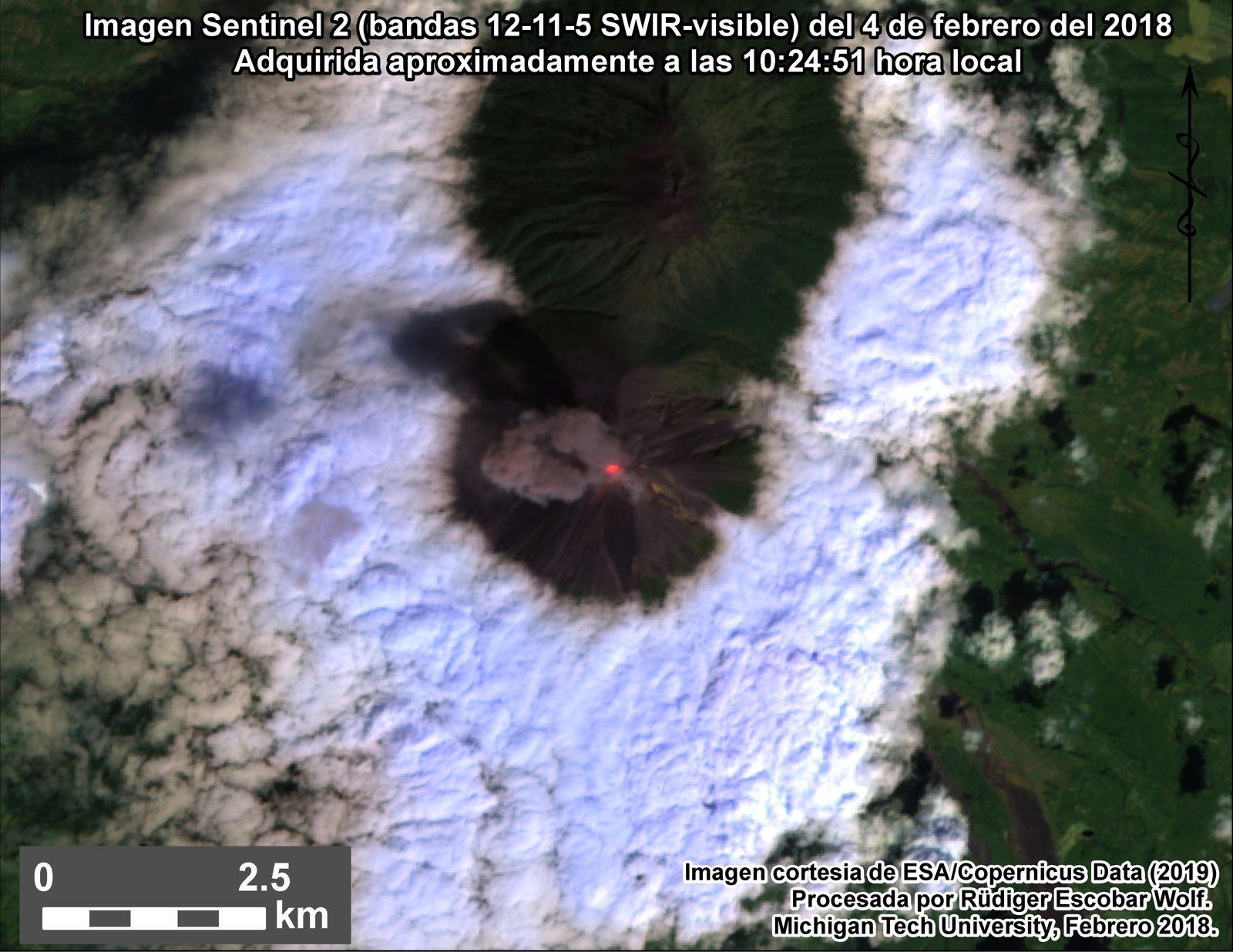 Fuego - image Sentinel 2 bands 12,11,5 SWIR-Visible from 04.02.2019 / 10:24 am - via Rüdiger Escobar Wolf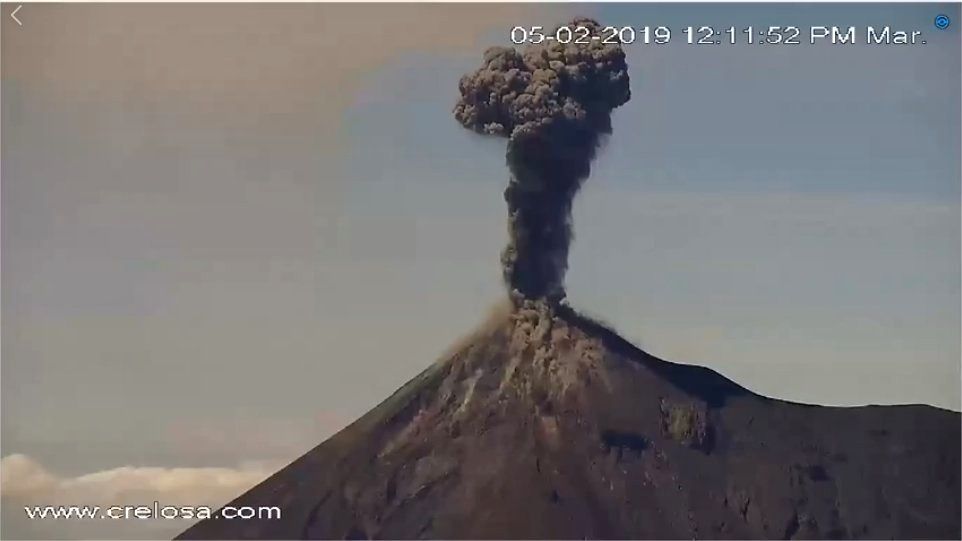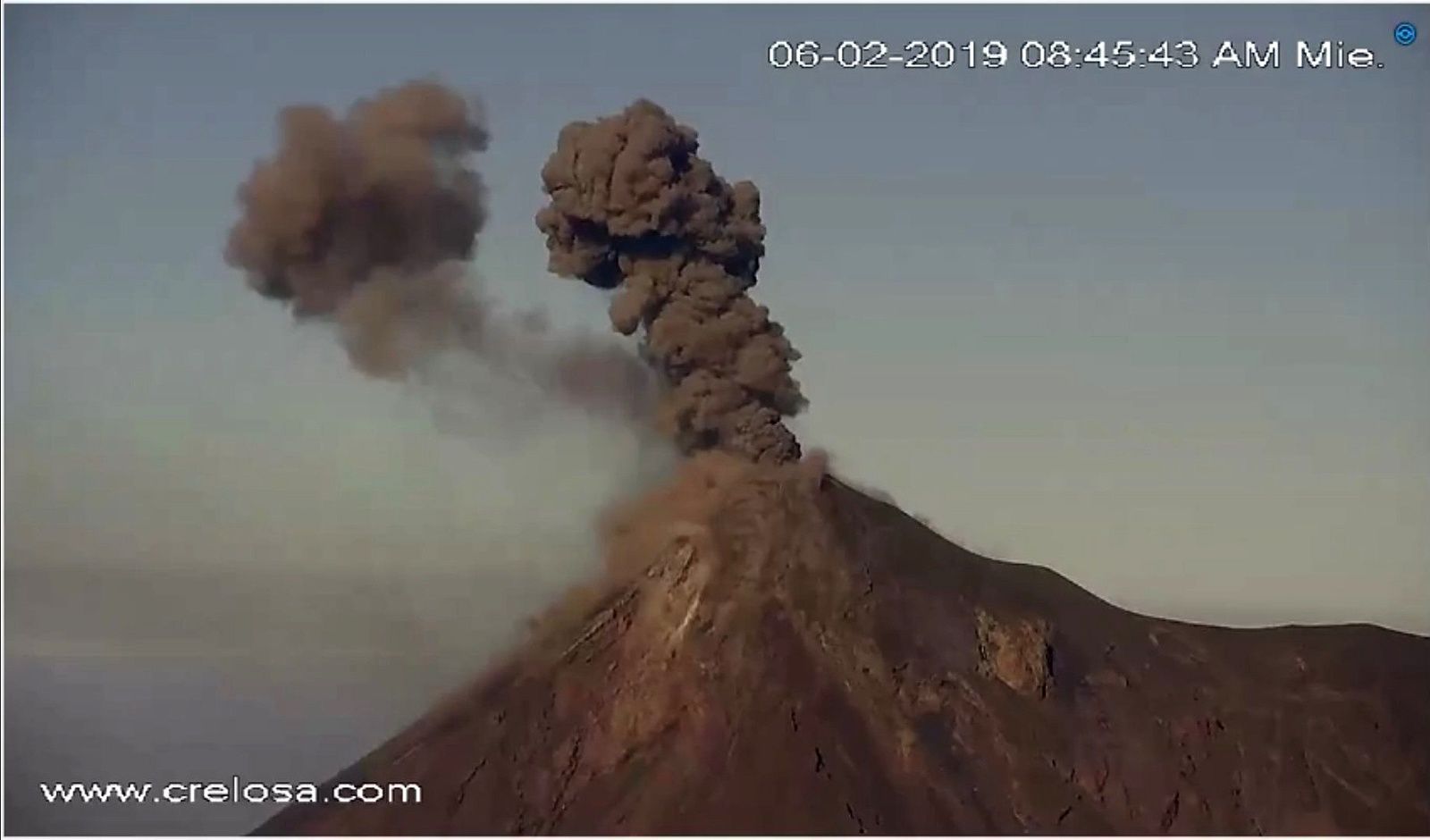 Fuego - ash plumes from February 5th / 12h11 and from 6 February / 8h45 - photos Crelosa via Clima guatemala