Publié le par Bernard Duyck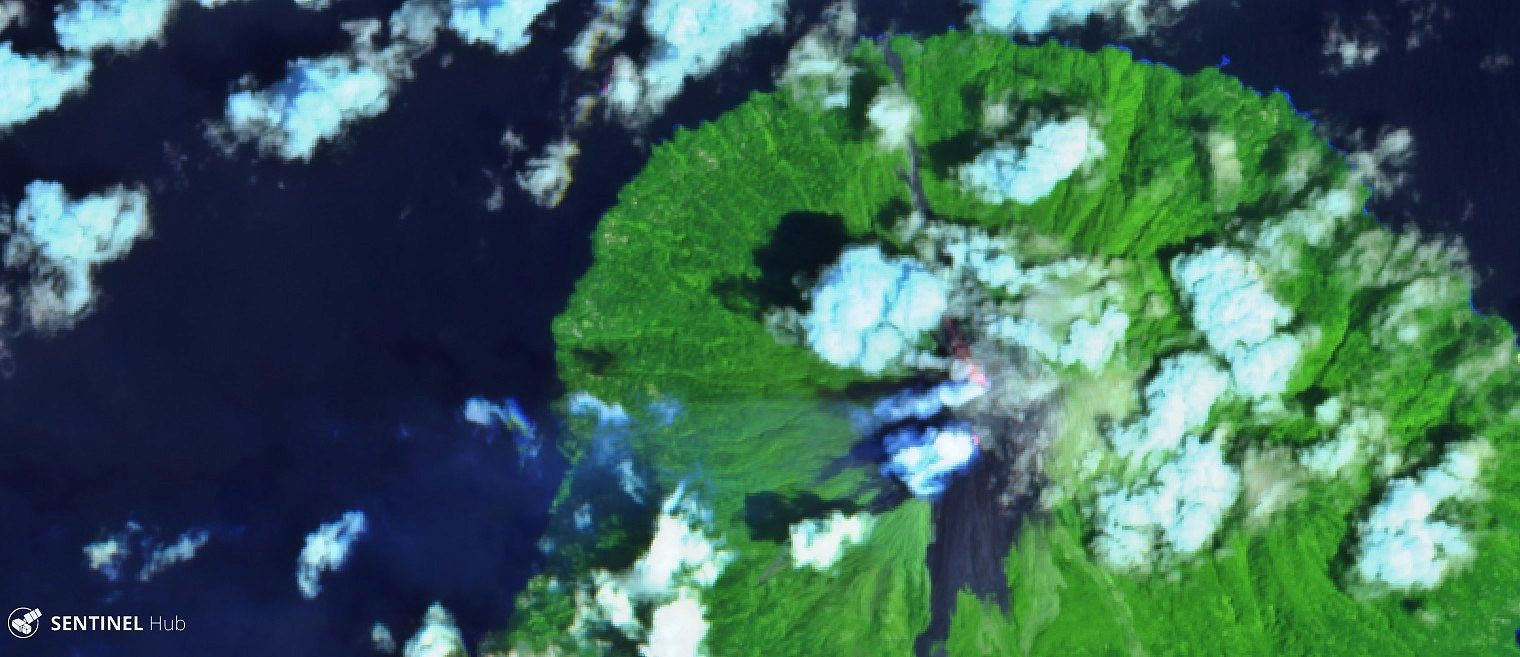 Karangetang - image Sentinel-2 image bands 12,11,4 of 13.02.2019 - an incandescent is limited to the two summit craters and the beginning of a flow - one click to enlarge
In Karangetang, North Sulawesi, the recent lava flow, which cut the coastal road towards Batubulan village and created a lava delta, has now stopped (Andi volcanist).
Large gas emissions still mark the two summit craters, and moderate thermal anomalies are reported by Mirova, from 2MW on February 13, to 27-30 MW on February 15th. The presence of a lava dome is reported at the north crater.
The seismicity remains high, with, on February 13, 22 earthquakes of collapses, 23 blast earthquakes, a volcanic earthquake; on February 14, the PVMBG reports 27 earthquakes of collapses, 30 earthquakes of blast, two superficial volcanic earthquakes and one deep, two hybrid earthquakes. During the last two days, continuous tremor was recorded with dominant amplitude at 0.25 mm.
The alert level is maintained at 3 (on a scale of 1 to 4). The population is asked to stay outside the 2.5 km exclusion zone around N and S craters and not to penetrate within 3 km to ONO and 4 km NW. The evacuated village population, which can only be reached by sea, is still not allowed to return.
Sources: PVMBG - Mirova - Andi Rosadi / Volcanodiscovery
Constant explosions marked Popocatépetl in Mexico on February 14 from 9 pm, accompanied by steam and gas exhalations at an altitude of 2,000 meters towards the south-west and incandescent materials at 1,200 meters above the crater.
During the last 24 hours, 140 exhalations were recorded, as well as 5 volcano-tectonic earthquakes of magnitude between 1.8 and 2.1.
This type of activity remains in the norms of the volcanic alert Amarillo fase 2.
Source: Cenapred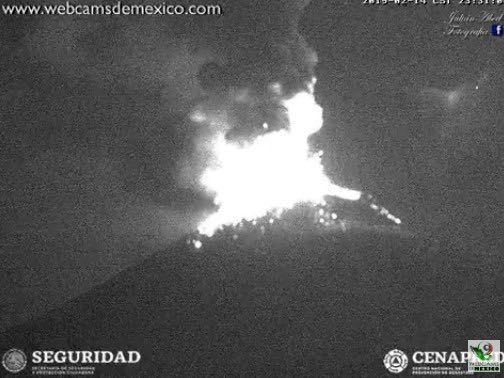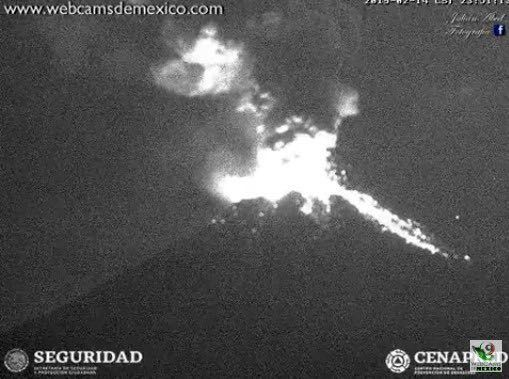 Popocatépetl - explosions on 14.02.2019 in the late evening - Webcamsde Mexico / Cenapred / Seguridad
In Chile, the Volcanological Observatory of the Southern Andes / OVDAS reports an increase in the height and flow of particulate matter at the Planchón Peteroa; the plume reaches 2,000 meters above the active crater, and disperses to the north-west and the central valley, under the impulse of the "puelche" wind.
Alert level remains at amarillo, and OVDAS signals the possibility of possible new episodes of similar or higher energy.
Source: Sernageomin / OVDAS and Volcanes de Chile
In Azerbaijan, the Gushchu mud volcano erupted on February 13 at 6 am local time, 150 m away. of a village.
The projections, from a height of 4 to 5 meters, covered 2 hectares and caused many deformations and cracks that damaged some houses.
This activity follows earthquakes that occurred in Shamashi and Agsu on February 5, according to the Department of Mud Volcanism at the National Academy of Sciences.
This mud volcano has erupted 15 times over the last 200 years; the strongest are dated 1917, 1941 and 1992.
Sources: Azer News and Trend News agency