Publié le par Bernard Duyck
Since 3 pm local this February 19, a new seismic crisis is recorded on the instruments of the Volcanological Observatory of Piton de la Fournaise. This seismic crisis is for the moment accompanied by no rapid deformation. It shows a weakening of the medium that can be associated with an injection of magma towards the surface. An eruption is possible in the near future in the next minutes or hours.
This activity is currently focused on the area where the previous eruption occurred (ended last night).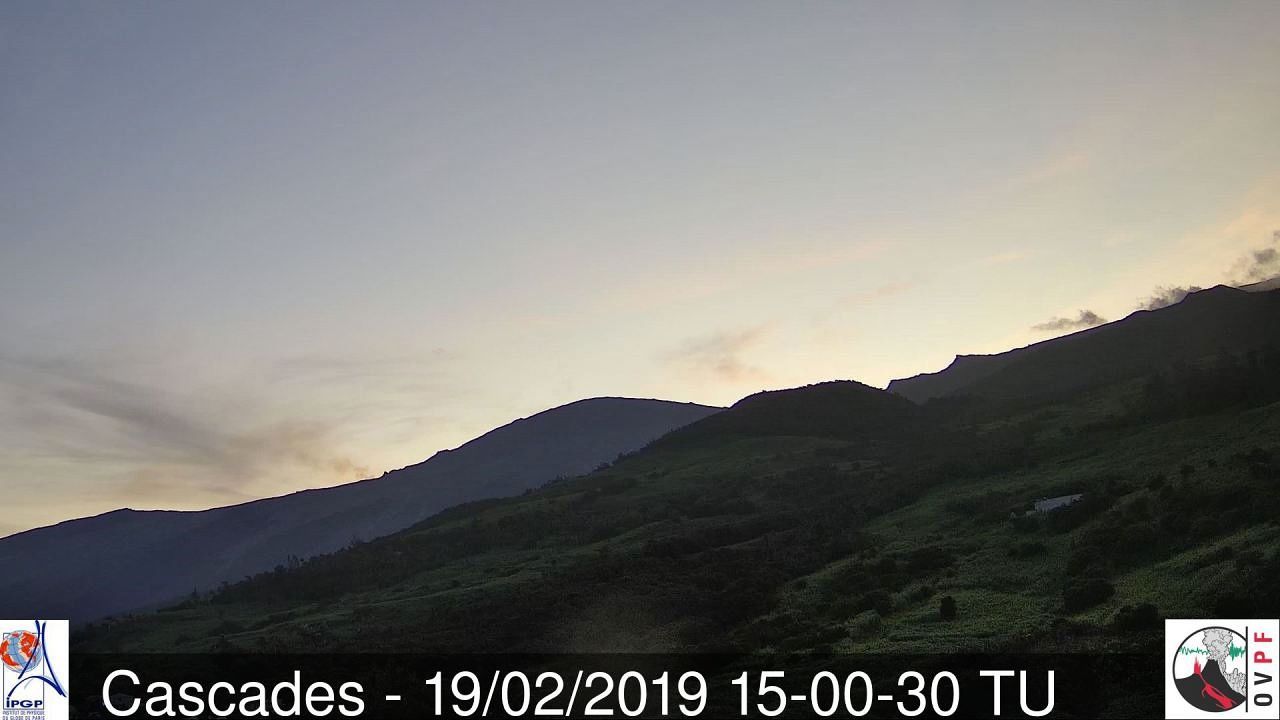 Piton de La Fournaise - 19.02.2019 / 15h GMT - a plume is visible on the left of the photo - webcam Piton Cascades OVPF
Around 17h, appearance of the tremor and opening of a new crack iust above the Cassé des Grandes Pentes ... low enough, and to allow to the lava a rapid descent because of the slope.
At 17:50, the first observations of a gas plume by a team of the OVPF in the area of ​​"Signal de l'Enclos" (south-east flank), then the 1st reddenings, synonymous with lava on the surface, are observed around 19h12.
The area is in the field of two webcams: that of Piton Cascades and that of Piton de Bert, and the eruption will be visible from the lava road.
Piton de La Fournaise - sequence since 3:19 pm UTC at 3:24 pm UTC - webcams Bert and Cascades - one click to enlarge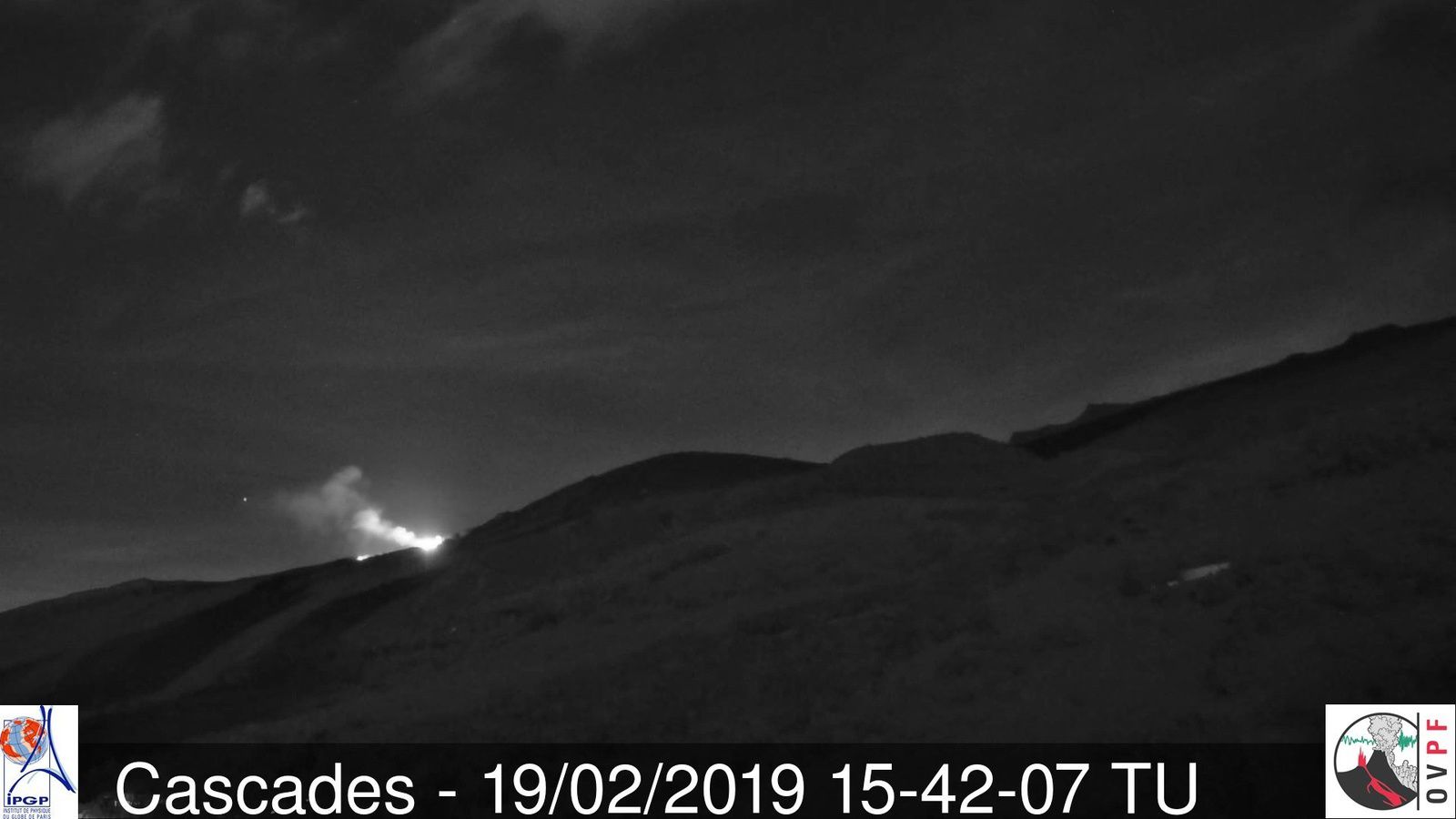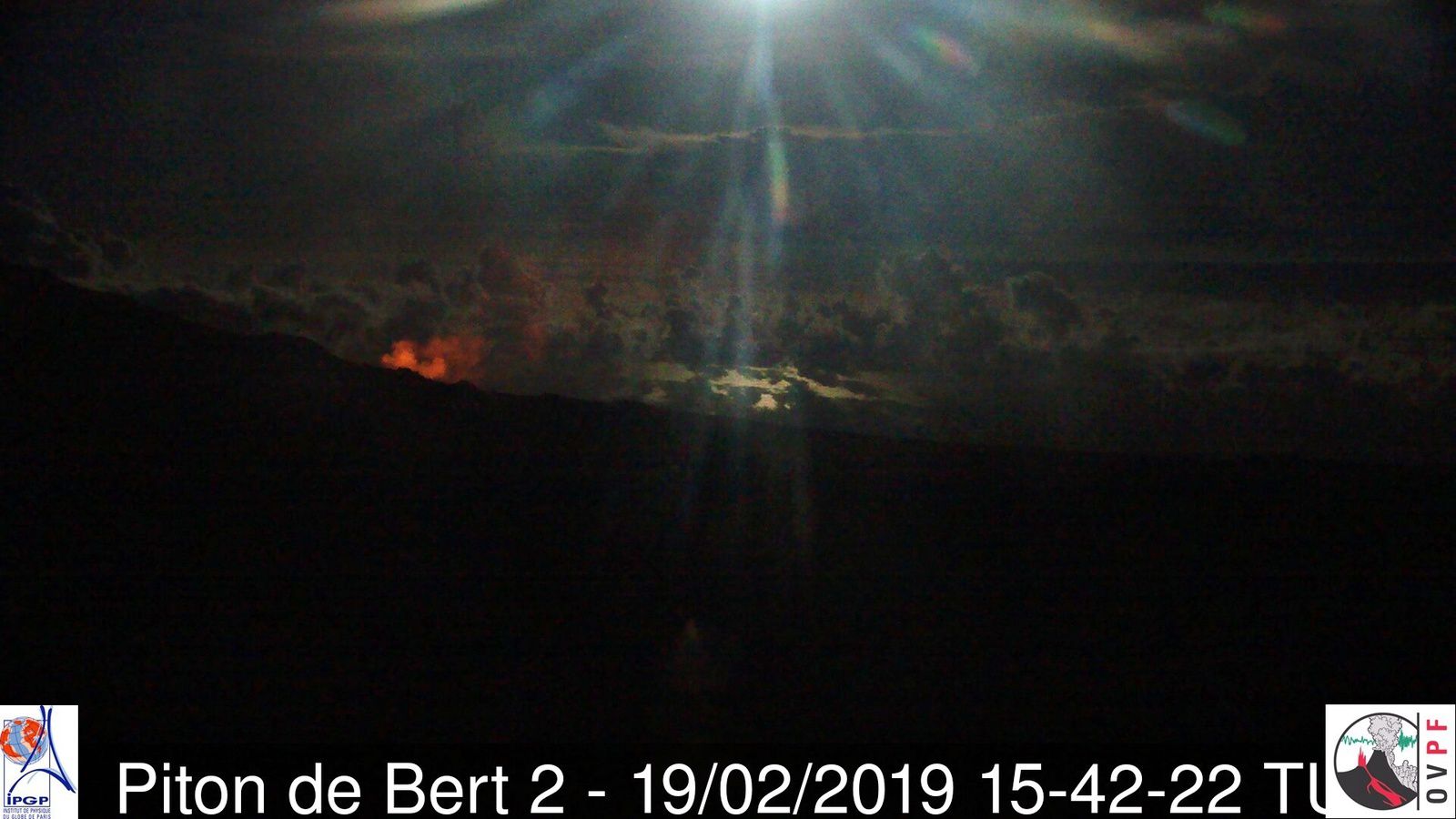 Piton de La Fournaise - 19.02.2019 / 15:42 UT - glow and redness ... lava in surface - webcams Cascades et Bert
Soil CO2 concentrations in the volcano Gite area and in the Plaine des Cafres region are in sharp decline, consistent with ongoing magma transfer to the surface.
Note that no deformation was recorded during this phase of magmatic injection to the surface meaning that the dyke that fed this crack or these new cracks is the same as the one that fed the eruption of 18/02/2019.
Given the presence of hot and incandescent gas, and the possibility of short-term lava emissions, the Prefect decided to implement the alert phase 2-2 of the specific ORSEC volcano "eruption in progress in the enclosure "this Tuesday, February 19 at 18:30.
Public access to the Fouqué enclosure, from the Pas de Bellecombe trail or from any other trail, as well as the landing of aircraft in the volcano area, are prohibited until further notice.
Sources: OVPF, Prefecture of Reunion, Bruno Coessens in observation on the lava road.
Find all the information related to the Piton de la Fournaise activity on the different media of the OVPF-IPGP:
- the website (http://www.ipgp.fr/fr/ovpf/actualites-ovpf),
- the Twitter account (https://twitter.com/obsfournaise?lang=en),
- and the facebook account (https://www.facebook.com/ObsVolcanoPitonFournaise/)