Publié le par Bernard Duyck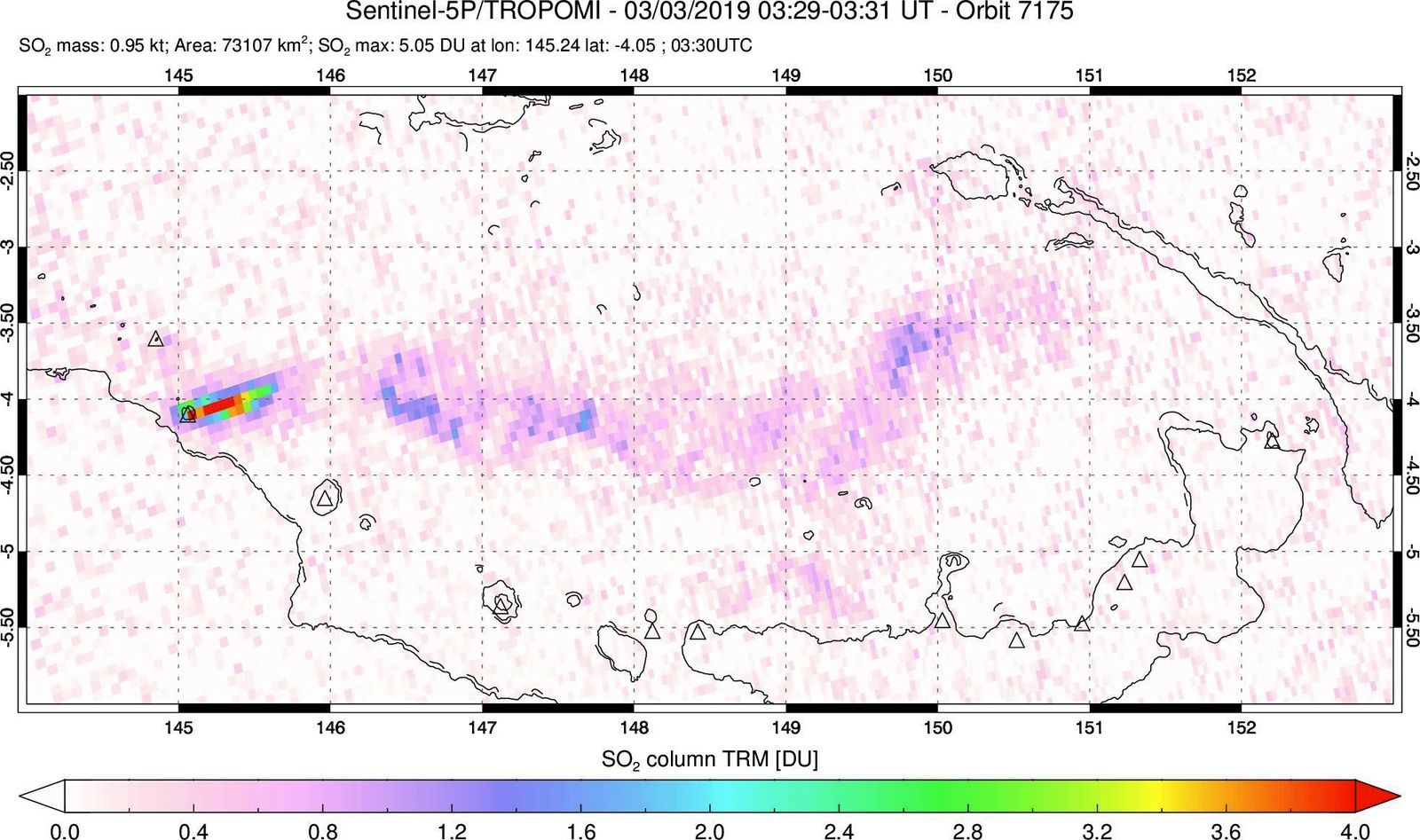 Manam - SO2 plume to the east at 3,000 meters high - Data Sentinel-5P / Tropomi 03.03.2019 / 3:29 - via S.Carn
A new eruption marked Manam, in Papua New Guinea, on March 2 and 3.
Significant thermal anomalies were reported by Mirova on these dates, and a plume of sulfur dioxide reported at approximately 3,000 meters towards Rabaul by the Sentinel-5P / Tropomi satellite on 03 March.
Sources: Mirova and Sentinel-5P / Tropomi, via Simon Carn
This Saturday, March 2 at 02: 23UTC (Friday, March 01 at 23:23 local), OVDAS monitoring stations installed near Nevados de Chillán recorded an explosive event, associated with a long-time earthquake (LP) related to the fluid dynamics in the volcanic system.
An incandescence was observed, associated with an emission of gases and pyroclastic materials at high temperature, which were deposited in the vicinity of the active crater. This activity suggests a partial destruction of the dome nestled inside the crater Nicanor. This event is considered in the current scenario of the current warning level.
Source: Sernageomin / OVDAS
At Piton de La Fournaise, despite slight fluctuations in intensity and relative consistency since February 25, an upward trend seems to be emerging in recent days.
The cone at the foot of Piton Madore has closed and lava comes out through tunnels (photo S.Conojero)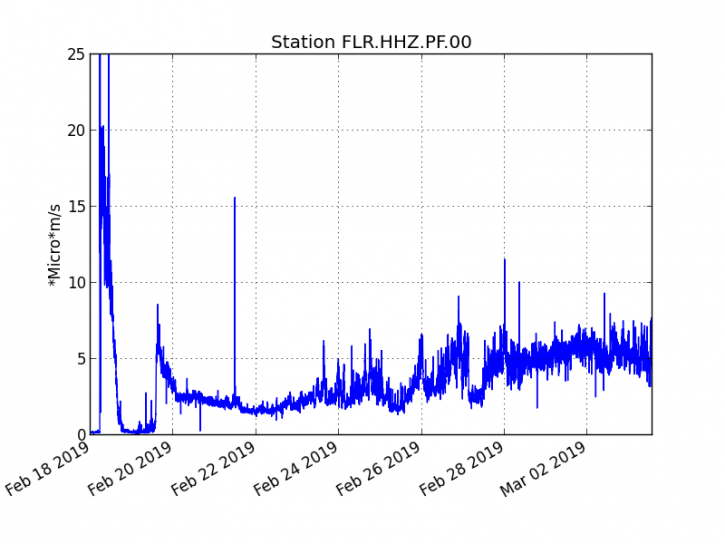 Piton de la Fournaise - Evolution of the RSAM (indicator of the volcanic tremor and the intensity of the eruption) between 09h48 (05h48 UTC) on February 18th and March 3rd at 17h46 (13h46 UTC) on the seismic station of FLR. (© OVPF / IPGP)
The total SO2 emissions to the atmosphere recorded by the OVPF's NOVAC network since the beginning of the eruption are estimated at 2.5 kton, a value in the norm of the average of the Piton de la Fournaise eruptions.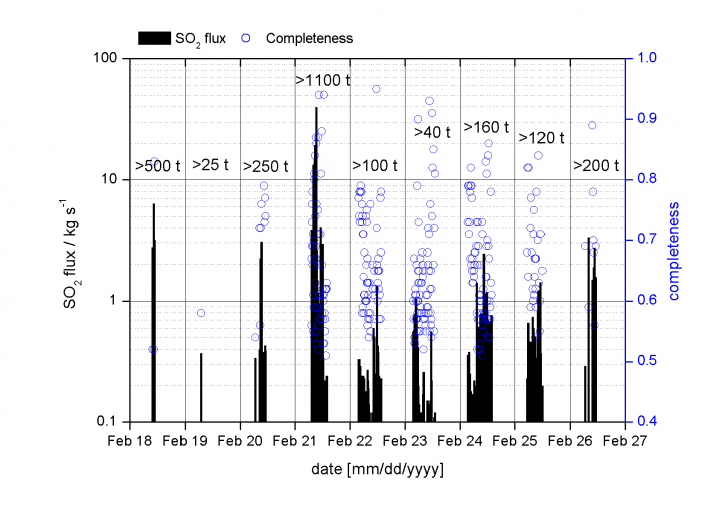 Piton de La Fournaise - SO2 emissions report from NOVAC stations after treatment by Santiago Arellano and Bo Galle, NOVAC project managers, between 18 and 27/02/2019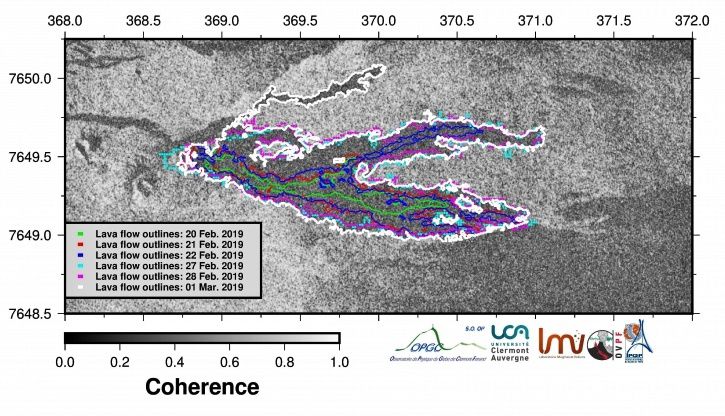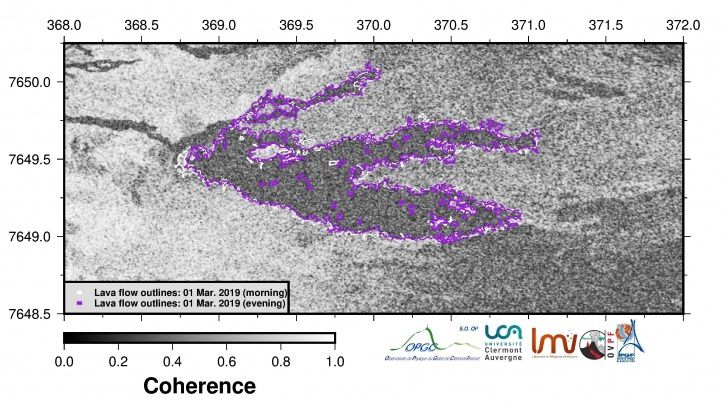 Piton de La Fournaise - Contours of the lava flows associated with the eruptive episode of 19/02/2019 (top diagram) determined from satellite data by the OI2 platform (Clermont Auvergne University), dated 20 (green) , 21 (red), 22 (blue), 27 (turquoise), 28/02/2019 (pink), 01/03/2019 (white). - and Evolution (bottom diagram) during the day of March 1st (morning in white and evening in purple).
A cartography of the lava flow dated 01/03/2018 carried out by the OI2 platform (OPGC - University Clermont Auvergne) from satellite data shows that a third pouring arm has been put in place to the north. between 28/02/2018 and 01/03/2018. During this time the other two arms already in place do not seem to have progressed
A new satellite acquisition on March 1st shows that this new arm split in two during the day of March 1st.
The new casting does not seem in a hurry to reach the sea, it follows a contour to the north.
Source: OVPF
Find all the information related to the Piton de la Fournaise activity on the different media of the OVPF-IPGP:
- the website (http://www.ipgp.fr/fr/ovpf/actualites-ovpf),
- the Twitter account (https://twitter.com/obsfournaise?lang=en),
- and the facebook account (https://www.facebook.com/ObsVolcanoPitonFournaise/)