Publié le par Bernard Duyck
The Phivolcs reports 6 volcanic earthquakes and 2 rock falls during the last 24 hours at Mayon.
Two of these earthquakes are related to episodes of phreatic eruptions of March 7 at 8:11 AM and March 8 at 6:27 AM, which generated gray ash plumes at a height of 500 and 300 meters, respectively. Moderate steam plumes were then emitted.
The alert level remains at 2 / moderate level of instability.
Source: Phivolcs
A yellow VONA was issued on March 7 for Kerinci Volcano, West Sumatra, by Magma Indonesia (VAAC Darwin reports an orange aviation code); it follows the emission of brown ash at 18:50 local, with dissipation towards the NE.
VA ADVISORY
DTG: 20190307 / 1420Z
VAAC: DARWIN
VOLCANO: KERINCI 261170
PSN: S0142 E10116
AREA: INDONESIA
SUMMIT ELEV: 3800M
ADVISORY NR: 2019/3
INFO SOURCE: VONA
AVIATION COLOR CODE: ORANGE
RMK: 07 / 1355Z VON FOR VA ERUPTION TO FL130 AT 07 / 1150Z MOV
Sources: Magma Indonesia, VAAC Darwin
In Peteroa, in Chile, the cameras always show a constant degassing of gray color, marked by a plume at a height of less than 2,000 meters, indicating the presence of particles, moving mainly towards the southwest.
The seismicity of the last days is characterized by VT earthquakes, associated with the fracturing of rocks, and a large number of LP earthquakes, in relation with the dynamics of the internal fluids.
The superficial activity of Peteroa suggests that we are dealing with an open system. Alert level remains at Amarillo / change in behavior of volcanic activity.
Source: Sernageomin
Activity continues on Barren Island, Andamman Islands;
The intensity is moderate, marked by a few small thermal anomalies at 5 and 10 Mw, respectively on March 5th and 6th, and 49 MAw on March 8th.
A Sentinel 2 image of March 7 shows a hot spot at the cinder cone's crater, located in a caldera covered with lava and pyroclasts.
Sources: Mirova and Sentinel 2
New cracks and new lava flows at Piton de la Fournaise Uploaded by IMAZPRESS Reunion on 2019-03-07.
At the Piton de La Fournaise, little new information this morning, waiting for a possible overflight by the teams of the observatory.
The activity was intense last night, with a reverberation of the incandescence on the clouds, visible from the 4 webcams. The Mirova site lists a very high thermal anomaly on March 7th at 10:20 pm, of 3,281 MW.
To be continued ...
Sources: OVPF and Mirova webcams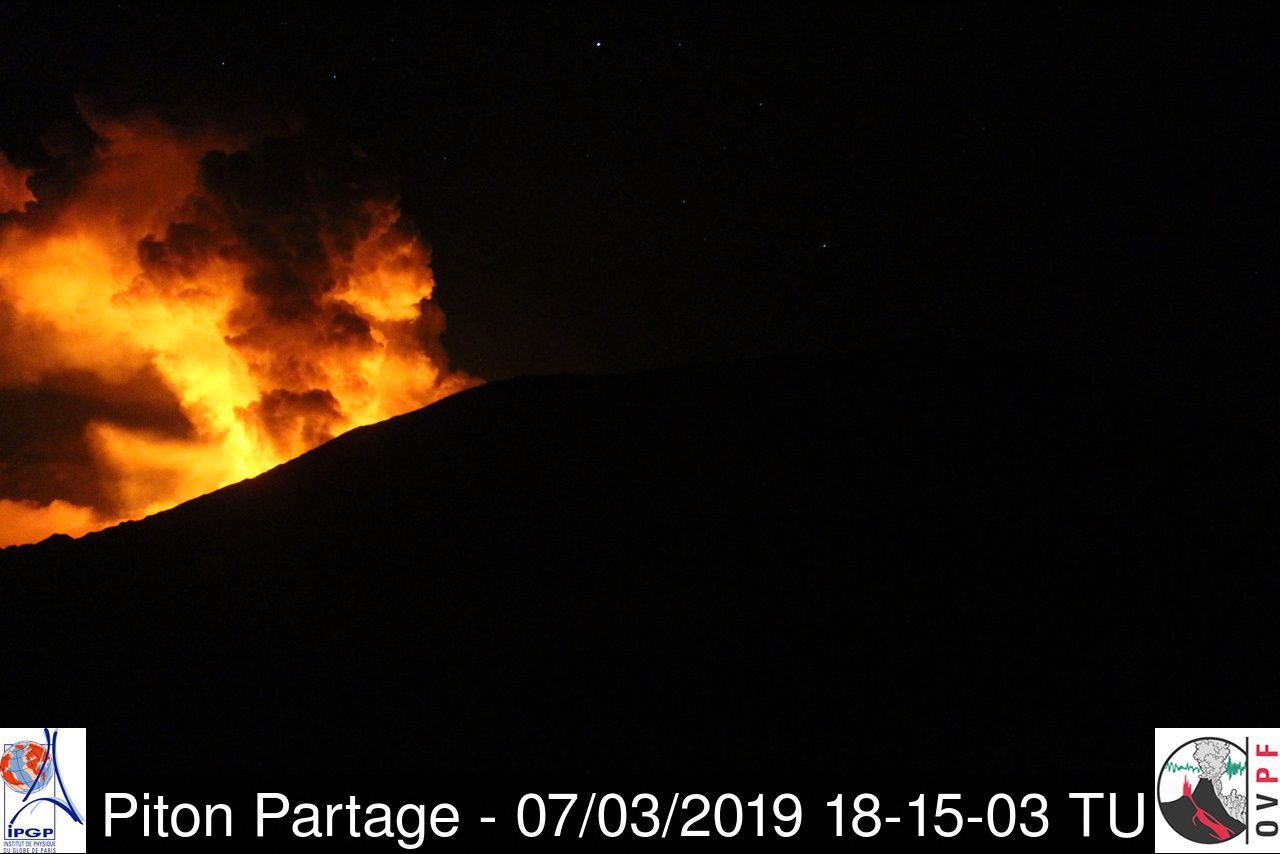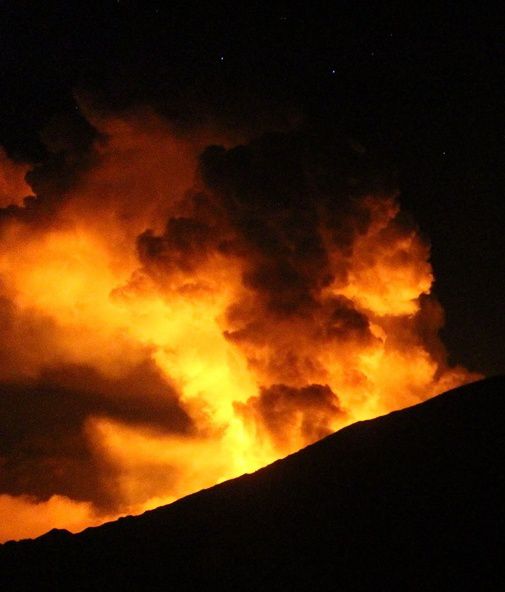 Piton de La Fournaise - 07.03.2019 / 18:15 UT Webcam Piton Partage / OVPF- reverberation on the clouds