Publié le par Bernard Duyck
The Sheveluch passed in red aviation code on March 9 in the early morning, following the eruptive activity that produced a plume of ash from a height of 10,000 - 11,200 meters asl. , drifting north, then north-east of the volcano for 70 km, and may affect air traffic.
Moderate degassing followed, but ash explosions could occur at any time.
Sources: KVERT & VAAC Tokyo
The Sernageomin reports this 8 March local 8:45 a LP earthquake, in relation to the dynamics of internal fluids, and associated with an explosion that generated a plume of gas 2,700 meters above the active crater of Nevados de Chillan. Particles are found in the vicinity of the crater and in a northern sector.
The dacite dome keeps a low growth ratio; in these conditions, the explosions should remain moderate, with an impact within a radius of 1 km around the crater.
The alert remains in Orange
Source: Sernageomin
At the Piton de la Fournaise, the analysis of the samples shows different compositions for lava from the eruptive vents of 5 and 7 March.
These two lavas are basalts, of typical composition for La Fournaise, but different in nature and proportion of the crystals.
Two hypotheses are put forward by OVPF scientists on March 9:
- the magma of the lava emitted by the crack on March 7 comes from a source different from that emitted by the crack of March 5;
- or a first stock of magma formed from a cerian time shallow depth and degassed would have been reworked and issued in a first time before the release of a new magma.
Another peculiarity of the eruption: the front of lava progressed quickly this Friday night and went from 1.000 meters of altitude this Friday morning with 700 meters of altitude towards 22h. But it then froze, being no longer fed, in favor of a flow further south.
This rapid progression in the Great Slopes is justified by an inclination of up to 30%, and is marked by falls of incandescent blocks that run down the slopes.
The rest depends on the feeding of the flow ... the lava fountains were active last night.
Sources: linfo, re and Clicanoo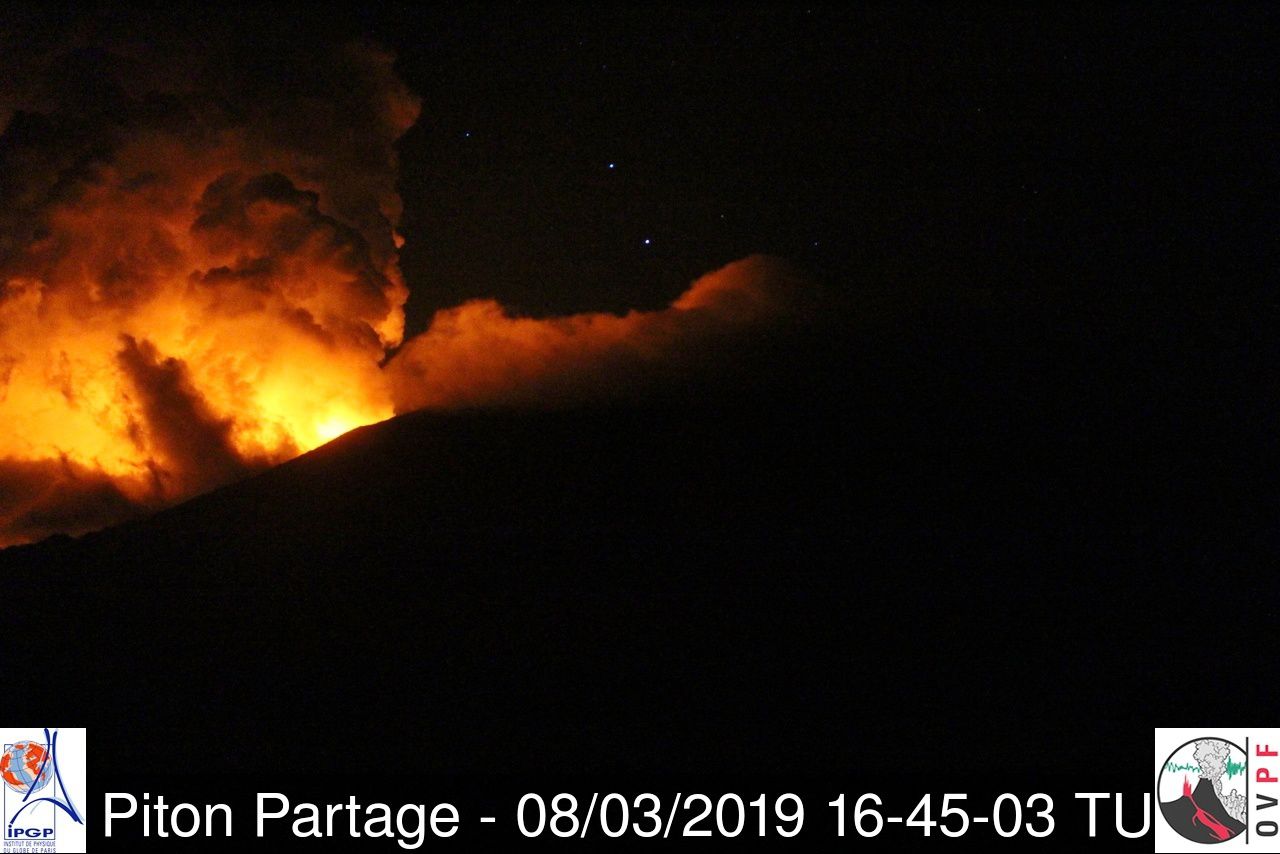 Piton de La Fournaise - reverberation on the clouds, seen by the Piton Partage webcam this 08.03.2019 / 16h45 UT - OVPF