Publié le par Bernard Duyck
At Piton de La Fournaise, a slight increase in the intensity of the eruptive tremor has been observed for 24 hours.
Over the last 36 hours, 7 superficial volcanic-tectonic earthquakes (above sea level) have been recorded. Many earthquakes (which can not be counted) of low magnitude are also recorded at the eruptive site.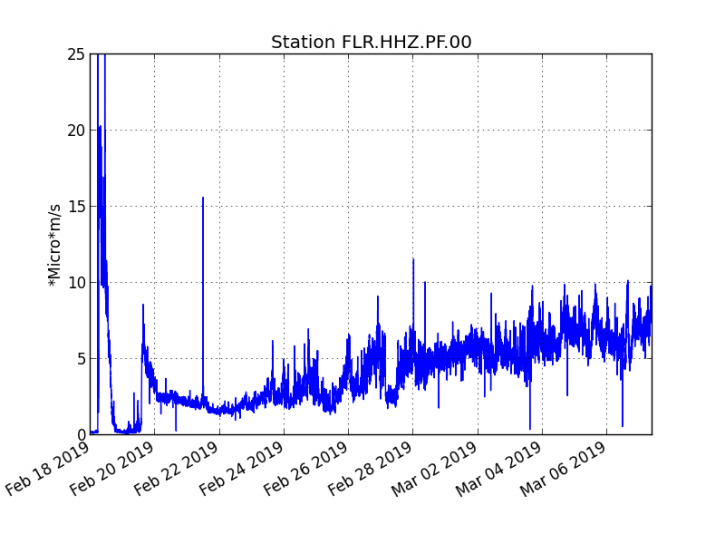 After a deflation of the building related to magma transfer that occurred on 18/02/2019, the deformations of the summit zone do not show any particular signals.
The CO2 concentrations in the near field soil (volcano deposit area) remain high.
Over the last 36 hours, surface flows estimated from satellite data, via the HOTVOLC platform (OPGC - University of Auvergne), fluctuated between <1 and 12 m3 / s (these measurements can be affected / reduced by cloud cover).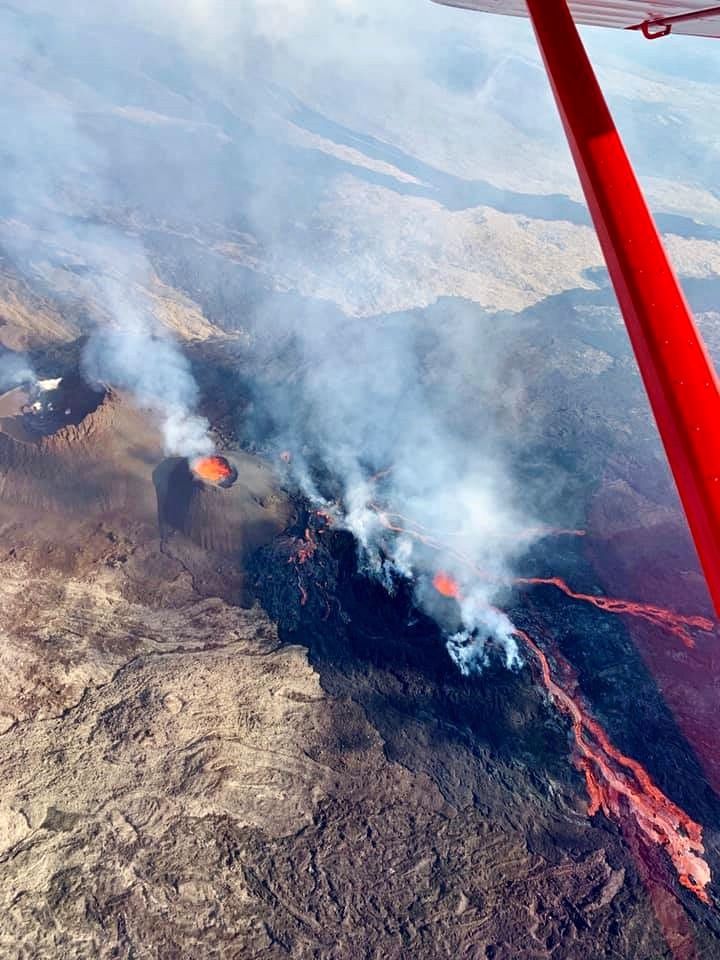 Piton de la Fournaise - 07.03.2019 / 5h13 - photo Planetair974, with a hello to the friendly pilots.
Following the opening of a new crack on 05 March 2019 (between 09h and 19h, local time), north-west of Piton Madoré (1800m altitude), at a distance of about 150 m from the vent eruptive February 19, new eruptive fissures opened this morning in the area. At least 6 points of emission were visible this morning around the Piton Madoré.
In an interview with Antenne Réunion, Aline Peltier states:
"According to our recordings, there are at least six sites from which lava fountains emerge.It is difficult to know without this aerial reconnaissance if they are all new cracks or if we observe hornitos (mounds formations projecting the lava, born of the overpressure in a lava tunnel.)
This morning, tourist helicopters were still able to fly over the area and three small cones were visible: the one of February 19, the one which opened the March 5, and a new one a little further down ... and full of little cones at the foot of the one of February 19.
The activity of lava flow has resumed in a fairly important way.Yesterday, according to our webcams, we saw that the flows had reached the furthest point they had reached during this eruption, namely about 1,200 meters above sea level. "
The presence of numerous small-magnitude earthquakes in the area of ​​the current eruptive site confirms that the environment, already very weakened, continues to crack due to the pressurization of the deepening system that continues. We can not exclude the opening of new fissures either at the level of the current eruptive site, or upstream or downstream from it in the coming days.
Piton de La Fournaise - 07,03,2019 / 3:15 pm - 3:18 pm - the glow of the current eruption visible on 4 webcams simultaneously - Webcams OVPF - one click to enlarge
Sources: OVPF and Linfo.re
Find all the information related to the Piton de la Fournaise activity on the different media of the OVPF-IPGP:
- the website (http://www.ipgp.fr/fr/ovpf/actualites-ovpf),
- the Twitter account (https://twitter.com/obsfournaise?lang=en),
- and the facebook account (https://www.facebook.com/ObsVolcanoPitonFournaise/)