Publié le par Bernard Duyck
An eruption occurred on March 15, 2019 at 18:27 WITA at Agung, on Bali Island; a column of gray ash rose about 1,000 meters above the summit, bending westward.
On the seismogram, it was recorded with a max. 23 mm during 1 minute 23 seconds.
The level 3 / siaga remains in force, with a danger zone of 4 km radius and increased vigilance in drainages. The VONA is orange.

Sources: PVMBG, Magma Indonesia, BNPB
Since Thursday, March 21, the seismicity of Bromo has increased, and was accompanied by emission of brown ash; several villages in Sukapura district, Java, have experienced ash fallout.
The eruption continues on March 16, when puffs of brown ash rise 600 meters above the crater, before drifting to the northeast, and are visible from the hill Cemoro Lawang, a sight appreciated by tourists .
The seismicity remains recorded with a dominant amplitude at 1mm, and sulfur odors are perceptible, according to the observation post of Mentigen Hill.
Source: WartaBromo online news
The Bromo region submerged by the rain of ashes | Probolinggo today (wartabromo.com) - Mount Bromo in the regency of Probolinggo, throwing volcanic ash again Thursday (03/14/2019). A number of villages in Sukapura district have been affected by volcanic ash rains. It was observed that the seismic activity in the Bromo volcano was increasing on Thursday morning.
The Beziamminy aviation code changed to red on March 15 at 11 am UTC, due to an increase in its activity, including many pyroclastic flows related to collapses in the summit dome.
At 17:37, the KVERT reported strong explosions, accompanied by a plume rising to more than 15,000 meters asl., drifting east of the volcano.
The red code was revised downward from 21:20 UTC, following a more moderate activity, but marked by plumes of explosions at 4,000-4,500 meters, drifting eastward.
The ash cloud is located 320 km east of the peninsula, on 15.03 to 22.10; its drift continues and the place to 650 km in the east this March 16 at 01:07 UTC.
Source: Dr. Olga Girina, KVERT, IVS FEB RAS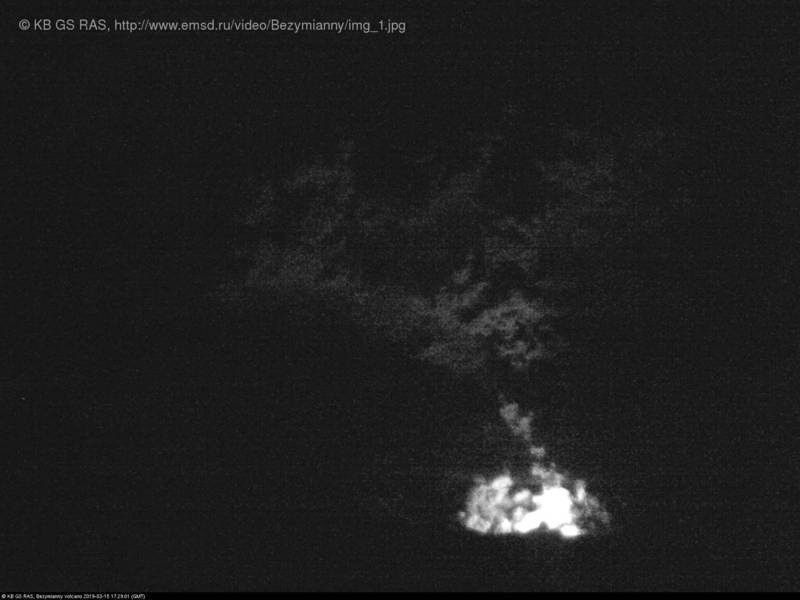 Bezyamminy - 15.03.2019 / 17:30 UTC - incandescence suggests a destruction of the dome - photo KB GS RAS / via Olga Girina
Bezymianny - volcanic ash adivisory from 15.03.2019 to 12 and 18h ​​- Doc.VAAC tokyo - one click to enlarge
On March 15, 2019, with the support of the Federal Police, the staff of CENAPRED and UNAM, a reconnaissance survey was conducted at Popocatépetl, in order to know the current state of the internal crater and to determine the modifications. which were brought there, particularly as a result of the explosions that occurred on March 13 and 14. The good weather conditions, in addition to a low emission of steam and gas, allowing to see clearly inside the crater, noting that the dome number 82 had been totally destroyed.
It has been possible to determine that the inner crater retains its diameter of 300 meters (m), with a depth of 130 m.
The alert remains at Amarillo fase 2
Source: Cenapred