Publié le par Bernard Duyck
An eruptive episode occurred again at Agung this 17th of March at 08:03 WITA; the ash plume was observed about 500 meters above the summit, inclined eastward.
The episode is recorded on the seismogram with a maximum amplitude of 5 mm, for 39 seconds.
The level of activity is 3 / siaga, with a danger zone of 4 km radius, and that covering the main drainages.
Source: PVMBG.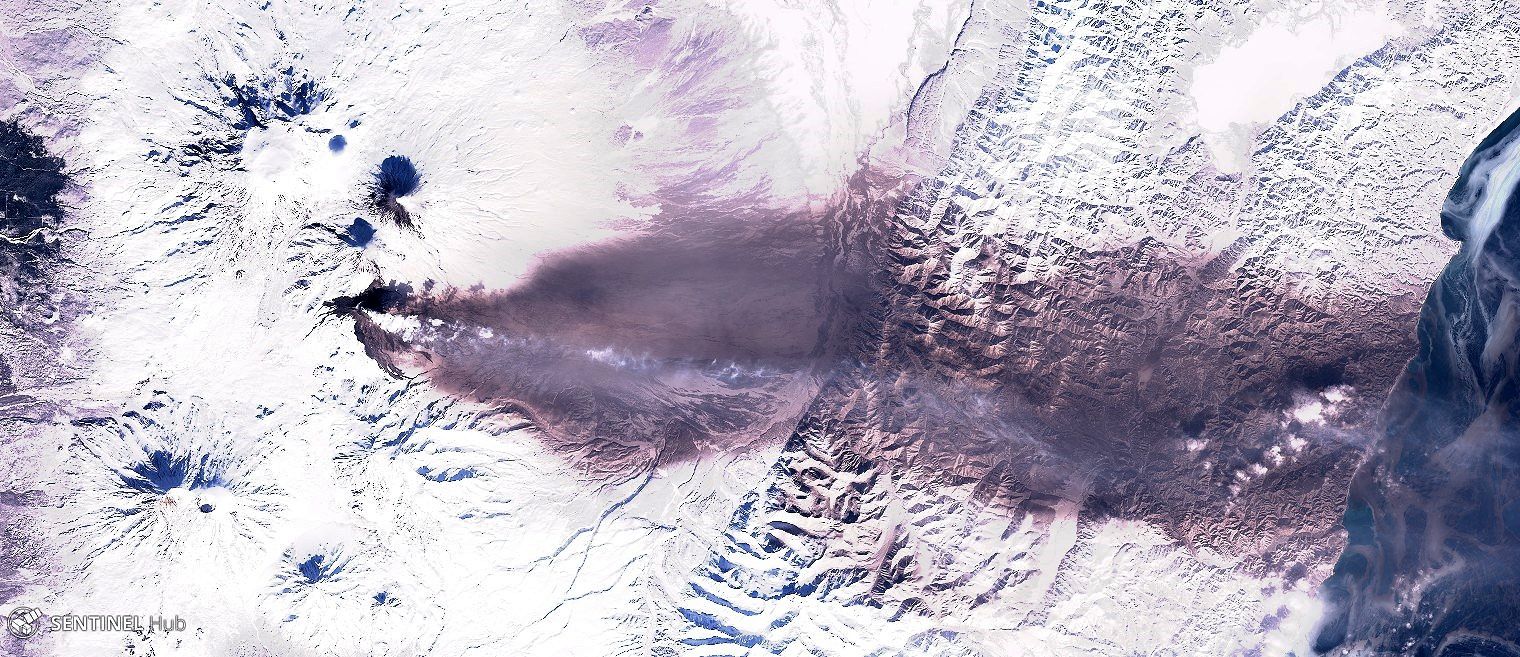 Bezymianny - zone covered by the ashes of the current eruption - Sentinel image 2 nat. colors from 16.03.2019 - one click to enlarge.
Steam emissions continue at Bezymianny, sometimes with a certain amount of ash. A plume of gas with ashes at a height of about 4.5 to 5.5 km a.s.l. continues to drift east of the volcano.
According to the seismic data of KB GS RAS (http://www.emsd.ru/~ssl/monitoring/), a powerful explosive eruption of Bezymianny began at 17:11 UTC on 15 March 2019. According to video data from KVERT, explosions emitted ash up to 15 km altitude On March 15 at 17 h 30 UTC, a large cloud of ash began to drift from the volcano to the northeast. Ash falls occurred in Ust'-Kamchatsk probably between 18:50 and 19:30 UTC on 15 March.
After this climax, a strong eruption of the volcano continued, but explosions projected ashes to 5 or 6 km and a plume of ash with an increased concentration of ashes, compared to the first large explosions, deriving from is the volcano. On March 15, the ashfall probably started in Nikolskoe (Bering Island, Russia) and probably continued until 16:00 UTC on 16 March.
Direction of ash plume drift / volcano cloud east / azimuth 94 degrees over 870 km.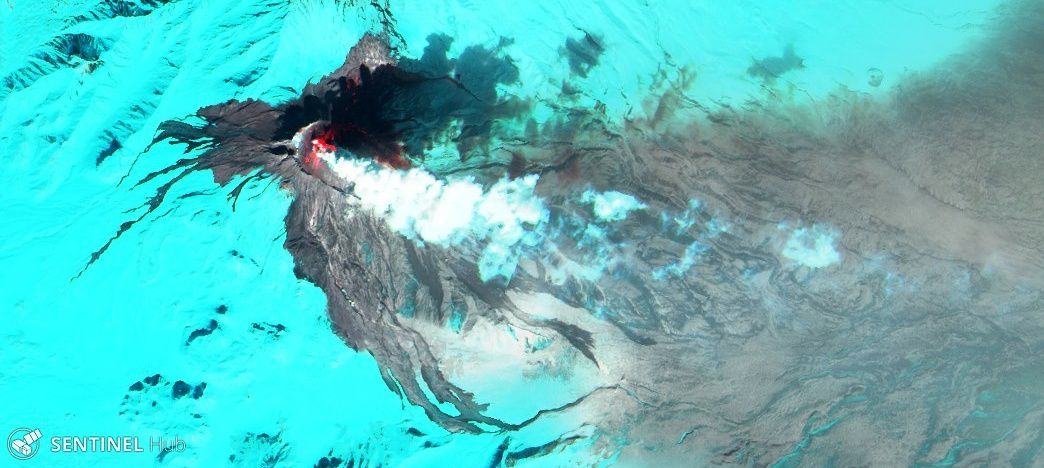 Bezymianny - hot spots on 16.03.2019 - zoom in image Sentinel-2 image bands 12,11,4 - one click to enlarge.
The activity of the Bezymianny volcano continues. In the process, it could affect international aircraft and low-flying aircraft. The aviation code remains orange.
The thermal anomalies recorded by Mirova are considered "high" on March 16th, and the Sentinel 2 images show hot spots corresponding to the pyroclastic flows.

Source: KVERT, Mirova and Sentinel 2.
Following the end of the eruption at Piton de La Fournaise on March 10th, glowing areas are always observed on the surface, three days later on the image Sentinel 2 bands 12,11,4 ... the coatings remain warm.
As for geophysical and geochemical records, seismicity has dropped and CO2 emissions from the ground are decreasing in the proximal (Gite du Volcan) and increasing distal (Plaine des Cafres) on March 16th.
The obsservatoire reports 9 volcano-tectonic earthquakes under the summit cone and 10 landslides for the enclosure and the summit cone.
Sources: OVPF & Sentinel 2
Find all the information related to the Piton de la Fournaise activity on the different media of the OVPF-IPGP:
- the website (http://www.ipgp.fr/fr/ovpf/actualites-ovpf),
- the Twitter account (https://twitter.com/obsfournaise?lang=en),
- and the facebook account (https://www.facebook.com/ObsVolcanoPitonFournaise/)