Publié le par Bernard Duyck
The activity of Bromo is up this Monday, with already five eruptive episodes; a thick plume of ash is observed by the officer in charge of the observation post of the volcano reaching 1,500 meters above the summit.
At the seismicity level, a continuous micro-tremor is recorded, with an amplitude of 0.5-19 mm, the dominant being 3 mm. Volcanic earthquakes are of the order of 29-30 mm of amplitude, with a duration of 47-58 sec.
Note : a tectonic earthquake remote with an amplitude of 32 mm during 253 seconds.
Although the activity is increasing, the level remains at 2 / waspada, with a recommendation not to approach the volcano within a radius of 1 km.
VAAC Darwin reports an orange aviation code.
Sources: BNPB, PVMBG via Wartabromo, and VAAC Darwin
At Anak Krakatau, an eruptive episode is reported on March 18 at 6:05 am WIB, accompanied by a white plume, tilted to the north, reaching about 500 meters above the current summit / about 657 meters asl.
On the seismogram, the maximum amplitude is 55 mm for a duration of 4 min. 3 sec.
The alert level is 3 / siaga, with a prohibited area of ​​5 km radius. The aviation code is set to orange by VAAC Darwin.
Sources: PVMBG and VAAC Darwin
Also in Indonesia, a magnitude 5.4 earthquake hit Lombok Island on 17.03.2019 at 07:07 UTC; its epicenter is located east of the Rinjani volcano.
He damaged houses, caused landslides and claimed two lives and dozens of injuries.
It is considered as a replica of the sequence of earthquakes that shook the region in July-August 2018.
Source: EMSC
In Chile, POVI reports a sporadic Strombolian explosion on 17.03.2019 at 0:12 am at Villarica, with expulsion of incandescent material 25 meters above the crater rim.
Source: POVI
Small return on the active volcanoes in Kamchatka.
The aviation code remains orange for Sheveluch, Karymsky and Bezimianny.
Annamaria Luongo shared a Sentinel 2B L1C image of the simultaneous plumes of the three volcanoes.
Simon Carn illustrates the ash - gas split in a volcanic cloud issued on March 15 by the Bezimianny, with images of Sentinel 5P / Tropomi from March 16 running at 1:20 am.
Sources: A.Luongo and S.Carn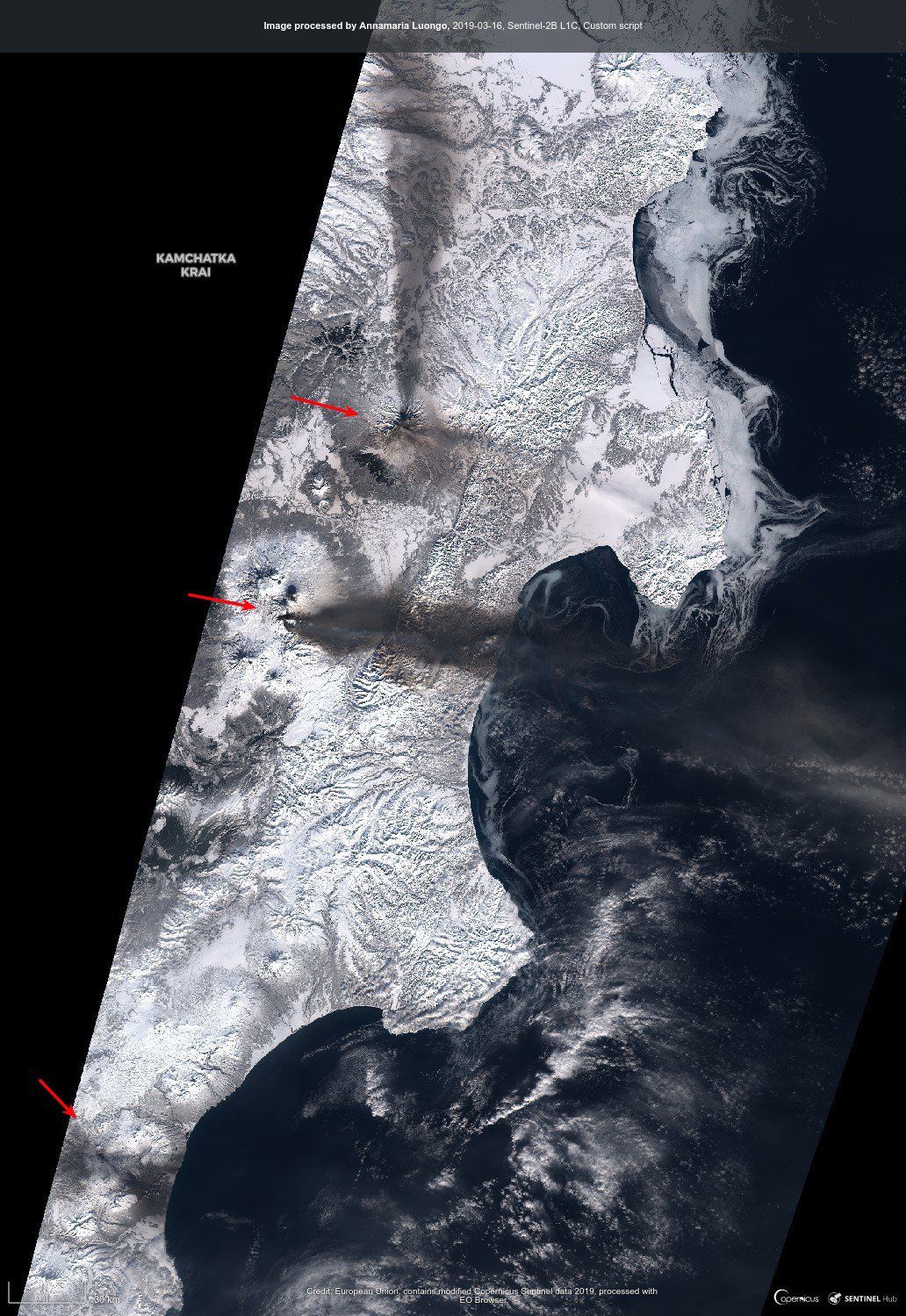 Shiveluch, Bezymianny and Karymsky, in the same picture (detected by Sentinel2, 2019-03-16 / Anamaria Luongo / Twitter).