Publié le par Bernard Duyck
The Sangay volcano in Ecuador began a new eruptive phase on March 26, 2019, observed in an ash emission by the Washington VAAC and an image of the GOES 16 satellite.
The explosion was recorded by the SAGA multiparametric station (W side of the volcano). This poses a potential threat to people who frequent the areas around the volcano, especially those who decide to climb to the top of the volcano.

Left, max height of the ash column (FL 200 = 6100 m) / VAAC Washington 26,03,2019 / 6h TL - On the right, satellite image Goes 16 on 26,03,2019 / 6:15 - Doc. IGEPN
On Tuesday, March 26, 2019 at 06:00 local time (TL) (11:00 UTC), the VAAC of Washington reported an ash cloud emission alert whose source is the Sangay volcano, the estimated height of this column is < 1 km snc, with a preferential direction towards the southwest. Thermal warnings were not observed until the release of this report.
At 6:15 am (11:15 am local time), thanks to an image of the GOES16 satellite, we can observe the emission whose preferential direction is the southwest
During the last month, seismicity was characterized by an average of about 1 earthquake per day; these earthquakes are mainly of the volcano-tectonic type (linked to the fracture of the rock) and long period (related to the movement of the fluids).
According to these data, the volcano could have started a new eruptive phase. The Institute of Geophysics recommends not to approach the volcano (which fortunately is difficult to access) for any reason whatsoever.
Source: IGEPN
Explosive activity is maintained at Karymsky, characterized by an ash plume estimated at 4,000 meters asl (flight level 130) traveling 30 km to the east.
Source: VAAC Tokyo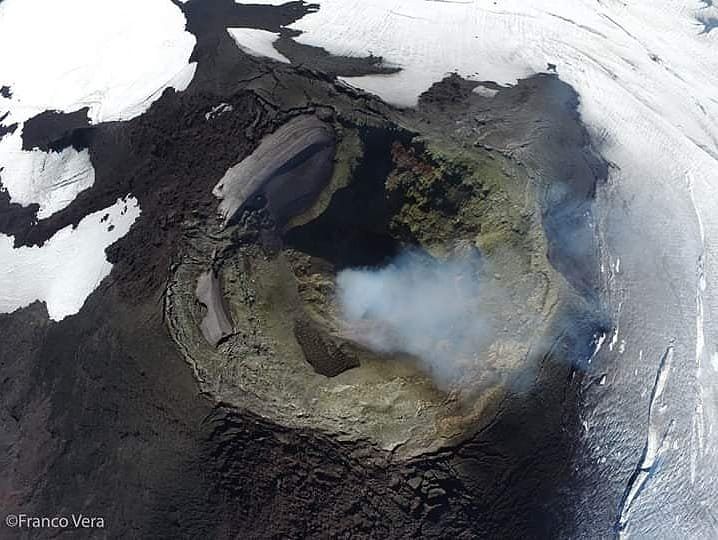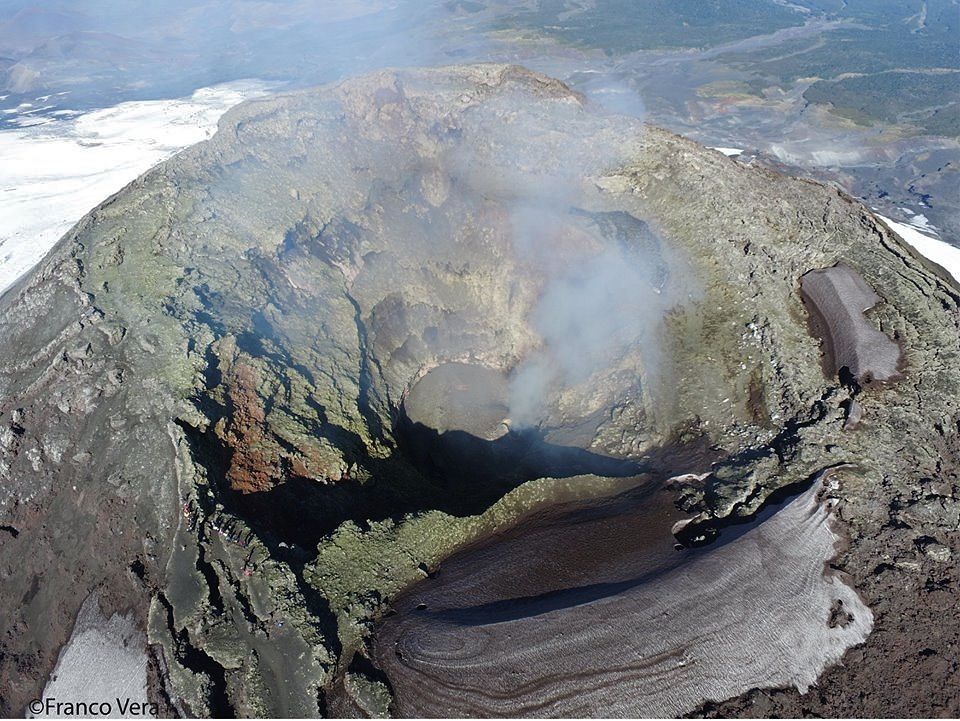 Villarica - 27.03.2019 - the lava lake is covered by a crust and supports a cone spatter - photo Franco Vera / Volvanologia Chile
In Chile, an overflight on 27 March of Villarica by a drone allowed the observation of a crust of pyroclastic materials and a spatter cone on the lake of active lava; the cone is slowly degassing, and there is little motrphological variation since the February 18th visit.
Sources: Volcanologia in Chile & Universidad de Concepción
In northern Iceland, the Tjörnes fracture zone / Öxarfjörður has been shaken by a seismic swarm for several days: more than 200 earthquakes have been detected in Öxarfjörður near Kópasker, 9 of which have a magnitude of around 3 or more.
Sources: Icelandic Met Office and Iceland monitor