Publié le par Bernard Duyck
Two eruptive episodes marked the Agung in Bali on April 21st:
- the first, at 3:21 WITA, it was accompanied by a plume of gray ash and thick at 2,000 meters above the summit, inclined to the southwest; recording on the seismogram lasted 2 minutes 55 seconds, with a maximum amplitude of 25 mm.
- The second episode at 18:55 WITA, accompanied by a plume of ash at 3,000 meters above the crater, lasted 1 minute 22 seconds.
Seismicity is dominated by earthquakes reflecting fluid movements in depth and close to the surface. The lava dome remains relatively unchanged since the eruptive period 2017-2018, with about 25 Mm³, corresponding to 40% of the volume of the empty crater.
The ash cloud did not affect Ngurah Rai airport.
The activity level remains at 3 / siaga, with a forbidden area of ​​4 km radius.
Sources: PVMBG & BNPB
Agung - 21.04.2019 / 19:18 - photo Telkom; Ash drift to the southeast while sparing the airport - Doc. BMKG / Himawari 21.04.2019 / 21:20 - a click to open and enlarge
At Merapi on Java, the BPPTKG reported for this April 21, between 6am and 6pm WIB, three avalanches of blocks towards Kali Gendol, with respective lengths of 600,800 and 1,100 meters. The status remains at 2 / waspada.
Source: BPPTKG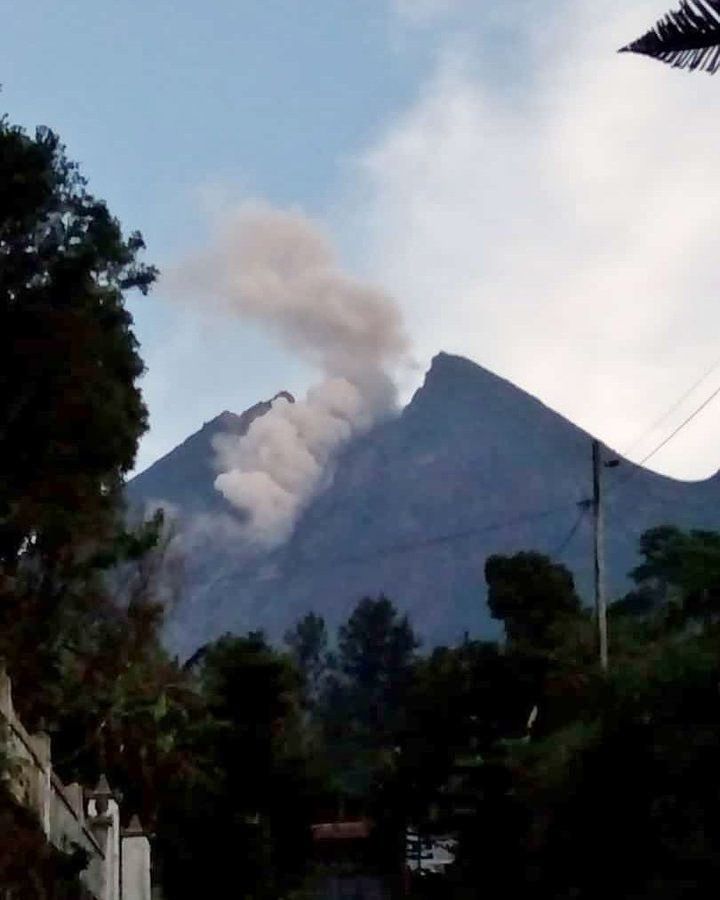 Merapi - Avalanche of blocks generating a pyroclastic flow on 21.04.2019 / 06h WIB - Doc. Merapi news
The activity of Sakurajima in Japan continues with e.a. eruptive episodes, this April 22 at 9:08 local, accompanied by a plume at 1,300 meters above the crater.
Another episode is reported at 1:15 pm, with a plume 800 meters above the crater Minamidake.
Ash falls are expected in the cities of Kagoshima, Satsuma Kawachi, Kirishima and Aira
Source: JMA
The activity of Klyuchevskoy is rising, characterized by emissions of gas and steam containing ashes since April 8.
On 21 April, the KVERT reports in its end-of-day bulletin, an increase in the quantities of ashes emitted, and a plume at 5.500 meters drifting eastward for 130 km.
The aviation code remains orange.
Explosive - extrusive activity continues at Sheveluch, with a plume of ash at 3,500-3,800 meters in height, drifting eastward for 70 km.
The aviation code remains orange.
Sources: KVERT, VAAC Tokyo, Sentinel 2 and Landsat.