Publié le par Bernard Duyck
The eruption continues on Halmahera, where the Dukono presented, this April 25, four eruptive episodes, underlined by earthquakes and continuous tremor dominant amplitude to 2 mm.
The PVMBG reports plumes at a height of 100-200 meters above the summit.
The activity level is 2 / waspada, with a 2 km radius prohibited area around the Malupang Warirang crater.
Source: PVMBG
In the past 24 hours, Cenapred has identified 16 exhalations at Popocatépetl, with water vapor, gas and small amounts of ash.
Nighttime glow is observed at the same time as the most important exhalations.
The seismicity is characterized by 318 minutes of tremor of very low amplitude, and by a volcano-tectonic earthquake of M1,4.
On the 25th in the morning until 16h, the constant emission of a plume of gas, vapor and ashes is observed, dispersed towards the east.
The volcanic alert remains at Amarillo fase 3.
Source: Cenapred
The structure of the Lō'ihi submarine volcano in Hawaii, and the morphology of lava flows has been mapped by the MBARI / Monterey Bay Aquarium Reseach Institute.
This young submarine volcano began to manifest itself a hundred thousand years ago.
A nested series of caldera collapses and craters was observed at the summit, the rising of a resurgent block, and eruptions that formed at least five low lava shields. The oldest and largest caldera, formed about 5900 years ago, covers almost the entire summit plateau. The resurgent block was raised a little over 100 m and has a sloped surface with a dip of about 6.5 ° towards the SE.

 Lō'ihi Submarine Volcano, Hawaii - Study Area - Doc. in Structure of Lō'ihi Seamount, Hawai'i and Lava Flow Morphology from High-Resolution Mapping / References in Sources
It was later modified by the collapse of a crater centered in the block that formed West Pit. The shallowest point on the Lō'ihi summit has a depth of 986 m and lies at the northwestern limit of the resurgent block.
The final collapse formed the Pelé Trench in 1996. The nine mapped collapse and resurgent structures indicate the presence of a shallow crustal magmatic chamber ranging from 1 km to perhaps 2.5 km deep and demonstrate that shallow sub-caldera magma reservoirs exist during the last pre-shield stage. In the deep south rift zone, there are young medium to high flow lava flows that probably erupted in 1996 and drained the shallow crustal magmatic chamber to trigger the collapse that formed the Pele's Trench.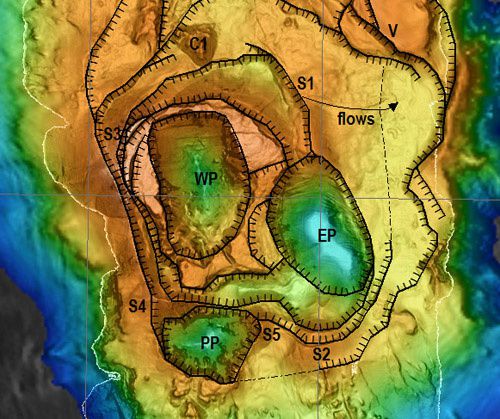 Summit bathymetry with interpretive overlay of caldera and pit crater bounding scarps. Sentry data in foreground with Simrad EM302 data behind. Hatchures indicate down-thrown side of caldera or pit crater bounding scarps or ring faults R1 (oldest) to R9 (youngest). Exact sequence of formation for some collapse events cannot be determined. P-A to P-D are pit craters described in the text and in Table 1. EP is East Pit, WP is West Pit, PP is Pele's Pit, C1 to C3 indicate two cones described in the text, S1 to S5 indicate the remnants of five lava shields, B indicates 1996 basaltic breccia, and V indicates volcaniclastic sediment 5–11 m thick (Clague et al., 2003; Schipper and White, 2010) with a basal date of ∼5900 years (Clague, 2009). Arrow labeled "flow" indicates direction of channelized flow from S1 to the east.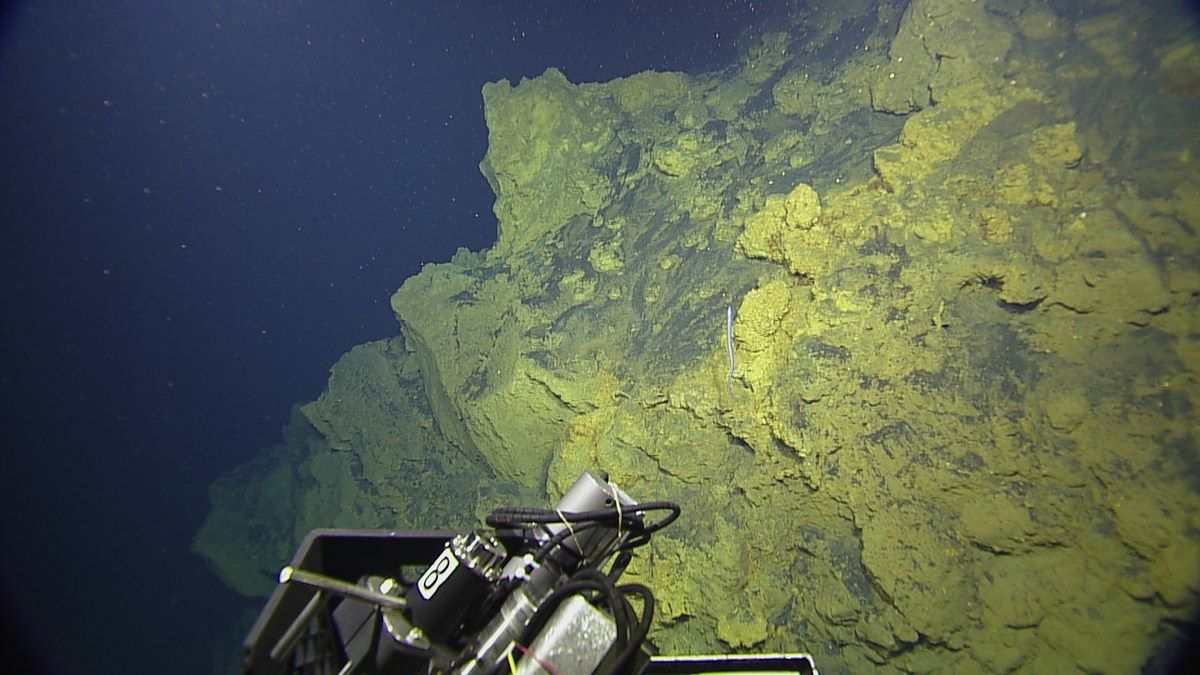 Pele's Pit crater near the top of Lo'ihi Seamount - yellow iron-iron-laden lava and microbial mats - photo Nautilus Live 29,08,2018
These channeled and hummock flows have molten nuclei, and currently harbor the FeMO hydrothermal field.
The Deep Shinkai Hydrothermal Site is located in the steep-walled, lumpy flows that formed during low flow eruptions. Shinkai Ridge is most likely a coherent landslide block that originated on Lōihi's east flank.
Sources:
- MBARI - Mapping the next Hawaiian island
- Frontiers of Earth Sciences - Structure of Lō'ihi Seamount, Hawai'i and Lava Flow Morphology from High-Resolution Mapping by David A. Clague, Jennifer B. Paduan, David W. Caress, Craig L. Moyer, Brian T. Glazer and Dana R. Yoerger. (Creative Commons License Attribution (CC BY))