Publié le par Bernard Duyck
A reconnaissance survey of Popocatépetl was conducted on April 26 by teams from Cenapred and UNAM with the support of the Federal Police. The formation of a new dome was not observed.
During the last 24 hours, 23 exhalations of gas and vapor were recorded; these emanations continued afterwards. A slight nocturnal incandescence was observed.
At the seismicity level, two volcano-tectonic earthquakes are reported with M 2 and 1.7, as well as 50 minutes of low amplitude tremor.
Source: Cenapred
The seismicity associated with volcanic activity has increased considerably at the Fuego de Colima, justifying the passage of the volcanic alert to yellow / weak activity, accompanied by an exclusion zone of 8 km around the volcano.
After analysis, two scenarios are proposed:
- the first refers to a moderate explosion, accompanied by the growth of a dome.
- The second possibility is the growth of a dome in the crater and lava overflowing the edge of it on the flanks.
For this reason, it is recommended that citizens respect the exclusion zone and remember that they can carry out their normal activities. However, they must be kept informed of the level of the alert levels and the evacuation procedure. On the other hand, the civil protection authorities continue their permanent work by reinforcing prevention actions in neighboring communities and strengthening their resilience.
The monitoring of the activity of this volcano is in charge of the University Center of Volcanological Studies of the University of Colima and the University of Guadalajara, under the national coordination of the civil protection.
Source: Civil Protection Colima & Univ. From Colima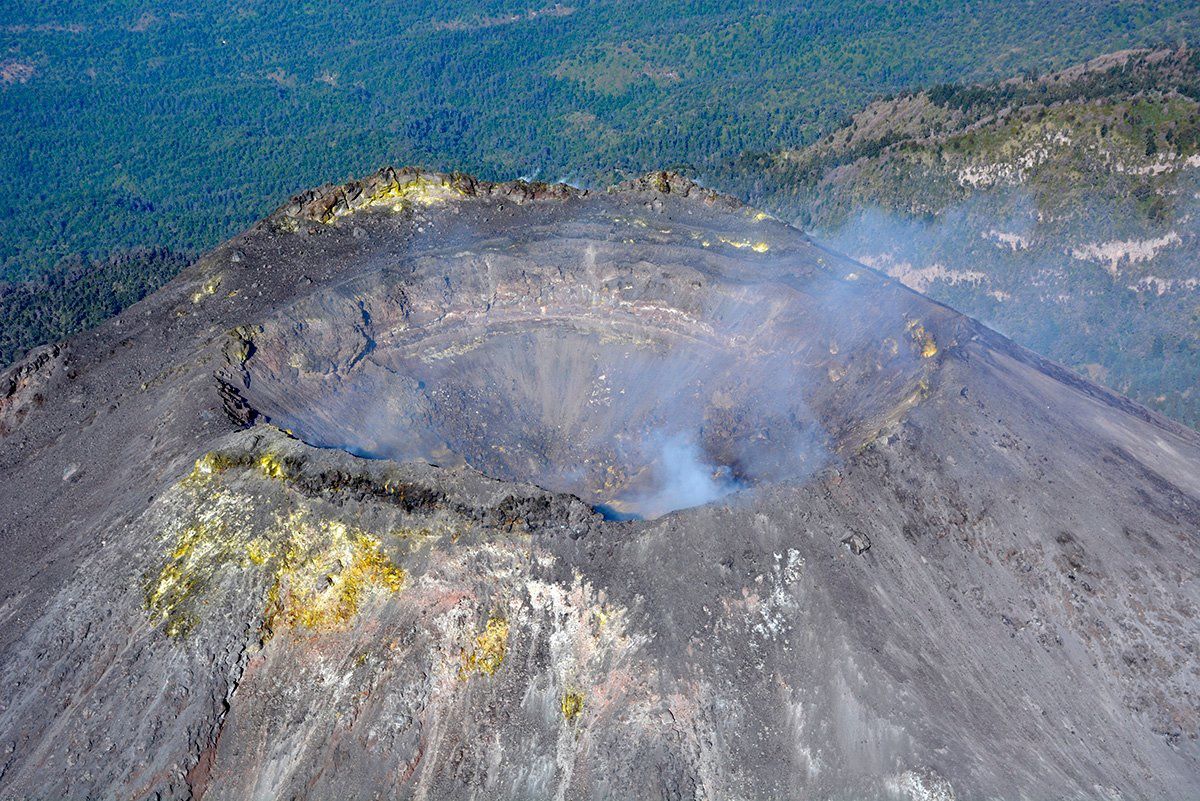 Colima - the summit crater on 27.01.2018 / photo Jalisco State Civil Protection and Fire Department.
In the past week, at Turrialba / in Costa Rica, activity remained low and stable. The LP earthquake record is maintained however.
On 27 April at 7:22, the Turrialba had a short, short eruption, accompanied by a small plume of brown ash that rose 100 meters above the summit.
Note on April 23 at 21:08, the passage of a meteorite could be observed on the webcams of Poas and Turrialba towards SE-NO (https://www.facebook.com/OVSICORI/videos/433337287423565/)
Source: Ovsicori
In the Philippines, rock falls and moderate vapor emissions have been observed in Mayon since the middle of the month.
A 25 April Sentinel2 image shows hot spots in the crater and two separate plumes.
On April 27th, Phivolcs reports two volcanic earthquakes and five rock falls.
Sources: Phivolcs & Sentinel 2