Publié le par Bernard Duyck
To remain credible, no publication was made yesterday April 1st.
On Saturday, March 30, experts from the National Center for Disaster Reduction (CENAPRED) and the Institute of Geophysics of the National Autonomous University of Mexico (UNAM), with the support of the Federal Police (FP), made a flight of recognition of the conditions of the crater of Popocatépetl.
During the overflight, it was verified that, following the latest explosions, the internal crater had increased in size, reaching 350 m in diameter and 250 to 300 m deep. The presence of a new lava dome could not be corroborated.
During the past 24 hours, 28 exhalations have been identified using the surveillance systems of the Popocatépetl volcano, accompanied by water vapor and volcanic gases.
During the night, no glow was observed on the crater
During the morning, a continuous emission of water vapor and gas was observed, with an east-north-west orientation.
The alert semaphore is at amarillo phase 3; the state government of Puebla has available 205 temporary shelters to house the inhabitants of neighboring communes of the volcano if necessary in case of eruption.
Source: Cenapred & Edomex
The activity of Karangetang has shown a small increase since the last dekad of March, when two distinct plumes of gas and vapor have been observed, rising straight ... therefore two active craters.
The thermal anomalies of the last days remain low.
The level of activity remains at 3 / siaga, with since March 26, prohibited zones of 2.5 km compared to craters north and south, and sectoral expansion zone of north crater to the west. The area between Kali Batuare and Kali Saboang is a prohibited zone of 4 km.
Source: PVMBG
The Nyiragongo lava lake is subject to sporadic overflows : on March 30 and 31, an overflow is reported by Ross Pennell, confirmed by thermal camera images, indicating that the lava would recover the bottom of the crater, as well as the activity at the level of the small intracalderic cone.
The thermal anomalies are considered by Mirova as "very high" since the end of March, with a VRP of 1919 MW on March 30, and 1145 MW on April 1.
Sources: Ross Pennell, via Shérine France & Mirova.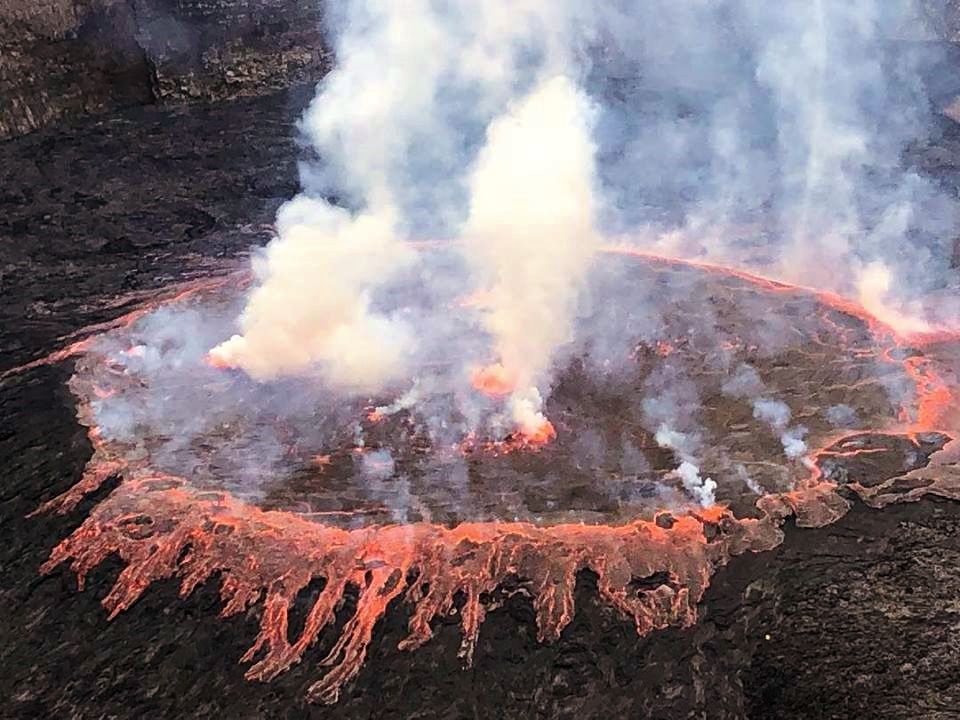 Nyiragongo lava lake - overflow of 31.03.2019 in the morning - photo Ross Pennell, via Shérine France / https://www.instagram.com/ross.pennell
At the Piton de La Fournaise, the resumption of inflation of the building, accompanied by seismicity, following the end of the eruption of February 18 - March 10, 2019, is the witness of a pressurization of the superficial magmatic reservoir.
This pressurization is related to a magmatic transfer of the deep zones towards this reservoir as evidenced by the CO2 concentrations in the far-field soil which are maintained at intermediate values.
An eruption in the medium term?
Source: OVPF - IPGP - Monthly Activity Bulletin
Find all the information related to the Piton de la Fournaise activity on the different media of the OVPF-IPGP:
- the website (http://www.ipgp.fr/fr/ovpf/actualites-ovpf),
- the Twitter account (https://twitter.com/obsfournaise?lang=en),
- and the facebook account (https://www.facebook.com/ObsVolcanoPitonFournaise/)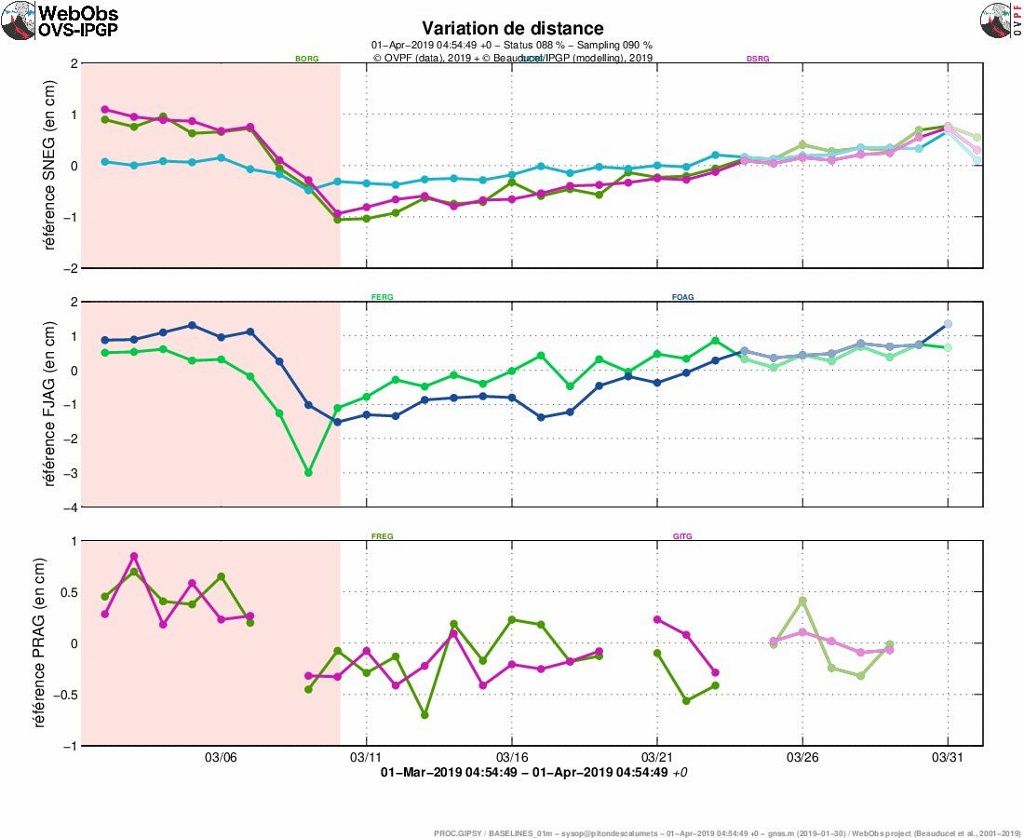 Piton de la Fournaise - Illustration of the deformation in March2019 (the eruptive periods are represented in red). Baselines are presented here (variation of distance between two GPS receivers) crossing the Piton del Fournaise building, at the top (at the top), at the base of the terminal cone (in the middle) and in the far field (at the bottom). ). A rise is synonymous with elongation and therefore swelling of the volcano; conversely, a decrease is synonymous with contraction and therefore deflation of the volcano (© OVPF-IPGP)