Publié le par Bernard Duyck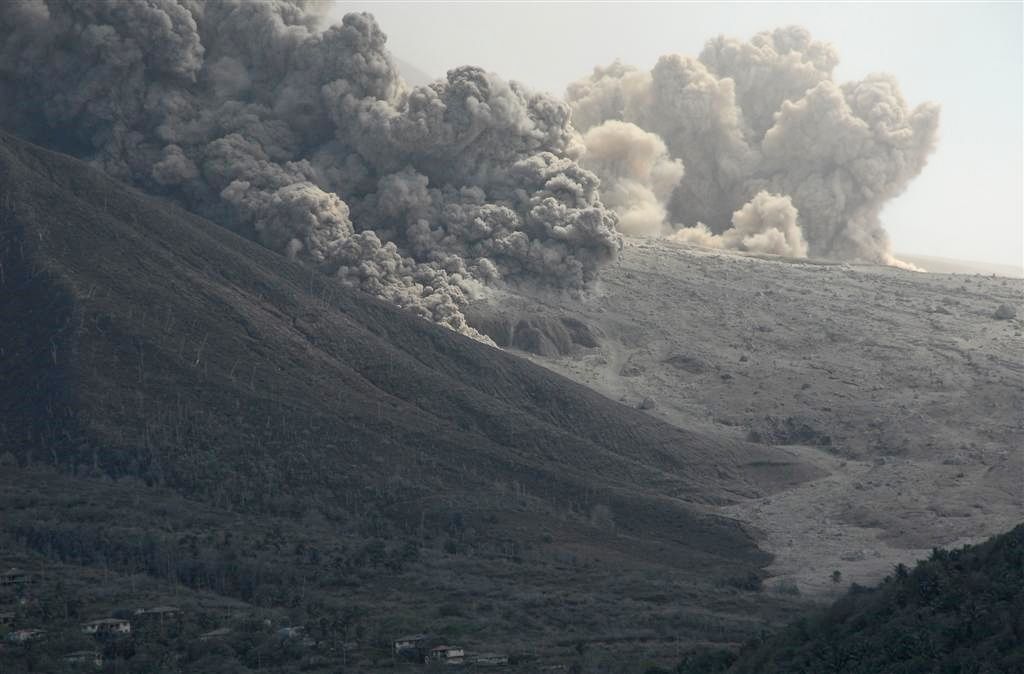 Montserrat 11.2009 - pyroclastic flows in Gages valley - one click to enlarge / the scale is given by houses on the left - photo © Thierry Sluys
Pyroclastic density currents are volcanic phenomena among the most dangerous, destructive and associated with high mortality, about 60,000 deaths over the last 500 years.
They are high temperature mixtures of volcanic gases, water vapor and solid particles (pyroclasts), relatively dense, and which flows at high speed (initially, several hundred km / h), at ground level, guided by the topography they seem to erase, over distances that can be important.
To approach a pyroclastic flow is to expose oneself to a mortal risk ... so how to study their behavior?
A study published in Nature Geoscience by Gert Lube, Eric C. P. Breard, Jim Jones, Luke Fullard, Josef Dufek, Shane J. Cronin and Ting Wang - lifts a veil on this dreaded phenomenon.
Pyroclastic density currents exhibit remarkable fluidity, attributed to an internal process that neutralizes granular friction.
By making their own air cushions, the pyroclastic flows dissociate themselves from the asperities of the rocky slopes and allow them to slide smoothly into the mountains.
"It's a bit like a hovercraft, where the air is blown to support the weight of something heavy," says study author Gert Lube, a volcanologist at Massey University in New Zealand. Of course, with the pyroclastic flows, there is no machine to do the job. The whole process is DIY, creating an autonomous cycle that carries tremendous devastation for miles.
No question of penetrating a pyroclastic flow, the experiment took place in an abandoned boiler room extended by a kind of slide with clear walls.
One thousand four hundred kilograms of hot volcanic material moved in a few milliseconds at the other end of the incline, and finally came out of the boiler room, on a flat ground and began to slow down ... all filmed by ultra-high-speed cameras.
In the analysis of the images, the researchers found that during the fast descent of the entangled components, more or less fast layers separated. The gas tries to escape from this space subjected to high pressure, and runs towards the up or down, under the rocky current, where it constitutes a thin layer of millimeter thickness ... which allows the surfing of the pyroclastic flow.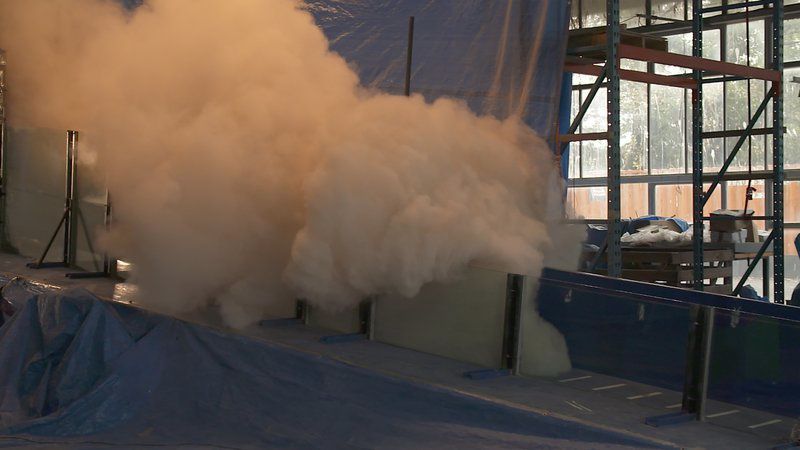 Synthetic pyroclastic flow, composed of more than a ton of volcanic material from the Taupo eruption in New Zealand, for the experiment - photo Gert Lube, Massey University
Synthetic pyroclastic flow, consisting of a ton of volcanic materials from the Taupo eruption in New Zealand, for the experiment - video Gert Lube, Massey University
Here for the studied model, different from the natural conditions: the pyroclastic fluxes there are different at the level composition in gas and rocks, the topography peculiar to each volcano, and the behavior different consequently.
More studies need to be done to refine the description and understanding of the phenomenon, but the model can be used in risk management and hope to save lives.
Sources:
- Nature Geoscience - Generation of air lubrication within pyroclastic density currents by Gert Lube, Eric C. Breard, Jim Jones, Luke Fullard, Josef Dufek, Shane J. Cronin & Ting Wang
- NOVA - Volcanoes' Deadly Pyroclastic Flows Surf on Air to Achieve Super Speed