Publié le par Bernard Duyck
In addition to direct effects in the environment, ash and aerosols produced by volcanic eruptions have an impact on the global climate through a long-known sunscreen effect.
A collateral effect, lesser-known, of tropical volcanic eruptions on specific weather phenomena, such as hurricanes, typhoons or cyclones - according to their "geographical" denomination - has just been studied.
Atmospheric changes and ocean circulation may impact tropical cyclone activity: eruptions may exert an asymmetric hemispheric cooling effect, either in the northern tropical zone or the southern tropical zone, which will influence the intertropical convergence zone (ITCZ).
The associated surface temperature anomalies can affect the genesis of potential cyclones and their power ... and this for a period of more than 4 years after an eruption.
The effect is not so much in a global overall reduction of cyclonic activity, but rather in a redistribution according to the movements of the intertropical convergence zone.
An eruption north of the equator moves the ITCZ ​​south, while an eruption south of the equator will move the ITCZ to ​​north ... as a change in precipitation, winds, and temperatures. produced in areas where cyclone-generating tropical storms occur, the number and frequency of these storms will also be affected.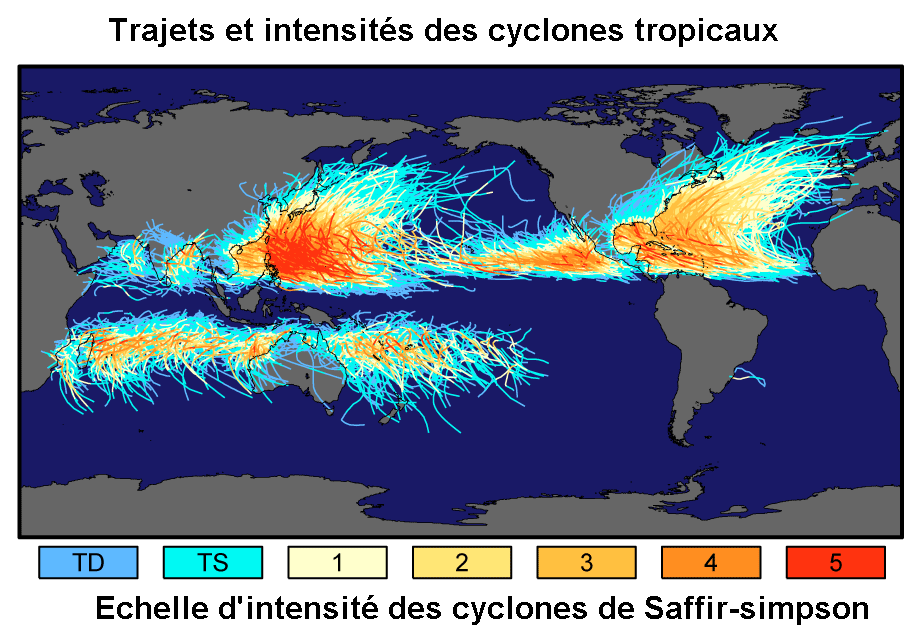 Map of the tropical cyclone track from 1985 to 2005. The color corresponds to the Saffir-Simpson scale according to the legend indicated. - Doc. Robert A. Rohde for Global Warming Art / CC BY-SA 3.0
This study is important in meteorology and climatology, but will mainly allow to estimate the current risk of cyclones, typhoons and hurricanes, to better prepare for cyclonic activity changes consecutive to major volcanic eruptions.
Source: Tropical Cyclone Activity Affected by Volcanic Induced ITCZ ​​Shifts - by Francesco S. R. Pausata and Suzana J. Camargo
PNAS published ahead of print April 1, 2019
https://doi.org/10.1073/pnas.1900777116
This article is licensed under a Creative Commons Attribution-NonCommercial-NoDerivatives License 4.0 (CC-BY-NC-ND).