Publié le par Bernard Duyck
The last eruption of the Agung took place on May 24, 2019 at 19:23, the height of the ash column being observed at ± 2500 m above the summit (± 5 642 m above sea level). The column of ash was gray and thick, bending west and southwest. This eruption is recorded on a seismogram of maximum amplitude of 30 mm (off scale) and a duration of ± 4 minutes 30 seconds.
At the seismic level, Gunung Agung's activities are still dominated by low-frequency earthquakes that reflect shallow activities in the form of blast and eruption earthquakes. High-frequency seismicity, which reflects the cracking of rocks in the body of the volcano due to the movement of magma beneath the surface in the form of volcanic earthquakes, is still recorded at a relatively low intensity. The dominance of low frequency seismicity compared to high frequency content indicates that the magmatic fluid flow of the surface is relatively smooth because the system tends to be open.
The Agung has experienced inflation over the past month. The volume of magma moving below the surface is observed in small quantities (less than 1 million cubic meters). The deformation data still indicate that Gunung Agung's activity is still unstable and that there is still potential for small-scale eruptions.
In remote sensing, thermal satellite images indicate that there are still hot spots in the Gunung Agung crater, particularly in the lava section bordering the crater wall and in the center of the crater section. This indicates that there is still a movement of surface magma fluid, but at a low rate. The lava domes in the crater are still relatively unchanged compared to the 2017-2018 eruption period, which is about 25 million m3 or about 40% of the empty volume of the crater.
A thin layer of ash covered the surrounding villages. Several flights to or from the international airport have been delayed.
Sources: Magma Indonesia, PVMBG, Mirova and VAAC Darwin
For several days, a slight inflation (swelling) of the top of the building of the Piton de la Fournaise is again observed by the deformation network of the OVPF.
In parallel, the increase in CO2 concentrations in the soil in the Plaine des Cafres and Plaine des Palmistes sectors and the volcano gîte is continuing.
Seismicity is still recorded, indeed 8 volcano-tectonic earthquakes this Friday, May 24th.
The OVPF states that this process of pressurizing the superficial reservoir can take several days to several weeks before the roof of the resrvoir becomes brittle and breaks, giving rise to a magma injection to the surface, but may also stop without giving rise to an eruption!
Source: OVPF via Fournaise info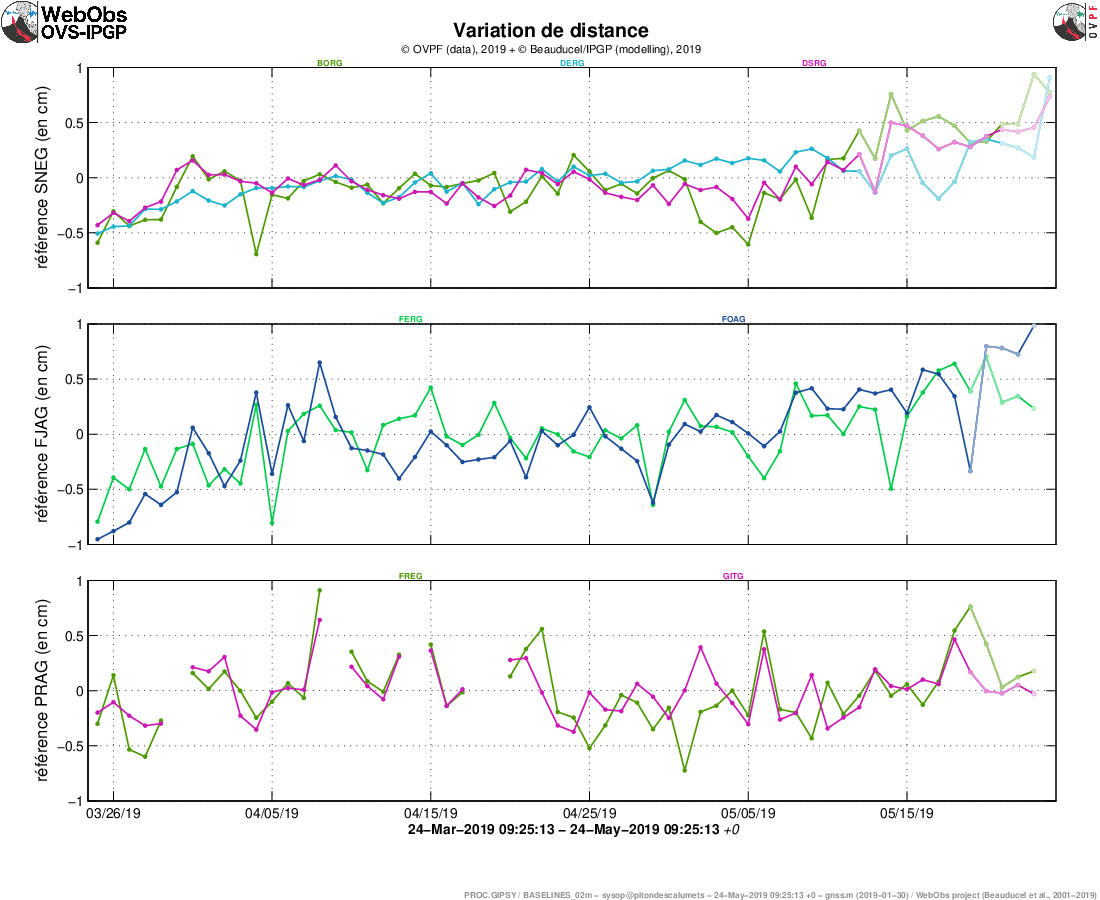 Piton de La Fournaise - Illustration of the deformation over 2 months. Bases are shown here (variation of distance between two GPS receivers) crossing the Piton de la Fournaise building, at the top (at the top), at the base of the terminal cone (in the middle) and in the far field (at the bottom ) (see location on the associated maps). A rise is synonymous with elongation and therefore swelling of the volcano, inversely a decrease is synonymous with contraction and therefore deflation of the volcano. Any periods colored in light pink correspond to eruptions. - Doc. OVPF