Publié le par Bernard Duyck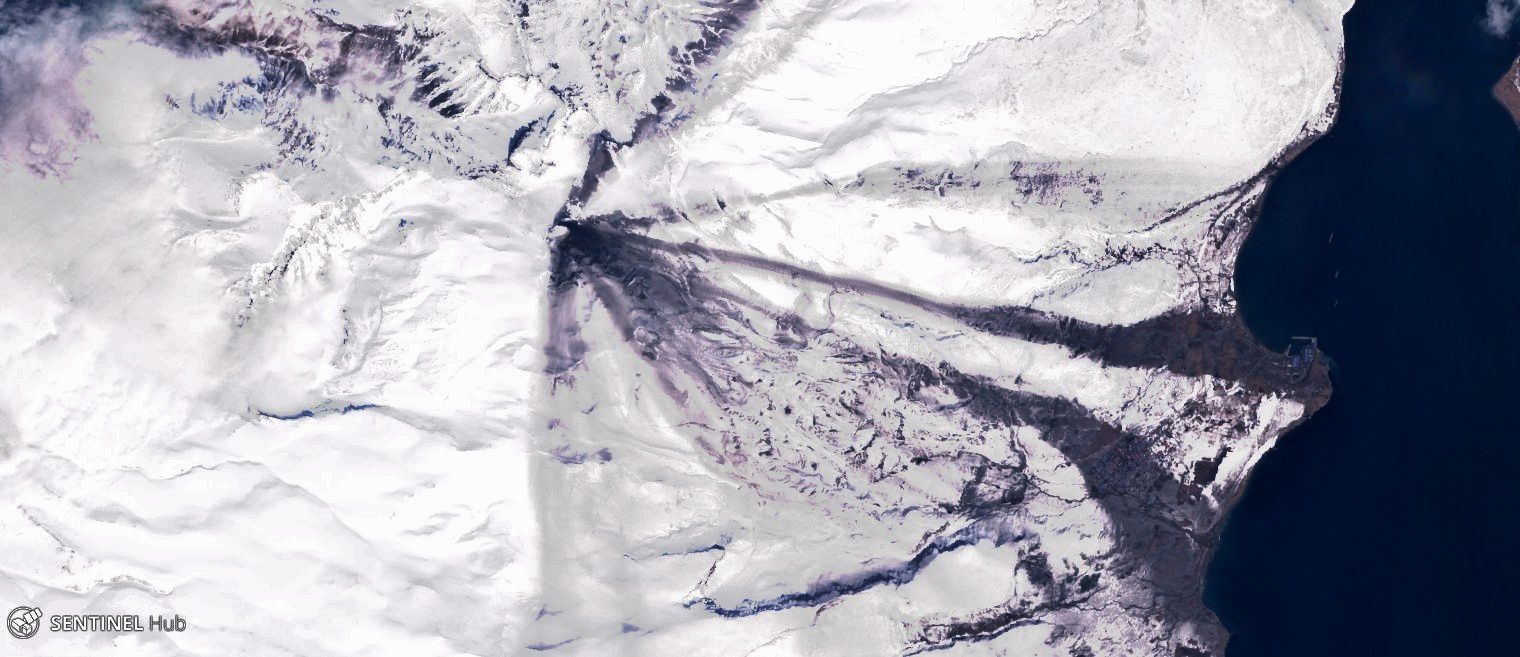 Ebeko - the emissions of the volcano mainly towards SE and Severo-Kurilsk - Sentinel 2 image of 28.04.2019 - one click to enlarge
In the northern Kuriles, the eruption continues at Ebeko, with this 1st of May, a plume of ashes at 3,000 meters asl. drifting southeast over 5 km.
The aviation code is orange
Source: KVERT
In April 2019, the OVPF recorded in the Piton de la Fournaise massif a total of:
- 167 superficial volcano-tectonic earthquakes (0 to 2 km deep) beneath the summit craters;
- 4 deep earthquakes (> 2 km deep);
- 242 collapses (in the crater Dolomieu and at the ramparts of Enclos Fouqué).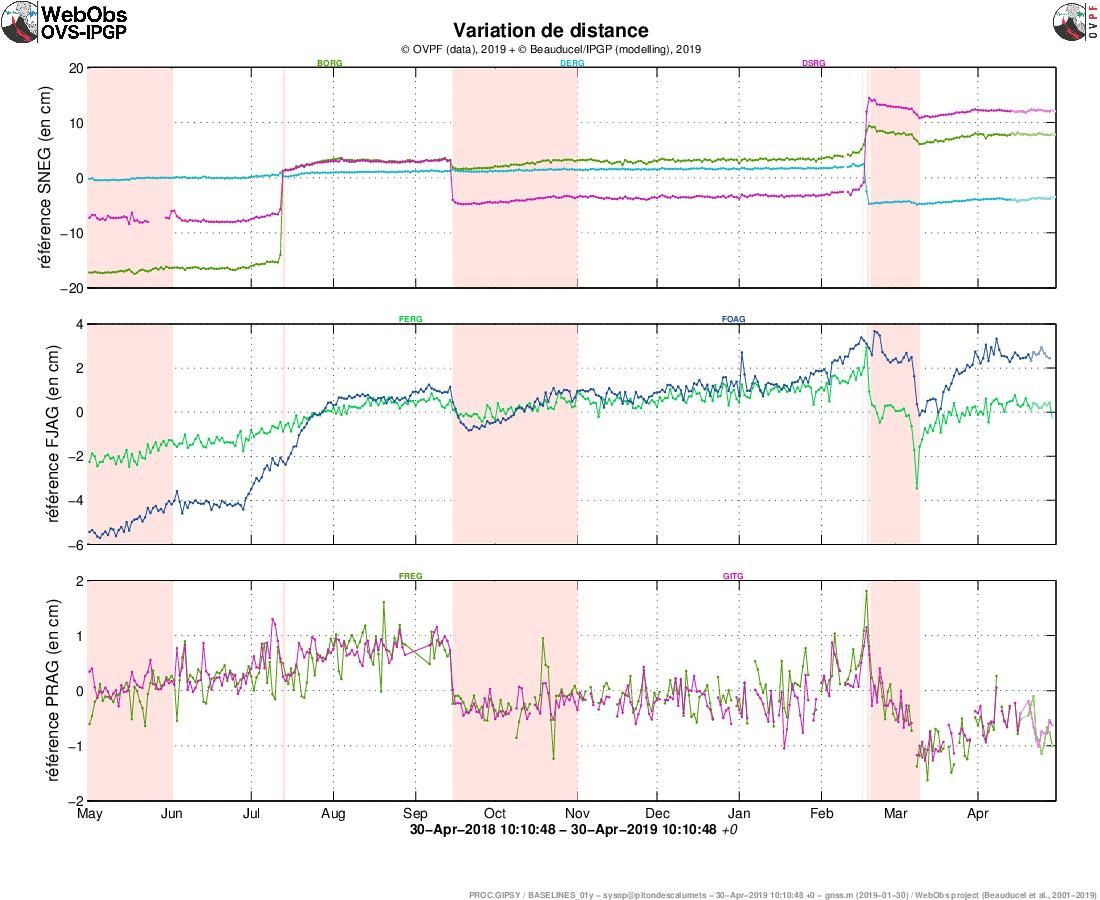 Piton de la Fournaise - Illustration of the deformation over the last twelve months (the eruptive periods are represented in red and the intrusive periods in green). Bases are shown here (variation of distance between two GPS receivers) crossing the Piton de la Fournaise building, at the top (at the top), at the base of the terminal cone (in the middle) and in the far field (at the bottom ). A rise is synonymous with elongation and therefore swelling of the volcano; conversely, a decrease is synonymous with contraction and thus deflation of the volcano (© OVPF-IPGP)
The deep magma recharge and the pressurization of the superficial magmatic reservoir that had resumed following the end of the February 18 - March 10, 2019 eruption appear to have stopped since the beginning of April. It should be noted that since 2016, the deep refeeding under the Piton de la Fournaise is done by impulses, and such phases of lull in deformation and seismicity have already been observed several times in 2016, 2017 and 2018 over periods ranging from approximately 15 to 80 days.
Source: OVPF
Find all the information related to the Piton de la Fournaise activity on the different media of the OVPF-IPGP:
- the website (http://www.ipgp.fr/fr/ovpf/actualites-ovpf),
- the Twitter account (https://twitter.com/obsfournaise?lang=en),
- and the facebook account (https://www.facebook.com/ObsVolcanoPitonFournaise/)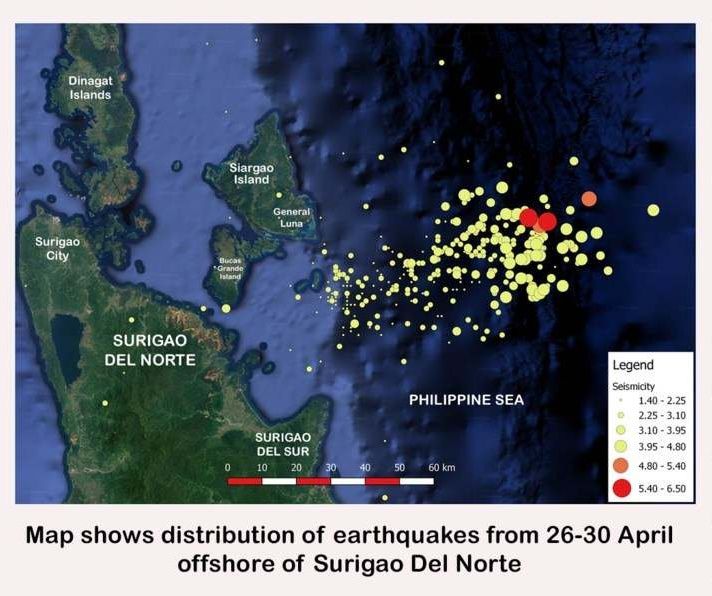 Epicentres of the earthquakes of end of April 2019 in the area of ​​Surigao del Norte / Philippines.
The Phivolcs provides information on a series of earthquakes located off Surigao del Norte.
The series, started on April 26, 2019 with an M5.5 earthquake, has 728 episodes of magnitude 1.5 - 5.5 in the same area.
These earthquakes are related to local tectonics, subduction of the Philippine plate at the pit of the Philippines.
At this stage, it is not possible to say whether these earthquakes will continue, decline or culminate with a larger episode.
The population is eager to prepare, and to stay informed.
Source: Phivolcs