Publié le par Bernard Duyck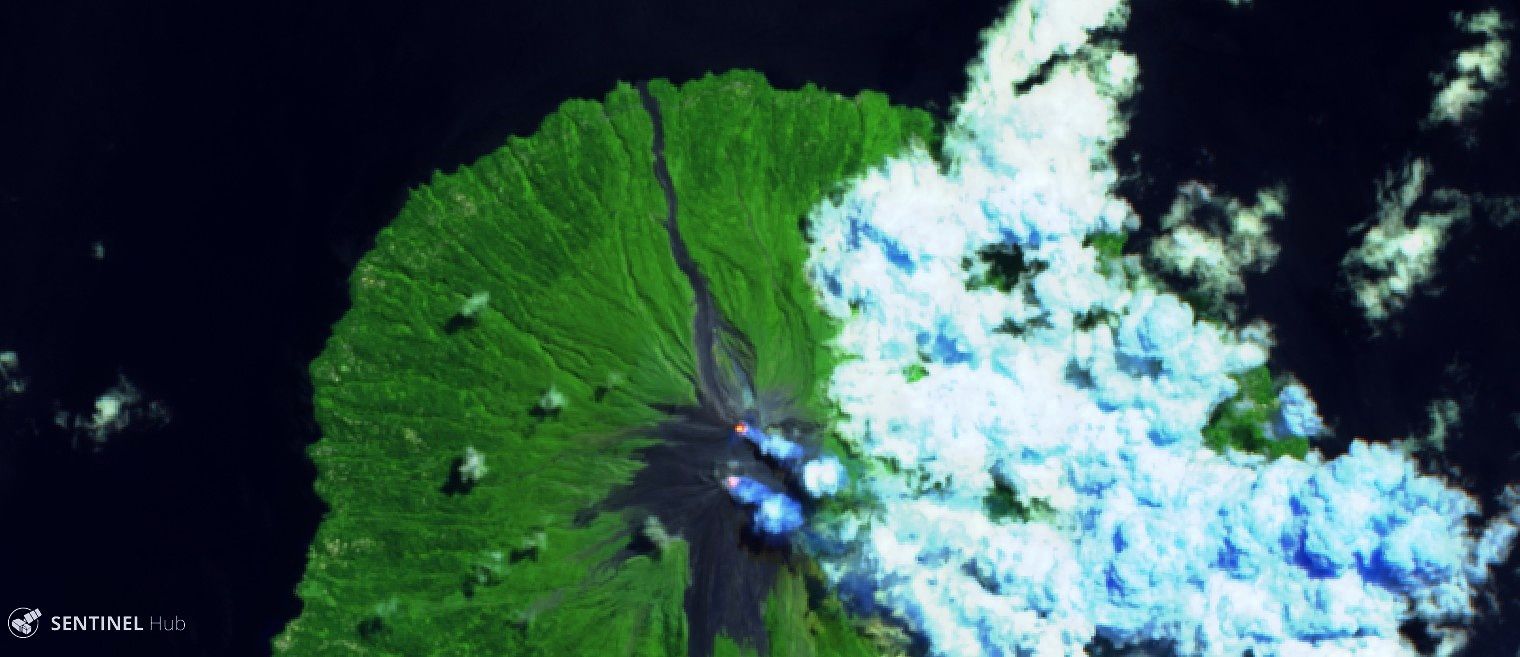 Karangetang - image Sentinel 2 bands 12,11,4 from 15.05.2019 - degassing and hot spots at 2 summit craters - one click to enlarge
In Karangetang, North Sulawesi, PVMBG reports 5 blasts earthquakes, 12 hybrid earthquakes, and a shallow volcanic earthquake on May 14, 2019.
Nighttime glow and hot spots are detected at the two summit craters.
The activity level remains at 3 / siaga, with hazard prediction zones of 2.5 km, extending north at 4 km.
Source: PVMBG
An eruptive episode marked the Anak Krakatau, this 14 May 2019 at 00:21 WIB, but the height of the ash column was not observed. This eruption was recorded on a seismogram of maximum amplitude of 55 mm and a duration of ± 1 minute 7 seconds.
Currently, the Anak Krakatau is in the Status Level II (Waspada) with recommendations: People / tourists are not allowed to approach the crater within 2 km of the crater.
Source: PVMBG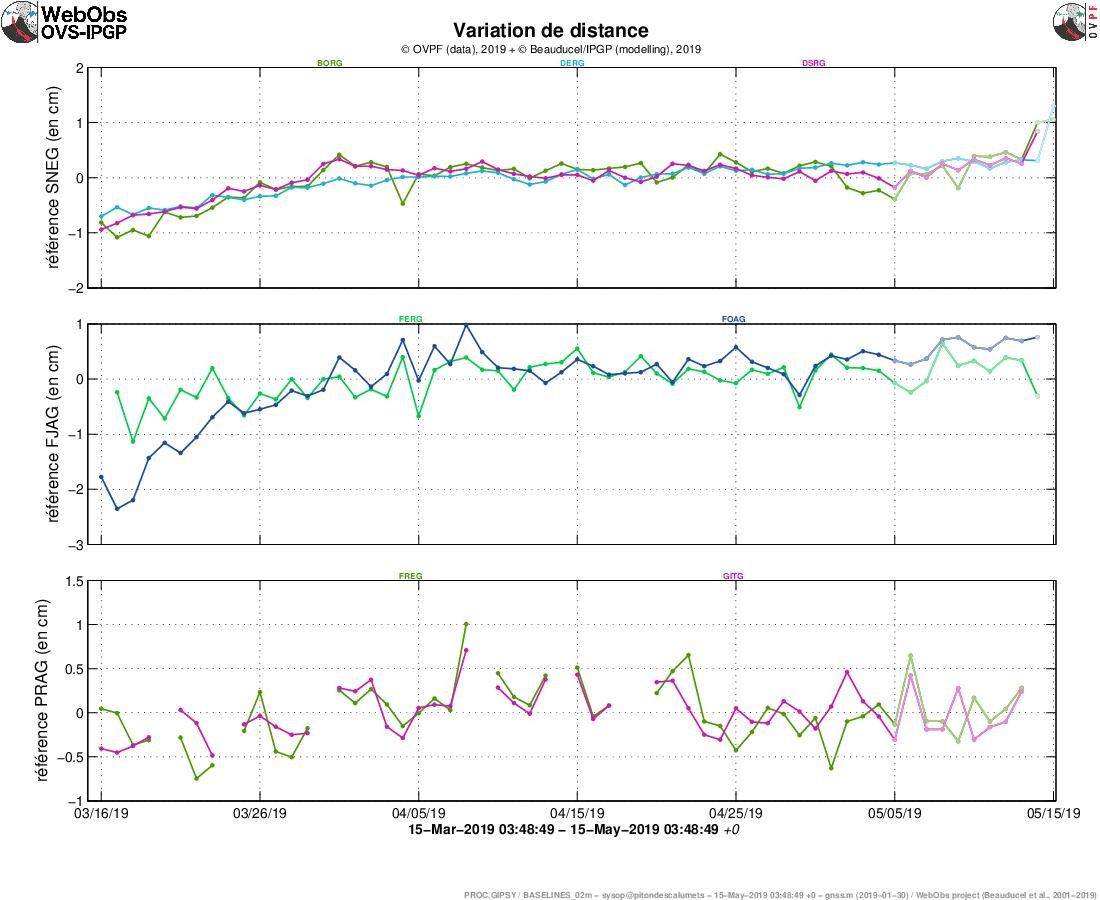 Piton de La Fournaise - Illustration of the deformation over 2 months. Bases are shown here (variation of distance between two GPS receivers) crossing the Piton de la Fournaise building, at the top (at the top), at the base of the terminal cone (in the middle) and in the far field (at the bottom ) (see location on the associated maps). A rise is synonymous with elongation and therefore swelling of the volcano, inversely a decrease is synonymous with contraction and therefore deflation of the volcano. Any periods colored in light pink correspond to eruptions. - OVPF
For the last ten days, a very slight inflation (swelling) of the top of the Piton de la Fournaise has been observed again by the OVPF deformation network. This recovery in the building's inflation is synonymous with a slight deep pressurization.
In parallel, the increase in CO2 concentrations in the far-field soil (Plaine des Cafres and Plaine des Palmistes sectors) and near field (volcano deposit) is continuing.
Seismicity is always recorded (around 2 to 5 events per day). It should be noted that this process of pressurizing the superficial reservoir can last several days to several weeks before the roof of the tank becomes brittle and breaks, thus giving rise to an injection of magma towards the surface, but may also occur. stop without giving rise to an eruption.
Source: OVPF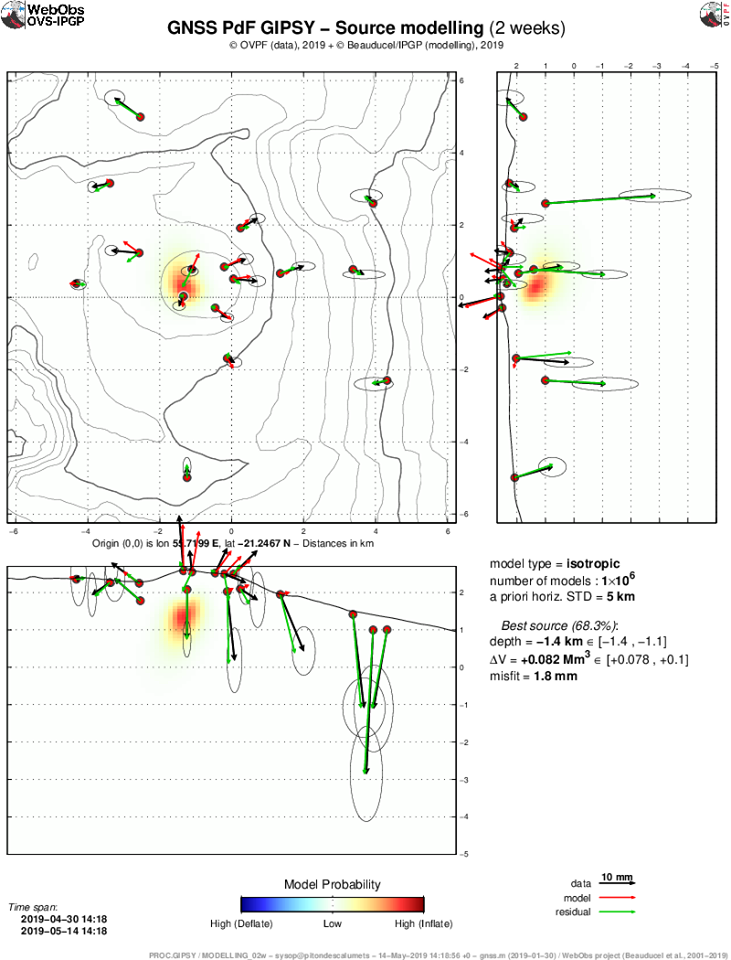 Piton de La Fournaise - Location of the source (best model resulting from a "Mogi" type of modeling) at the origin of displacements recorded during the last two weeks on the GPS stations of the base and the summit of the terminal cone of the Piton of the Furnace. (© OVPF-IPGP).
In the Yellowstone National Park, the Ledge Geyser, one of the largest in the Norris geyser basin, woke up after 3 years of rest.
This noisy geyser (water and steam must pass through a narrow opening) emits 38 meters high and a diatance of 67 meters.
Some geysers only erupt episodically ... the status of the Yellowstone Volcano remains at Normal / Green Aviation Code, characterized by seismic activity below the basal level and subsidence of the caldera and in the Norris area.
Sources: Associated press and YVO