Publié le par Bernard Duyck
At Popocatépetl, Cenapred reports in the last 24 hours 43 low-level exhalations, mainly accompanied by gas emissions.
On May 23 at 0:10 GMT / May 22 at 19:50 local, an explosion was accompanied by a plume of ash and gas rising to 3,500 meters above the crater. Ash falls have been reported on Atlautla, Ecatzingo, Ozumba, Tepetlixpa, Atlatlahucan, Cuautla, Ocuituco, Tetela del Volcan, Tlayacapan, Totolapan, Yautepec y Yecapixtla.
The explosion was followed by emissions of gas and ash not exceeding 500 meters.
The volcanic alert remains at Amarillo fase 2
Source: Cenapred
Two eruptive episodes are observed at Anak Krakatau:
the first, May 23 at 22:59 WIB, with an imprint on the seismogram of max. 55 mm with a duration of 1min. 29 sec.
Another episode occurred on May 24 at 7:43 local, lasting 242 seconds and was accompanied by a cloud of ashes.
The Vona is orange, and the activity level is 2 / waspada.
Sources: PVMBG & Magma Indonesia
In the Moluccas archipelago, the Ibu volcano on Halmahera, in eruption since 2008, showed on May 23, 89 eruption earthquakes, 101 breath earthquakes, 77 harmonic tremor episodes, a tornilo earthquake.
Low to moderate thermal anomalies have been reported in recent days by Mirova, and hot spots visible on the Sentinel 2 image of May 21st.
A white plume is observed between 200 and 800 meters in height.
The alert level is 2 / waspada, with a 2 km radius restricted area, 3.5 km to the north. The vona is orange.
Sources: PVMBG, Mirova, Sentinel 2 and VAAC Darwin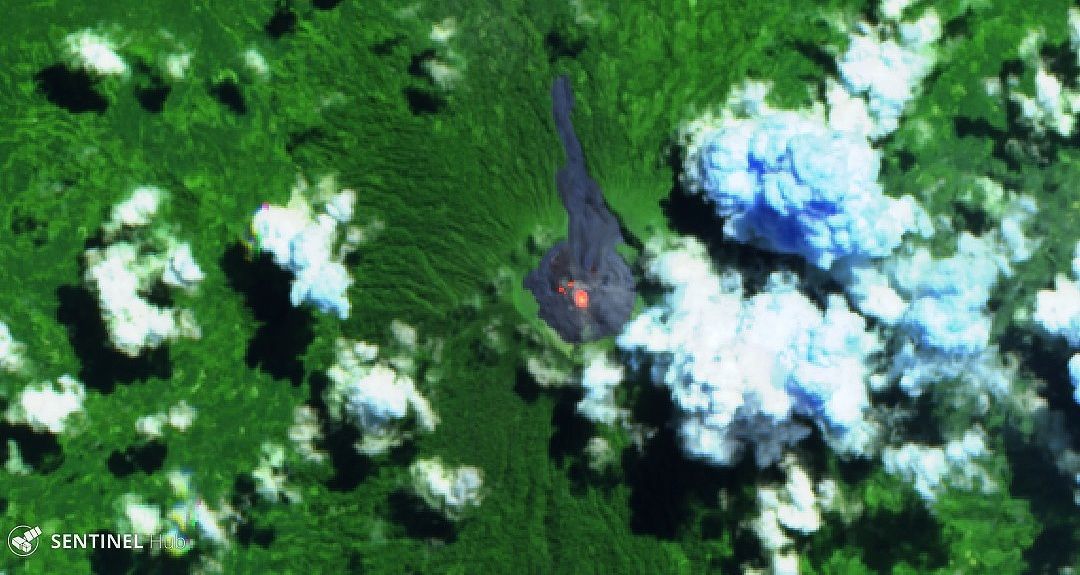 Ibu volcano - hot spots on this image Sentinel 2 bands 12,11,4 from 21.05.2019. - a click to enlarge
In Manam, Papua New Guinea, volcanologists performed the first fixed-wing drone measurements over the main crater, carrying multigas equipment, DOAS, and collecting carbon samples for isotope analysis.
These measurements are coupled with measurements made on the ground and by satellites.
Results to follow.
Sources: Emma Liu / deepcarb, UOBFlight Lab