Publié le par Bernard Duyck
A strong eruption occurred this May 25 at 02:53 WIB / May 24 at 19:53 UTC at Sinabung. It lasted 7 minutes 6 seconds, and was recorded on the seismogram with a max amplitude. 120 mm.
The height of the plume could not be estimated visually due to fog. The aviation code has gone red by VAAC Darwin / orange by Magma Indonesia.
The level of activity is accompanied by a prohibited area of ​​3 km radius, enlarged 4 km NE and 5 km SE.
A notice of wearing of mask recommended in case of falls of ashes is renewed, as well as the protection of the installations of drinking water and cleaning of the roofs to avoid their collapse.
Media reports ash falls on southeast Aceh this Saturday.
Following a prolonged phase of little or no activity in 2018 and until May 2019, the alert level was lowered from 4 to 3 on May 20, 2019. At the same time, however, there is an increase in this activity with on May 7 a strong ash emission that lasted about 50 minutes, and the episode of this May 25.
Sources: PVMBG, Magma Indonesia and local media.
The Anak Krakatau remains unstable, with production in recent days of intermittent explosions. Seismic activity and thermal signals are rising, and suggest a rise in magma.
The explosions would be caused by the overheating of the water in the upper duct, and its explosive transformation into steam. A scenario evokes an evolution towards phreatomatic explosions in case of encounter between magma and water ... When, in terms of days or months ? Impossible to predict.
Sources: PVMBG, Magma Indonesia, and Volcanodiscovery news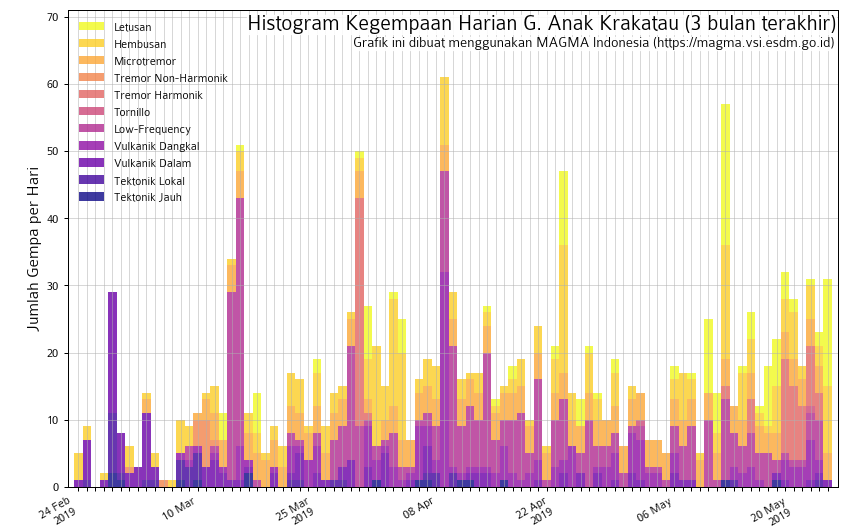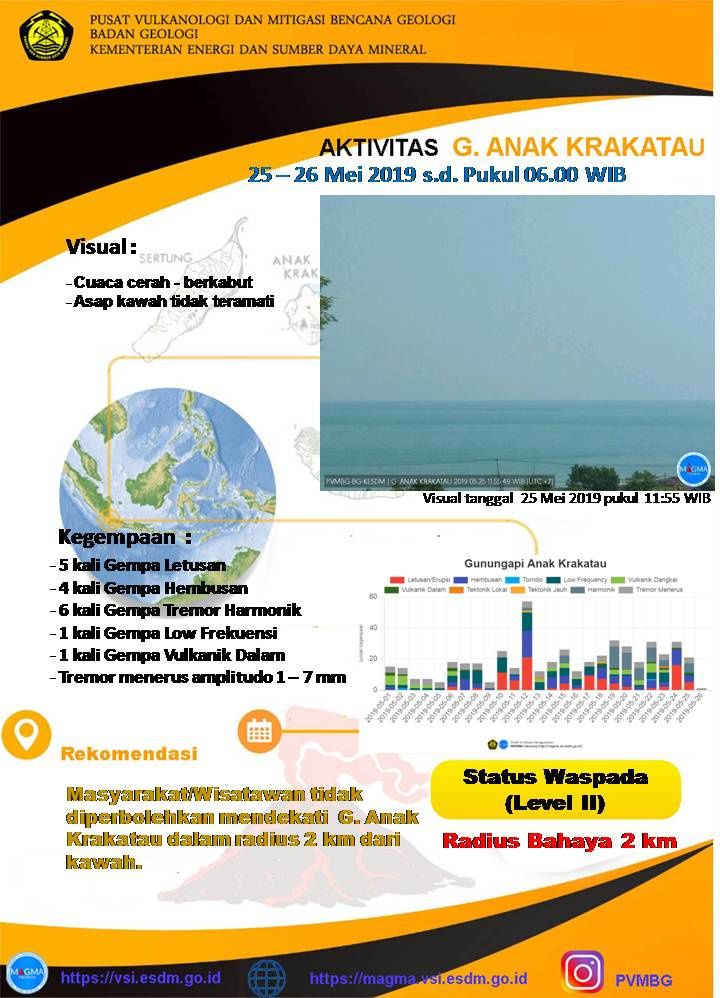 Anak Krakatau - seismicity on 25.05.2019 / Magma Indonesia - and activity table of 25-26.05.2018 / 06h WIB - Doc. PVMBG
At Popocatépetl, Cenapred accounted for 32 exhalations of gas, water vapor and a little ash, interspersed with gas emissions, as well as 215 minutes of tremor over the last 24 hours.
Night glow marks the crater.
The volcanic alert remains at Amarillo fase 2.
Source: Cenapred