Publié le par Bernard Duyck
The news of the day is the discovery of an underwater volcano 50 km east of Mayotte, Comoros.
Since May 2018, a succession of earthquakes has mobilized the scientists, and missions including the installation of new measuring devices and an oceanographic campaign carried out by the ship Marion Dufresne, back to Mayotte on May 15, 2019, made it possible to enlighten the mystery.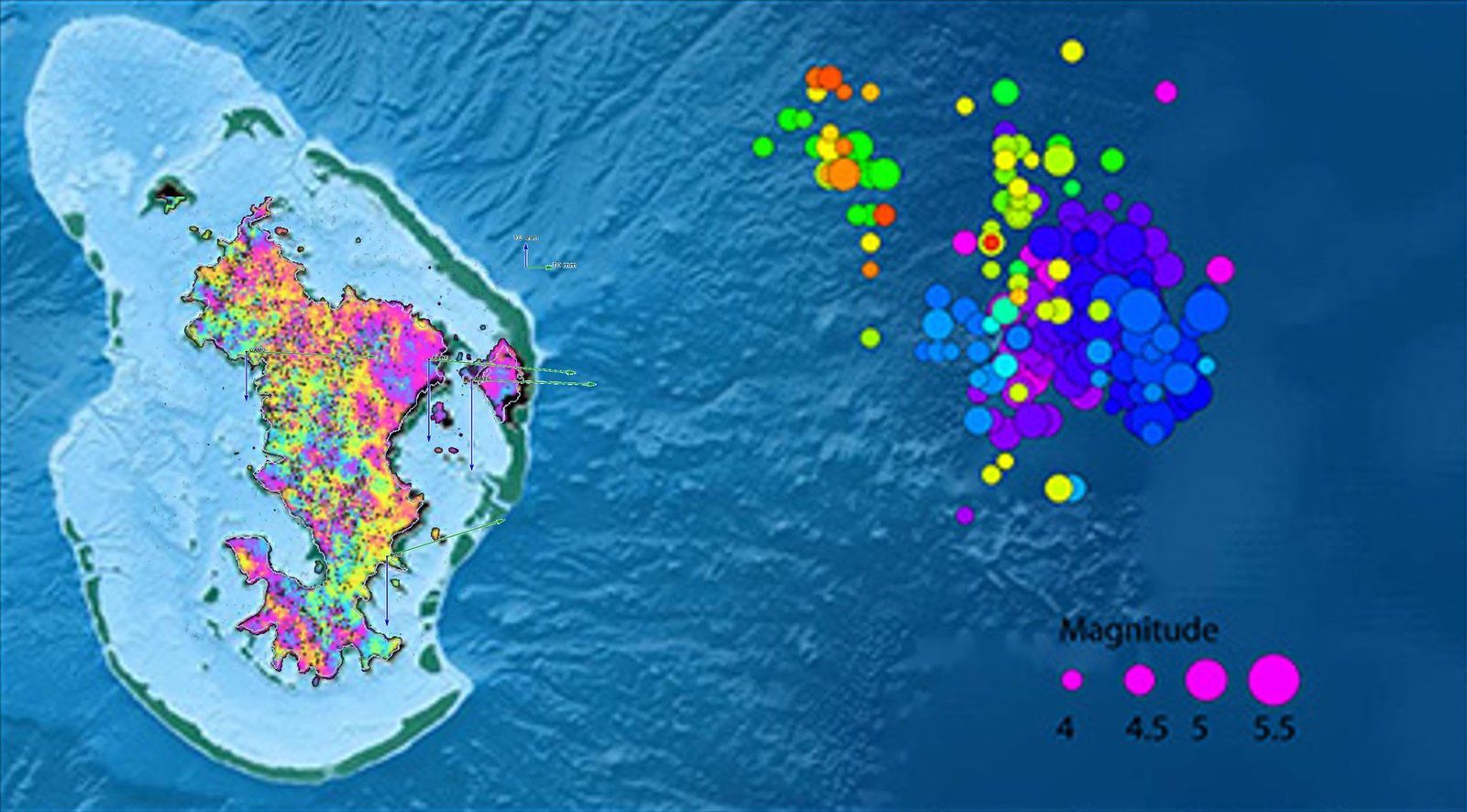 Mayotte - The seismic swarm, data InSAR, displacement - Doc. Matarikipax / Twitter - one click to enlarge
These missions, conducted by various bodies (the National Center for Scientific Research (CNRS), with the Bureau of Geological and Mining Research (BRGM), the Institute of Earth Physics of Paris (IPGP), the French Institute of Research for the exploitation of the sea (IFREMER), the University of Reunion, the Institute of Earth Physics of Strasbourg (IPGS), the National Institute of Geographical and Forest Information (IGN), the Normal School Superior (ENS), the National Center for Space Studies (CNES) and the Hydrographic and Oceanographic Service of the Navy (SHOM) and the oceanographic vessel) have highlighted a new submarine volcano at 50 km from Petite-Terre; located at 3,500 meters deep, it has a base of 4-5 km in diameter and a height of about 800 meters. A plume of volcanic fluids of 2 km overcomes it, but does not reach the marine surface.
The BRGM and no less than four ministries confirmed yesterday its existence.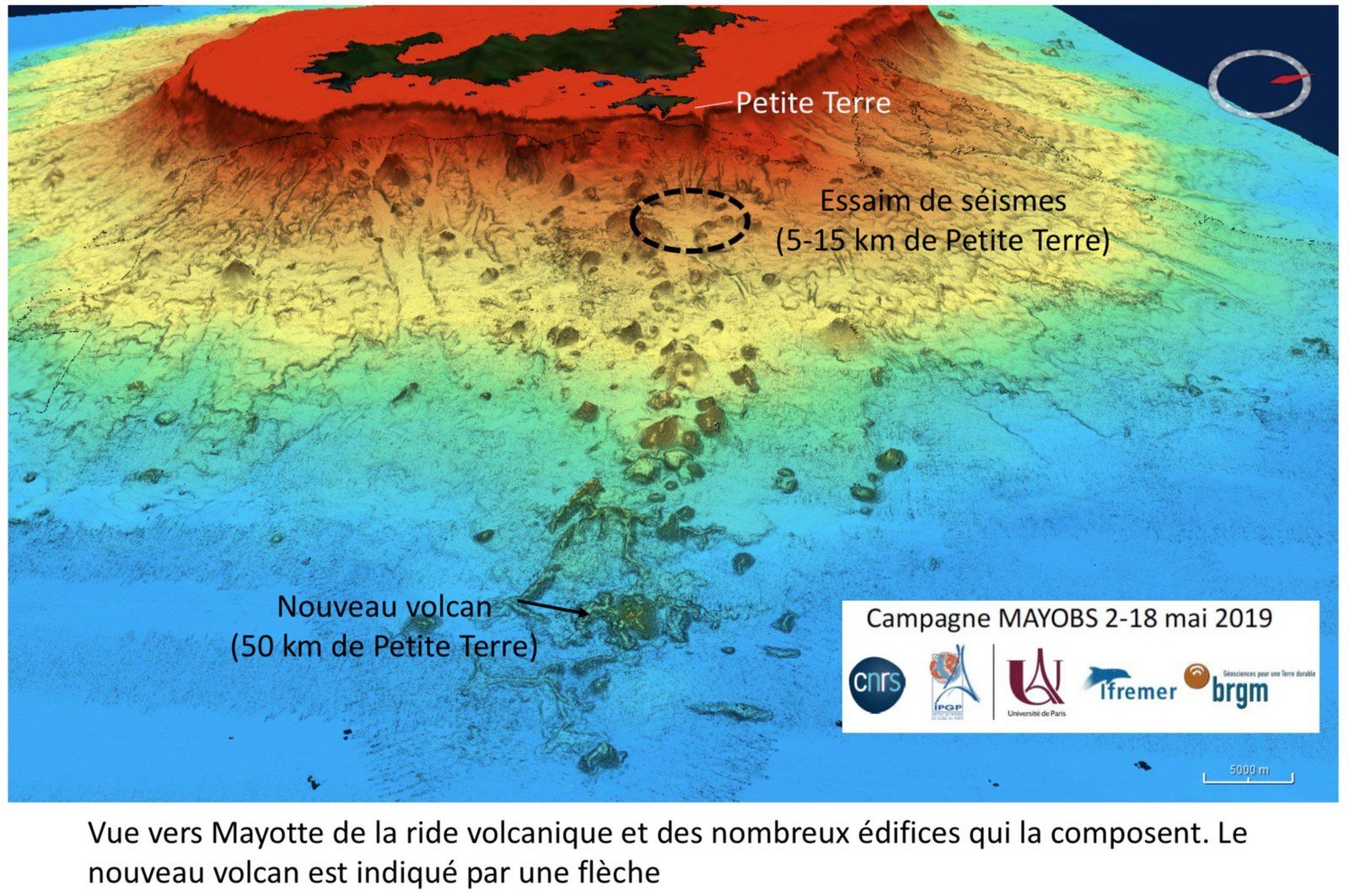 Mayotte - situation of the island (submerged and emerged parts) and the volcanic ridge with its buildings - the new volcano is signposted - Doc. MAYOBS campaign from 02 to 18.05.2019 - CNRS / IPGP / IFREMER / BRGM / Univ Paris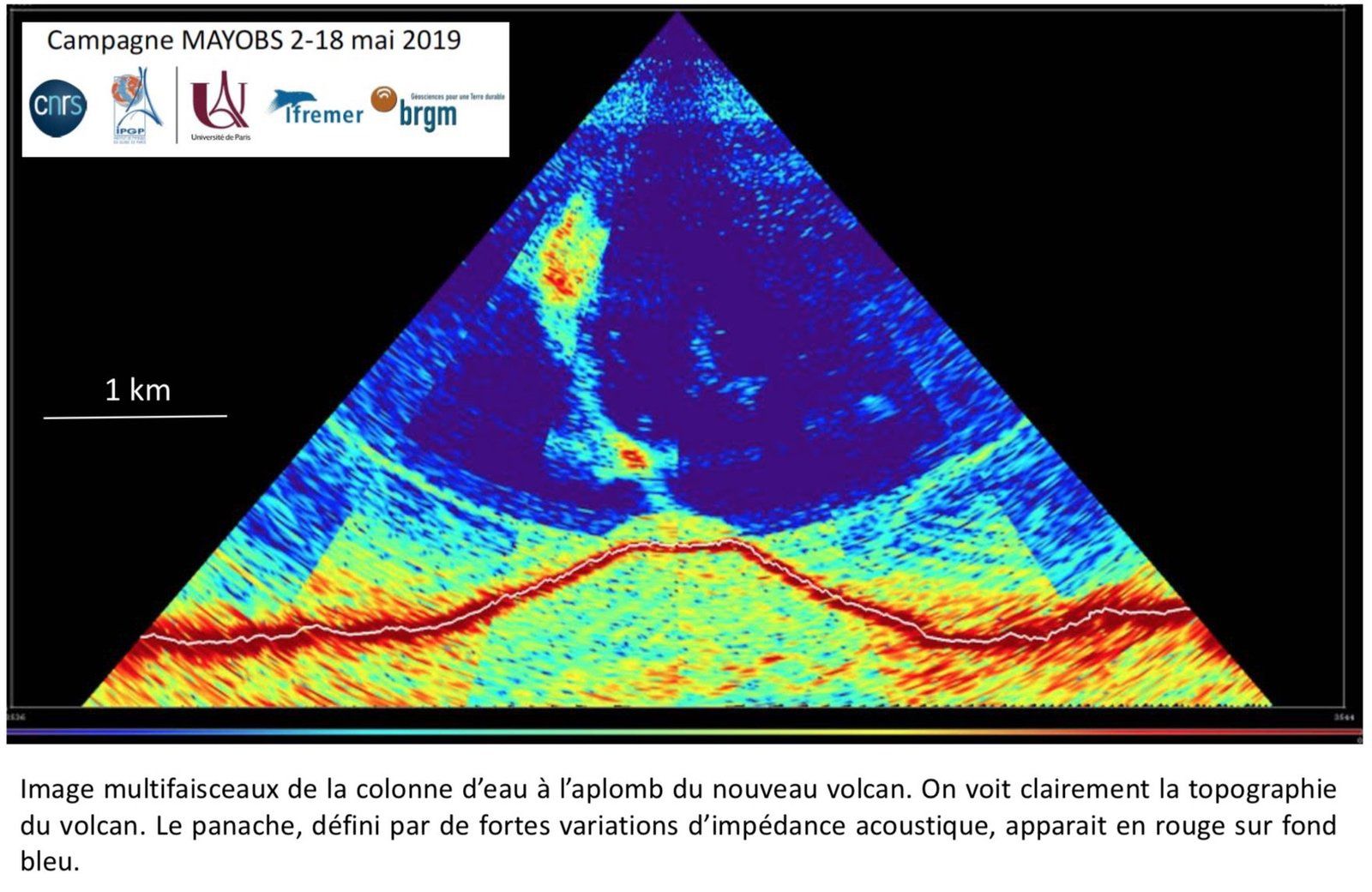 Mayotte - topography of the new volcano and his plume - Doc. MAYOBS campaign from 02 to 18.05.2019 - CNRS / IPGP / IFREMER / BRGM / Univ Paris ; via R.Lacassin
The French government has defined an action plan in five axis:
- Complete monitoring devices and measuring instruments (such as seismographs and GPS beacons) as soon as possible to continuously monitor the phenomenon;
- To complete, through adapted missions, scientific knowledge;
- Immediately update the knowledge of the risks posed by this phenomenon and the potential impacts for the Mahorese territory, the results of which can be presented within three months;
- Immediately strengthen the crisis management planning and preparation system. To this end, a mission to support civil security planning is dispatched to provide support to the prefect (updating of crisis management systems such as ORSEC plans). She will be there on Friday 17 May;
- Regularly inform the population, in connection with local elected officials.
In addition, these new knowledge elements will be shared internationally in the Indian Ocean region.
Sources :
- BRGM – Naissance d'un volcan sous-marin à l'est de Mayotte – link
- CNRS le journal - Lorsque la Terre tremble : la science aux avant-postes – link
- Ministère de la Transition écologique et solidaire - Découverte de la naissance d'un nouveau volcan sous-marin à l'Est de Mayotte : améliorer nos connaissances et prévenir les risques. - link
- Médias , dont France info Outremer - Découverte de la naissance d'un volcan sous-marin à l'Est de Mayotte – link