Publié le par Bernard Duyck
A muography of the Stromboli volcano was created as a result of the collaboration of a group of researchers from the National Institute of Nuclear Physics (INFN) and the National Institute of Geophysics and Volcanology (INGV) in collaboration with institutes of Japanese research.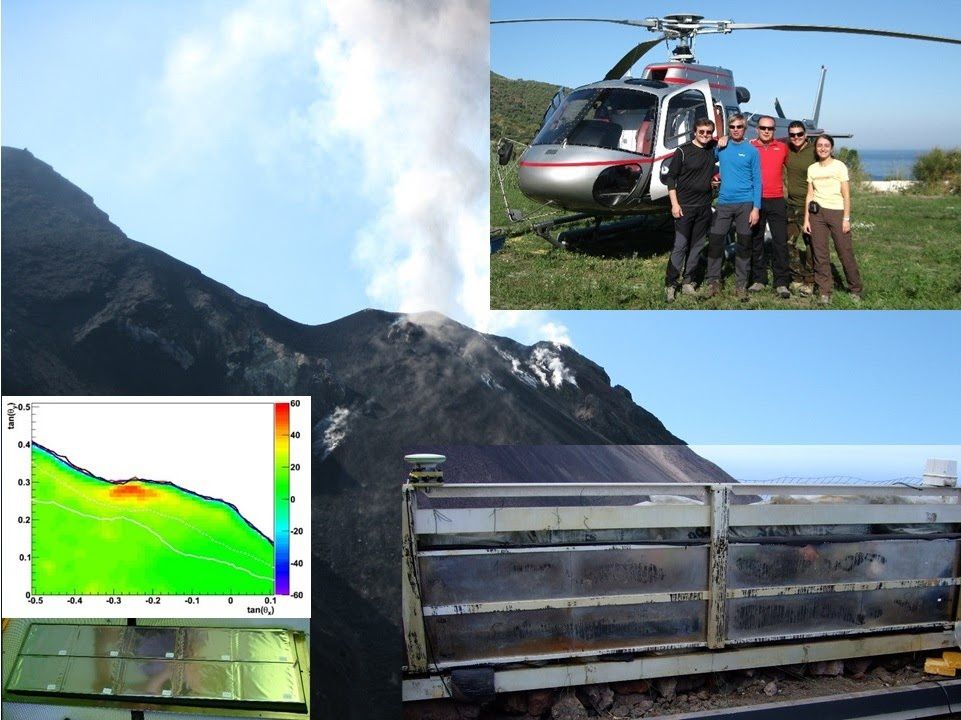 Stromboli - field researchers for muography installations - photo Scientific reports - First muography of Stromboli volcano - by Valeri Tyukov, et al.
Muography, or radiography of muons, is a technique that uses muons, particles that are produced when the cosmic rays of space interact with the Earth's atmosphere, to reconstruct an image of the internal structure of an object, particularly effective in the case of voluminous target like a volcano.
The detector used consists of 320 films of nuclear emulsions, special photographic plates that can "photograph" with great precision the passage of particles passing through them. The surface of the detector used is about one square meter. The detector was placed on the site of Le Roccette, at an altitude of 640 meters, and collected traces of muons that crossed the volcano for about 5 months.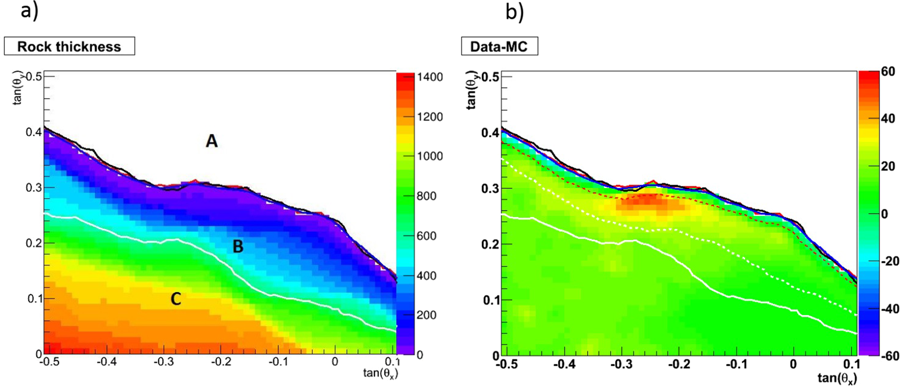 Stromboli muography - (a) Rock thickness and mountain profile as seen by the detector, given with 10 × 10 mrad2 binning. The color scale is the rock thickness in meters. The white profile gives the statistical sensitivity limit, as defined in the text. (b) Difference between the observed muon flux and the one expected from Monte Carlo simulation over an angular range centered at crater region. Color scale represent muons counts. The average density ranges in between 1.4 and 2.2 g/cm3 above the sensitivity limit. Scientific reports - First muography of Stromboli volcano – by Valeri Tioukov, et al.
The results of the Stromboli volcano muon radiography revealed the presence of a low density zone in the volcano's summit area.
This zone corresponds to a collapsing structure formed in the crater zone during the effusive eruption of 2007, then filled with incoherent pyroclastic material produced by Strombolian explosive activity. This structure, which influenced the eruptive style of the volcano after the eruption of 2007, has a density of more than 30% lower than that of the rest of the bedrock.
This study will serve to better understand Strombolian eruptive processes and slope dynamics of the "Sciara del Fuoco", which has been repeatedly affected by tsunami-generating landslides.
Sources:
- INGV Communicatione - Stromboli: the first muonica radiograph of the volcano was realized
- Scientific reports - First muography of Stromboli volcano - by Valeri Tyukov, et al.
Open Access - This article is licensed under a Creative Commons Attribution 4.0 International License - https://creativecommons.org/licenses/by/4.0/