Publié le par Bernard Duyck
The eruptive activity that lasted from May 30th until the night of June 5-6, 2019 changed the shape of the new southeast crater cone of Etna.
The thermal image shows, at the base of the cone, an eruptive vent. In addition, the southeast flank of the cone is cut by a "dry" fracture (which did not emit lava), and ends up in a rather warm zone, affected by intense fumarolic activity and sulfur deposits (see visible image)
Source: INGV / Boris Behncke
At Sabancaya, explosive activity continues in recent days, with a rising volcanic plume, according to the VAAC Buenos Aires, at 7,900 meters altitude (flight level 260) and drifting between 10 and 15 km to the east and south south-east.
The IG Peru has issued an alert for the people of Lluta and Huanca, and advises to take preventive measures in case of falling ash.
Source: I.G.Peru & VAAC Buenos Aires
In Chile, the minor eruption of Nevados de Chillan continues; in the past 24 hours, seismicity has been characterized by VT earthquakes, one of which is of high energy, located at 1 km SSE from Nicanor crater and 3.1 km deep, large period earthquakes and tremor episodes.
Nighttime glow is observed, associated with the emission of gases and particulate matter deposited around the active crater.
In this period of winter sports, a new map of evacuation routes and transitional meeting points was published by Sernageomin.
The explosive activity remains minor, consistent with the Naranja warning, but could degenerate without clear precursors, with pyroclastic flows.
Source: Sernageomin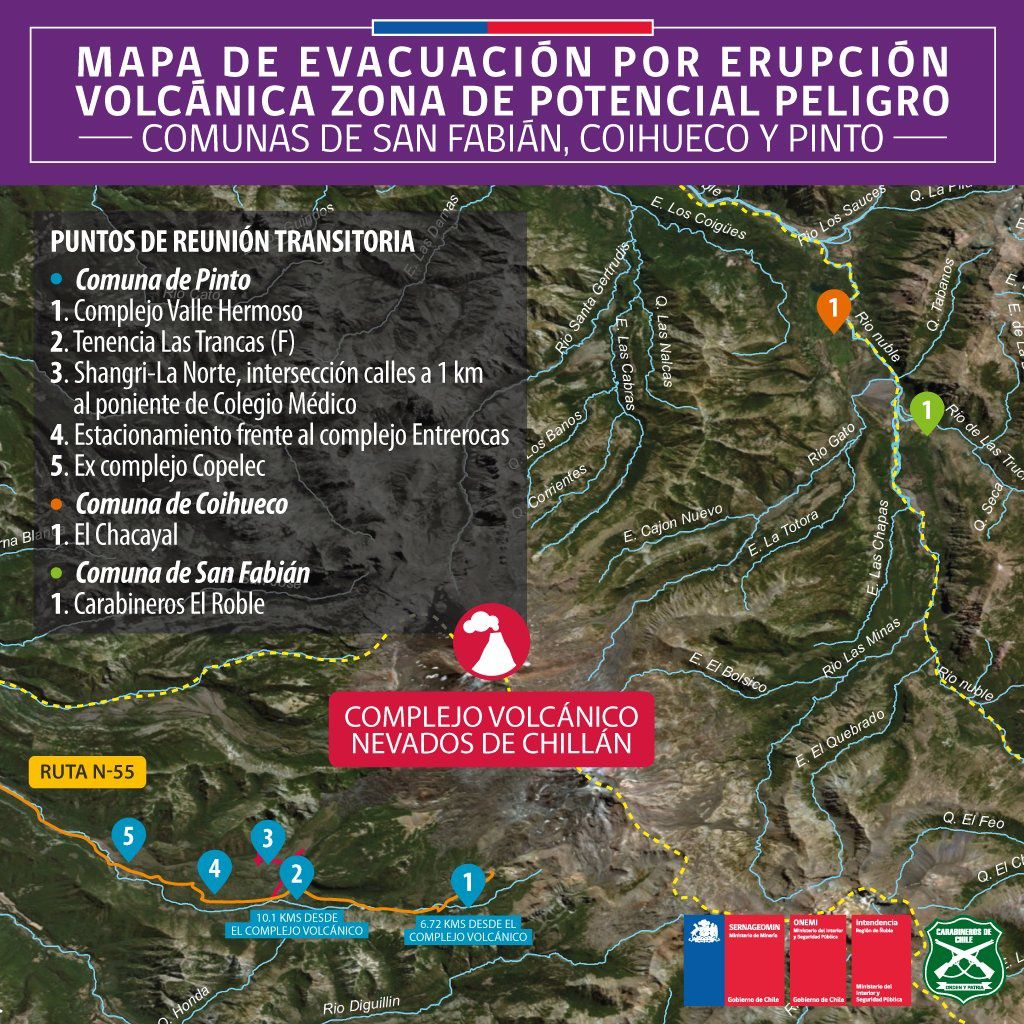 Nevados de Chillan - 07.06.2019 - map of evacuation routes and transitional meeting points for 3 municipalities - Doc. SERNAGEOMIN
The Agung was clearly visible, without a summit plume on June 7th and 8th, despite 3 earthquakes recorded on the 8th.
The level of activity remains at 3 / siaga, and the 4 km forbidden zone is still in force.
Sources; PVMBG & Sentinel2