Publié le par Bernard Duyck
The eruption, begun on June 11, at Piton de La Fournaise continues.
By June 12, the OVPF reports no significant deformation or volcano-tectonic earthquake. A decrease in sulfur dioxide levels is observed, and CO2 emissions from the soil show high and stable values ​​in the distal zone (Plaine des Cafres) and are increasing again in the proximal zone (Gîte du Volcan).
The images of the OVPF webcam located in Piton des Cascades helped to locate the flow front this morning around 1200-1300 m altitude.
Update : End of the eruption at Piton de la Fournaise.
The eruption started on June 11, 2019 at 6:35 am (local time) stopped today, June 13, 2019 around 12:00 local time. The recordings only detect noise associated with bad weather on the volcano.
The SO2 levels in the air at the OVPF stations, located around the Enclos Fouqué, have returned to background noise values.
Source: OVPF activity bulletin - 13-06-2019 / 04:44:54 UT. - 13-06.2019 / 12h local time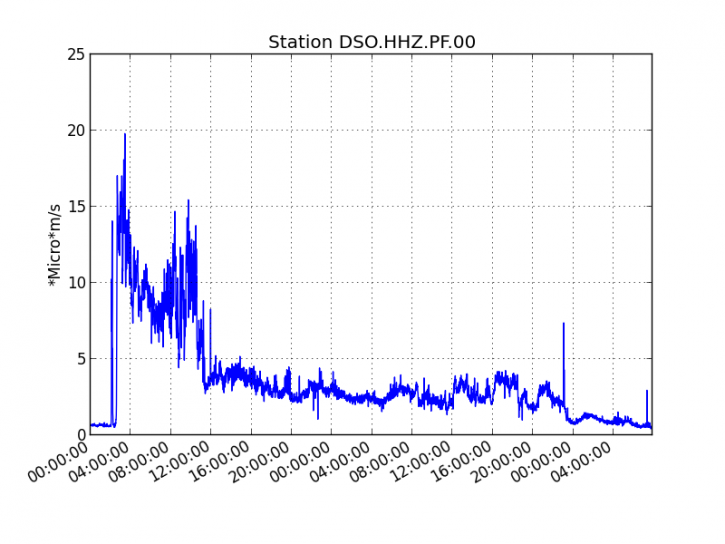 Piton de la Fournaise - Evolution du RSAM (indicateur du trémor volcanique et de l'intensité de l'éruption) entre 04h00 (00h00 UTC) le 11 juin 2019 et 12h00 (08h00 UTC) le 13 juin 2019 sur la station sismique de DSO. (© OVPF-IPGP)
On Bali, the Agung experienced an eruptive episode on June 13 at 1:38 local, recorded on a seismogram with a maximum amplitude of 30 mm and for 3 minutes 53 seconds.
The height of the eruptive column could not be observed because of the fog. Incandescent materials were ejected in all directions over a distance of about 700 meters, and their glow still observable 10 minutes after the eruption. Fallout of sand and lapilli is observed in the rain in the Besakih region.
The level of activity remains unchanged, with an orange VONA
Sources: PVMBG, magma Indonesia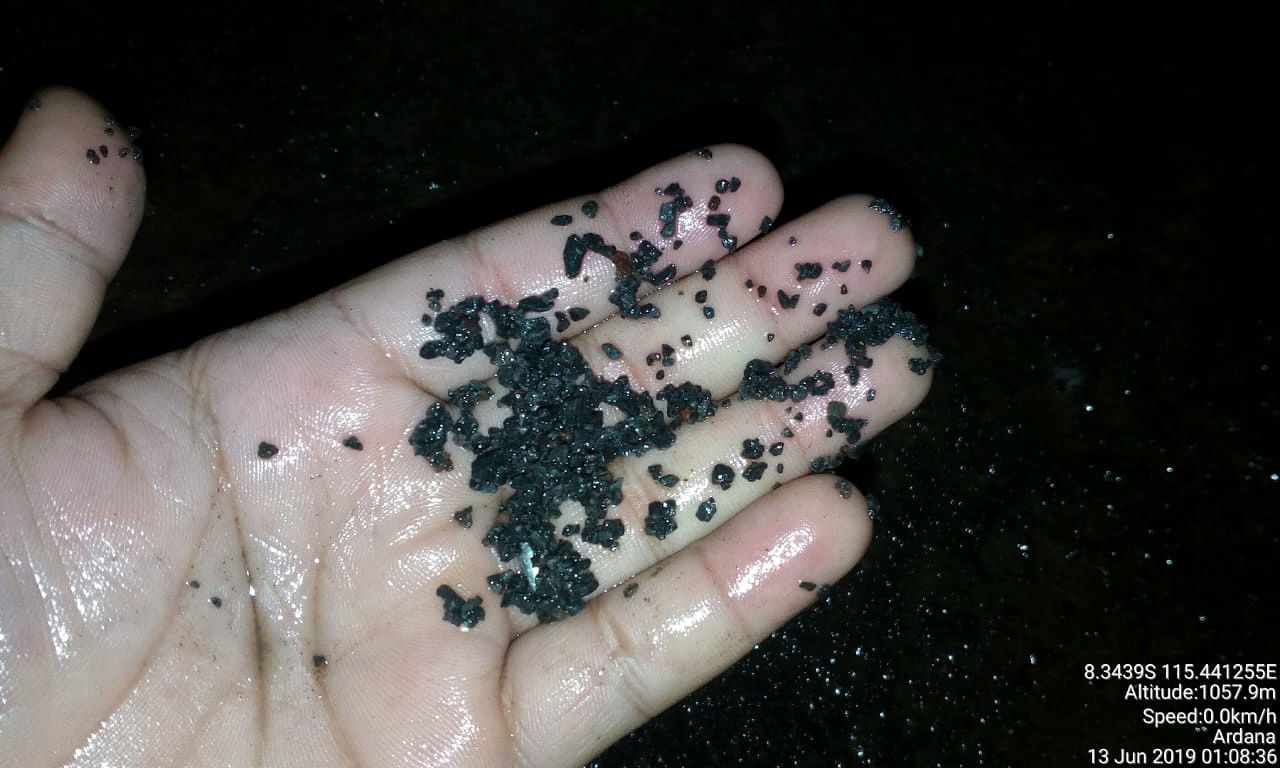 Agung - lapilli observed in the rain in the Besakih region - photo Cho Hamsyonk / Twitter 13.06.2019
In Krakatau, still in activity level 2 / waspada, an eruption event is reported on June 12, as well as a tremor of dominant amplitude at 1 mm.
On a Sentinel 2 image of June 12, we can observe the discoloration of the water, in relation to the activity of the field of hydrothermal vents below the level of the sea.
Sources: PVMBG & Sentinel 2.
In Klyuchevskoy, after a moderate degassing activity at the end of May, ash emissions are observed from June 11th, with a change of the aviation alert from yellow to orange.
The ash plume is emitted at a height of 5,000 meters asl., drifting 10 km to the north.
On June 12, this explosive activity continues with plumes up to more than 6,000 meters asl., drifting tens of kilometers to the northwest, then west-northwest of the volcano.
Sources: KVERT & VAAC Tokyo