Publié le par Bernard Duyck
Back on the eruption of Ulawun in Papua New Guinea.
RVO / Rabaul Volcano Observatory reported that the values ​​of the RSAM at Ulawun had steadily increased on 24 and 25 June, then increased sharply at about 03:30 on 26 June. The RSAM values ​​reflect an increase in seismicity dominated by volcanic tremor.
An eruption began on the morning of June 26 with gray ash emissions that, over time, became darker and more energetic. The plumes reached 1 km and drifted to the northwest, causing light ashfall in the northwestern and southwestern areas. The inhabitants heard roaring and scolding during the period from 6:00 to 8:00.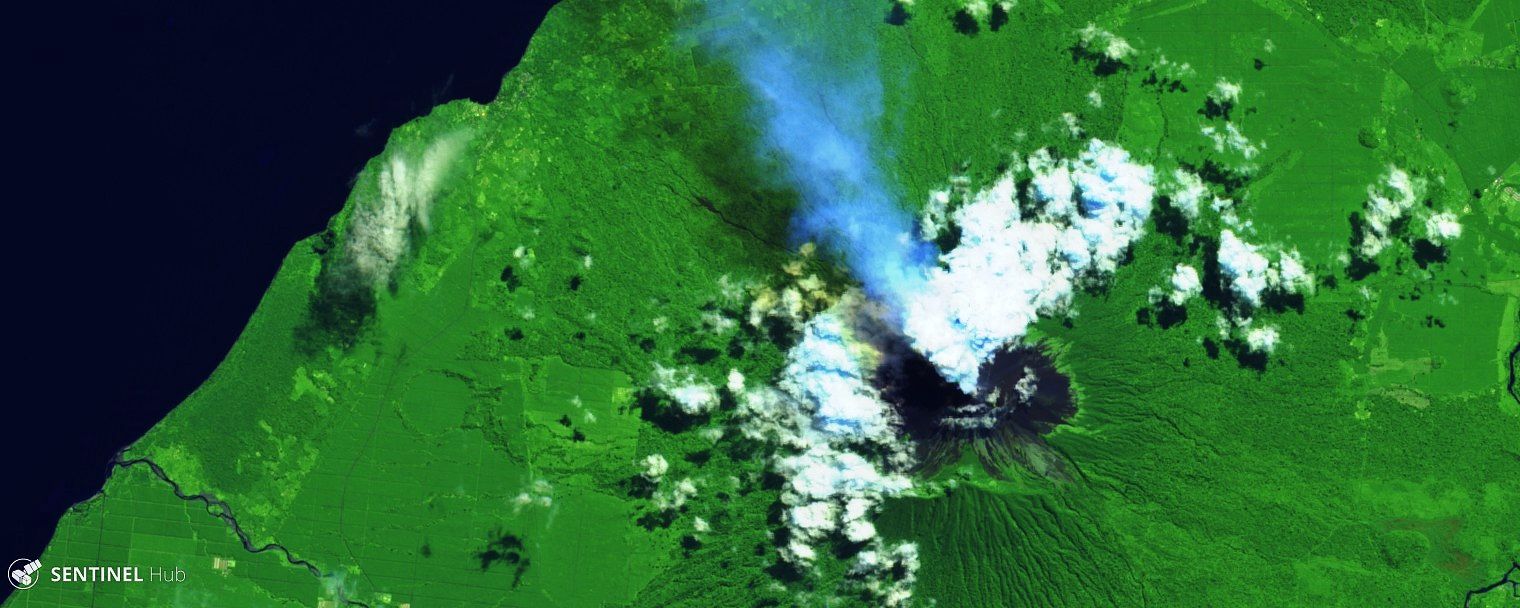 Ulawun 25.06.2019 (before the eruption) - plume of gas and ash testifying to a rise in activity - image Sentinel 2 bands 12,11,4 - one click to enlarge
VAAC Darwin has published several opinions on visible ash plumes in satellite data. They reported that between 11:30 and 11:55 ash plumes reached 6.7-8.5 km (22,000-28,000 ft) a.s.l. drifting west, while ash plumes reached 12.8 to 13.4 km (42,000 to 44,000 ft) a.s.l. drew to the South and Southwest.
VA ADVISORY
DTG: 20190626 / 1130Z
VAAC: DARWIN
VOLCANO: ULAWUN 252120
PSN: S0503 E15120
AREA: PAPUA NEW GUINEA
SUMMIT ELEV: 2334M
ADVISORY NR: 2019/13
SOURCE INFO: HIMAWARI-8, RVO
AVIATION COLOR CODE: RED
ERUPTION DETAILS: VA TO FL630 MOV E AND VA TO FL550 MOV
RADIALLY OUTWARDS.
OBS VA DTG: 26 / 1130Z
OBS CLD: SFC / FL550 S0430 E15233 - S0302 E15030 - S0514
E14824 - S0648 E14926 - S0722 E15149 - S0839 E15414 - S0729
E15419 MOV S 20KT SFC / FL630 S0420 E15217 - S0356 E15313 -
S0513 E15411 - S0640 E15351 - S0429 E15232 MOV E 30KT
FCST VA CLD +6 HR: 26 / 1730Z SFC / FL550 S0416 E15317 - S0303
E15022 - S0524 E14759 - S0759 E14956 - S0855 E15451
SFC / FL630 S0346 E15336 - S0237 E15416 - S0614 E15620 - S0544
E15451
FCST VA CLD +12 HR: 26 / 2330Z SFC / FL550 S0417 E15327 - S0302
E14955 - S0532 E14735 - S0845 E15005 - S0948 E15529
SFC / FL630 S0244 E15454 - S0118 E15542 - S0600 E15818 - S0533
E15620
FCST VA CLD +18 HR: 27 / 0530Z SFC / FL550 S0428 E15352 - S1050
E15615 - S0955 E14955 - S0602 E14642 - S0313 E14857
SFC / FL630 S0201 E15635 - S0016 E15746 - S0516 E16017 - S0425
E15757
RMK: VA TO FL630 WHICH IS STRATOSPHERIC HAS BECOME DETACHED
FROM THE VOLCANO AND IS MOVING EASTWARDS. VA TO FL550
EXTENDING RADIALLY OUTWARDS, HOWEVER IS IS BULGING MORE IN A
SOUTHERLY DIRECTION. ERUPTION APPEARS TO HAVE CEASED, WITH
STRONG HOTSPOT REMAINING.
NXT ADVISORY: NO LATER THAN 20190626 / 1430Z
A new surge of activity generated ash plumes that at 15:12 reached 16.8 km a.s.l. and drifted south and southeast.
At 5:30 pm, the plume of ash reached 19.2 km a.s.l. and spanned 90 km in all directions. Ashes from previous ejections continued to drift south at 13.4 km a.s.l. and westerly at 8.5 km a.s.l.

The RVO stated that the RSAM values ​​peaked at around 2,500 units between 1:30 pm and 4:00 pm, then dropped to 1,600 units as the eruption decreased.
With respect to sulfur dioxide emissions, the satellite data only recover about 75% of these, the emissions to the west are not taken into account: According to AIRS SO2, connected by Simon Carn, the cloud of gas would contain about a minimum of 0.1 Tg of SO2, similar to the values ​​of the October 1980 eruption.
The RVO stated that parts of the low ash plume drifted westward, causing varying amounts of ashfall in the northwest and southwest areas.
A pyroclastic flow descended the northern flank. Residents were evacuated to the northeastern and western areas; A newspaper article noted that about 3,000 people had gathered in a local church. According to another source, an observer aboard a helicopter reported a column of incandescent materials emerging from the crater, residents said the sky was black and a main road in the northern part of the island was blocked by volcanic materials. The inhabitants also reported a lava flow near the village of Noau and the Eana Valley.
RVO reported that the eruption stopped between 18:00 and 19:00. The incandescence visible on the north flank was either due to a lava flow or to pyroclastic flow deposits.

Sources:
Global Volcanism Program (and RVO), VAAC Darwin, Simon Carn, Radio NZ, local media and Eroli Tamara.

In New Zealand, White Island is experiencing moderate volcanic activity and the level of volcanic alert is high at level 2.
Our increased monitoring of Whakaari as part of the response to recent earthquake swarms has shown an increase in sulfur dioxide flux to historically high levels.
A gas emission detected today reached 1,886 tons / day of sulfur dioxide, nearly three times the previous values ​​measured in May 2019. This is the highest value recorded since 2013 and the second highest since the beginning of regular measurements in 2003.
Other gas measurements will be undertaken as soon as conditions permit. The nearby earthquake swarms continue although at levels lower than those reported in previous bulletins. The relationship between seismic swarms and the high rate of sulfur dioxide observed today is not yet clear.
The change in gas flow represents a significant change in our background monitoring parameters at Whakaari and corresponds to moderate or increased volcanic activity. As such, we changed the level of volcanic alert to level 2 and the aviation color code is changed to yellow.
Volcano Alert Level 2 is mainly associated with hazards of volcanic disorders potentially at risk of eruption.
GNS Science and the National Geohazard Monitoring Center continue to monitor the Whakaari / White Islands closely for other signs of activity.
Source: GeoNet / Agnès Mazot
Operation Mayobs 2, from June 11 to 17, 2019, aimed at perfecting the knowledge of the submarine volcano off the island of Mayotte, has just made a first assessment.
In summary, three sources of volcanic origin are identified to date.
- At 50km to the east, a volcano 800m high and 4km in diameter has grown in 10 months.
- South of the latter, a lava flow 2km long and 75 meters high was formed in one month.

- The earthquake swarm remains located about ten kilometers east of Petite Terre but deep, between 20 and 50km in the earth's crust. Above the swarm zone, a probable plume of gas was detected, but without magma shedding. This gas, which comes out a priori of faults, will be analyzed thanks to deep sampling. It does not rise to the surface.
Sources: Mayotte Prefecture press release, and Journal of Mayotte.