Publié le par Bernard Duyck
A trip to Armenia at the beginning of May 2019 allowed us to get to know this small country and its inhabitants and to give us an idea of ​​the volcanism of the Lesser Caucasus.
Armenia is one of the most landlocked countries in the world,
- at the same time for natural reasons: it has indeed no sea front, its relief is very mountainous with valleys concealed and difficult to cross, and isolated villages,
- also for lack of transport infrastructure, with a road network in bad condition and in refection,
- and finally by its political isolation: although independent today, it was for a very long time a satellite of the Soviet Union. Armenia is in conflict and does not maintain diplomatic relations with two of its neighbors, Turkey and Azerbaijan; more than 80% of its borders are closed, only one border post is open to the north with Georgia, and 35 km passable with Iran in south-west.
The only gateway that connects Armenia to the rest of the world is the Zvartnots International Airport, close to the capital Yerevan.
The geological history of the "Little Caucasus" began 150 million years ago with the closure of an ocean, the Tethys, and the collision of two continental groups, the Arabian plate and the Eurasian plate.
Since the closure of the ocean, deformations of the Earth's crust and volcanism have shaped the Armenian morphology.
The highest summits of the country are imposing volcanoes; volcanic rocks, basalt and tuff, have been used since prehistoric times for civil and religious buildings, sculpture and jewelery (obsidian).
The geology of Armenia is still marked by active deformations, witnessing the numerous faults and their ruptures that frequently produce earthquakes, including the tragic earthquake of December 7, 1988 - Spitak fault, magnitude 6.9. (M.Sosson / CNRS)
Armenia - active faults and historical seismicity - Doc.Philip et al / Tectonophysics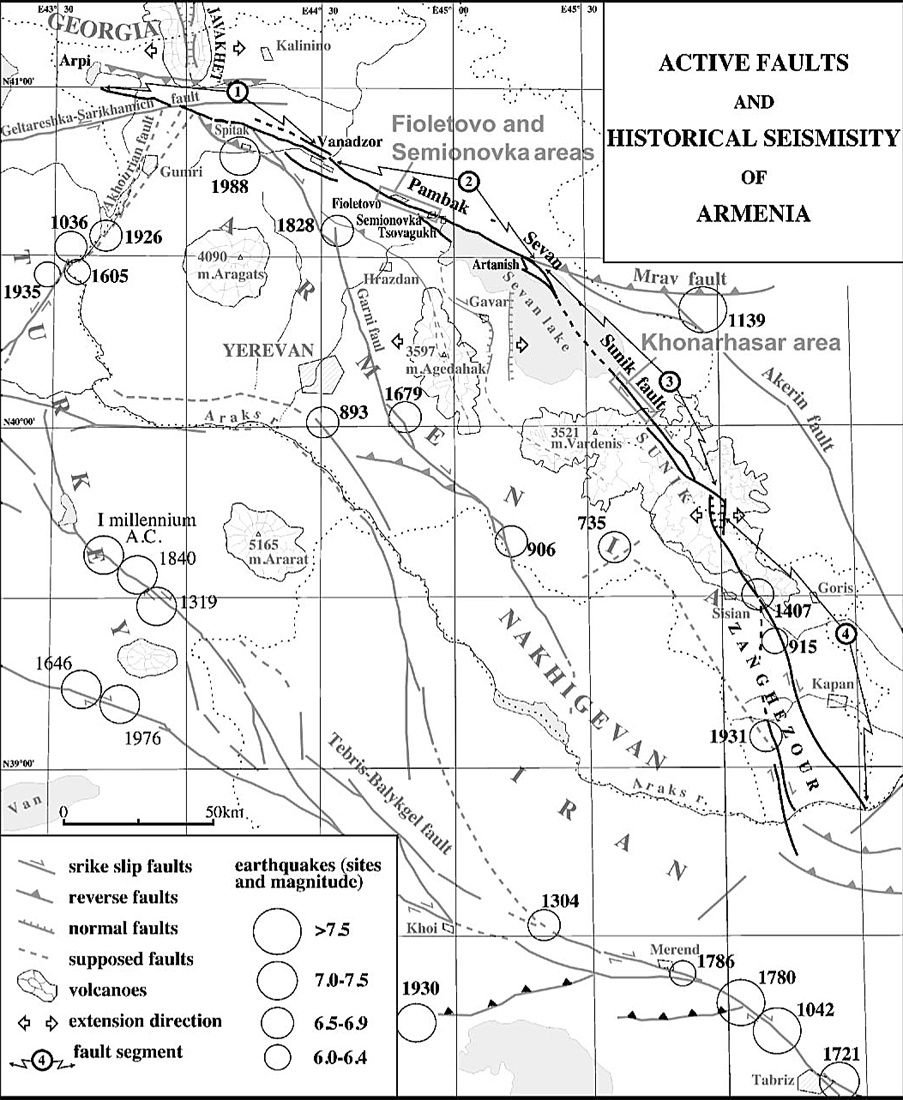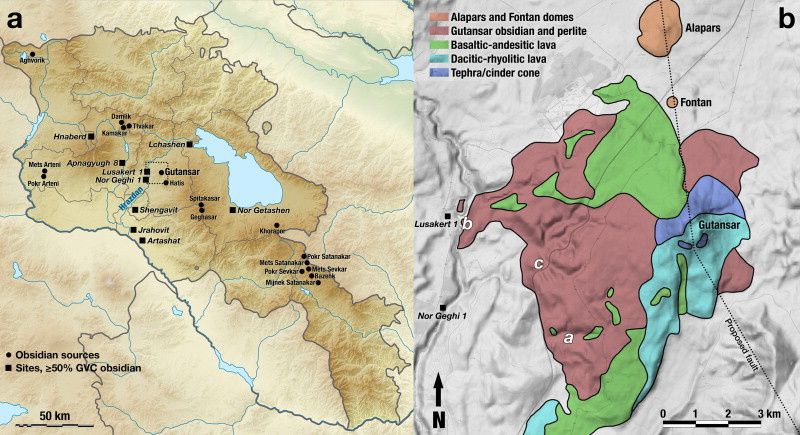 Armenia - sources of obsidian and related archaeological sites - Doc. Obsidian sourcing geochemically identical - Science direct - one click to enlarge
Just out of Yerevan, we go to Lake Sevan, and meet on the road walls where the obsidian is exposed.
This obsidian, easily accessible and of good quality, has been exploited since the Paleolithic from vast flows from the Gutansar volcano and several secondary domes, Fontan, Alapars and Gjumush to name a few.
Jraber - samples of black obsidian veined with mahogany obsidian - photo © Bernard Duyck 2019 - one click to enlarge
A career at Jraber allows us to admire obsidian at leisure, with a conchoidal break (in bottle cul), very black and shiny under a fine rain.
Mahogany obsidian, a variety rich in iron, mixes with obsidian with lamellae, translucent and streaked with more opaque layers, named "Midnight Lace".
To follow: the routes of obsidian in Asia Minor
Sources:
- Archéorient - Obsidian supply in the Caucasus: questions and hypotheses - Christine Chataigner
- An international research project on Armenian archaeological sites: fission-track dating of obsidians - Badalian, R; Bigazzi, G; Cauvin, M.-C; Chataigner, C; Jrbashyan, R; Karapetyan, S.G .; Oddone, M; Poidevin, J.-L (2001)
- Sourcing geochemically identical obsidian: multiscalar magnetic variations in the volcanic Gutansar complex and implications for Palaeolithic research in Armenia. Journal of Archaeological Science.
- Paleolithic in Armenia: state of acquired knowledge and recent data - Fourloubey & al.
- Global Volcanism Program - Gegham Ridge - link