Publié le par Bernard Duyck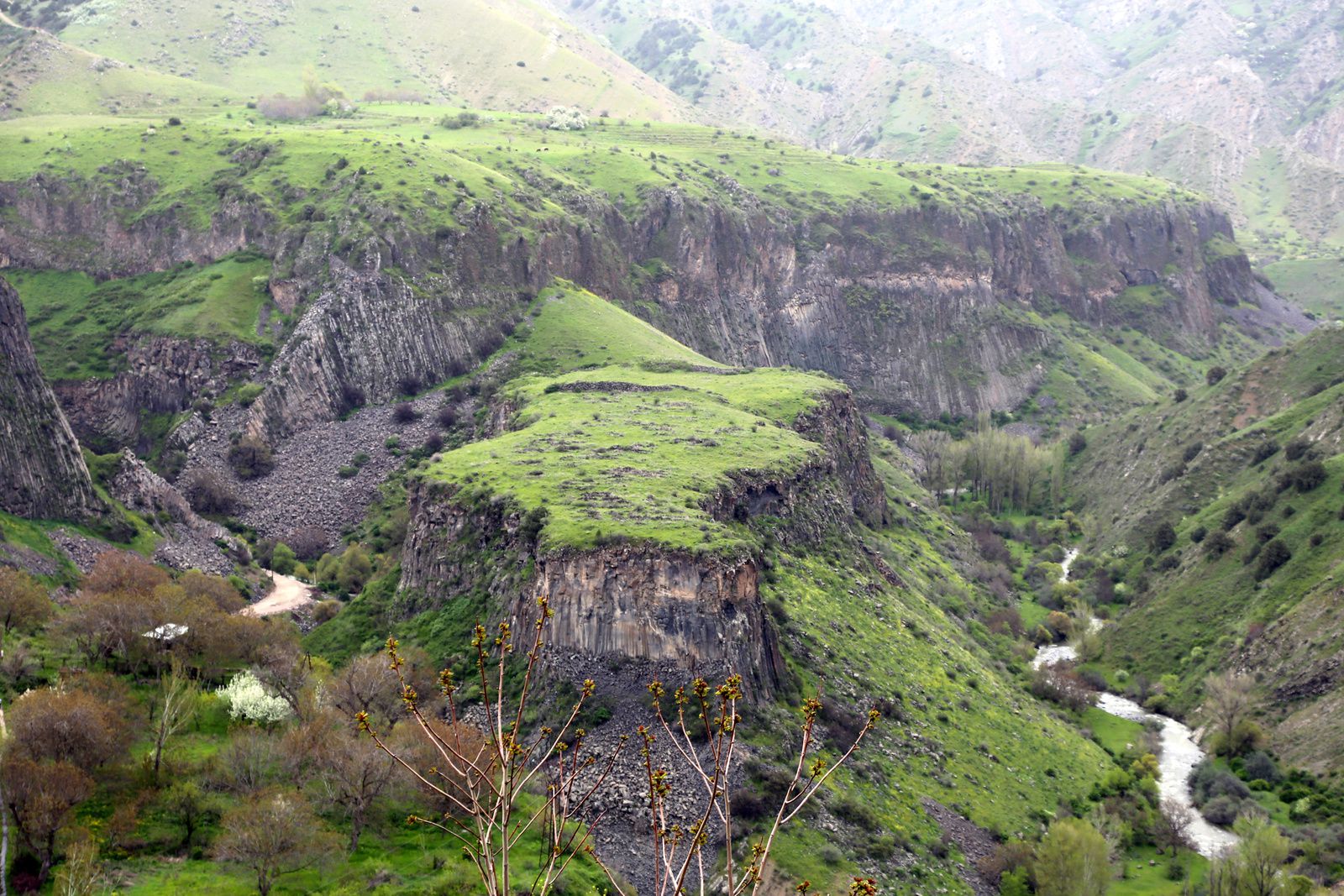 Armenia - Azad River gorges and volcanic organs covering the river walls - Photo © Bernard Duyck 2019
After peeled mountains carved with basalt organs, the small village of Garni, 1400m above sea level, is an oasis of greenery nestled above the Azad River, a tributary of the Araxe River, originating from the volcanic chain of the Ghégam mountains.
On a triangular platform overlooking the surrounding area, stands the temple of Garni.It is the only vestige of a complex dedicated to the Armenian-Persian gods, as Mithra, Anahid and Ahoura, and Greco-Roman gods.
King Tridate 1 ° would have begun construction in the year 77 AD. This elegant structure in gray basalt has 24 ionic columns, preceded by a pronaos, on a podium of 9 steps. The cornices, capitals, coffered ceilings, and architraves are richly decorated.
The fortress built in the 3rd century includes thermal baths according to the classical Roman model, whose vestibule contains mosaics depicting deities, such as Oceanos (the ocean), Thalassa (the sea) and Thetis (who gave his name at the ocean today closed and gone - see the geology of Armenia, to follow)
To the left of the temple, a small path leads to the bottom of the gorge, known for its impressive basalt organ. Indeed the "Symphony" is imposing. A single, steep path leads to it.
The organs are built in castings of the Ghégam mountains towards the west, in relation with Quaternary magmatism, dated from 700,000 years to a few thousand years; in five large phases separated by periods of dormancy of comparable duration, they date respectively 700,000 years for phase 1; Phase 2 lasted from 550,000 to 480,000 years; phase 3, from 190,000 to 180,000 years; phase 4 from 110,000 to 70,000 years and finally phase 5 of less than 50,000 years.
Petrological and geochemical-isotopic analysis indicates a bimodal combination of rhyolite-trachyandesite and basaltic-trachyandesite, almost identical to that of other regions of the Lesser Caucasus, and a common origin for these Quaternary magmatic formations.
(The quaternary volcanic rocks of the Geghama highland, Lesser Caucasus, Armenia: Geochronology, isotope Sr-Nd characteristics, and origin)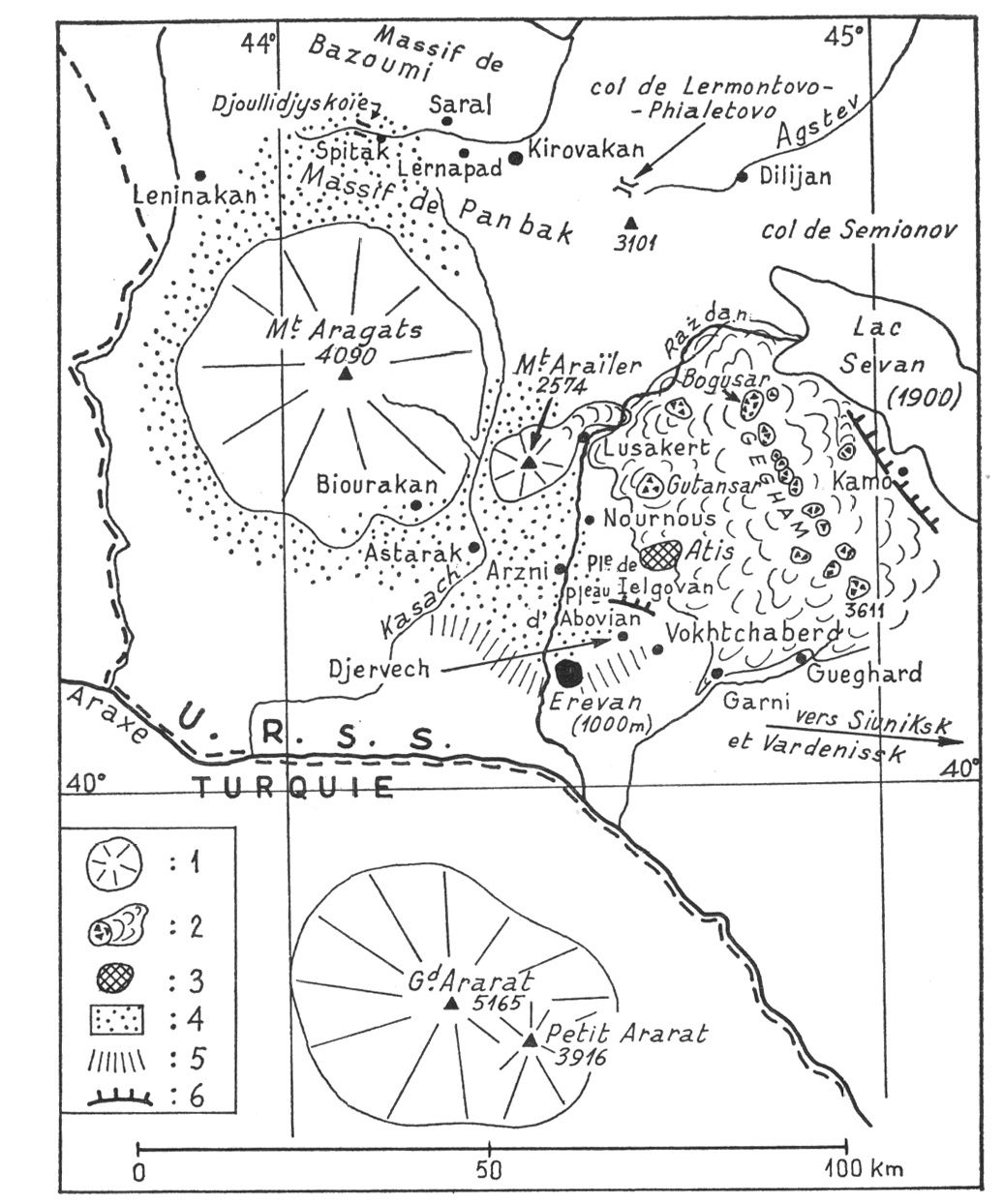 Aragats and Ghégam mountains - with Garni location south of the volcanic field - Doc. Render illustration Persee
Sources:
- The quaternary volcanic rocks of the Geghama highland, Lesser Caucasus, Armenia: Geochronology, isotopic Sr-Nd characteristics, and origin - V.A.Lebedev & al.
- Modeling of a fractured basalt aquifer with respect to geological setting, and climatic and hydraulic conditions: the case of perched basalt at Garni (Armenia)
- On the volcanic reliefs of Western Soviet Armenia - M. Derruau / Bulletin of the Association of French Geographers Year 1971