Publié le par Bernard Duyck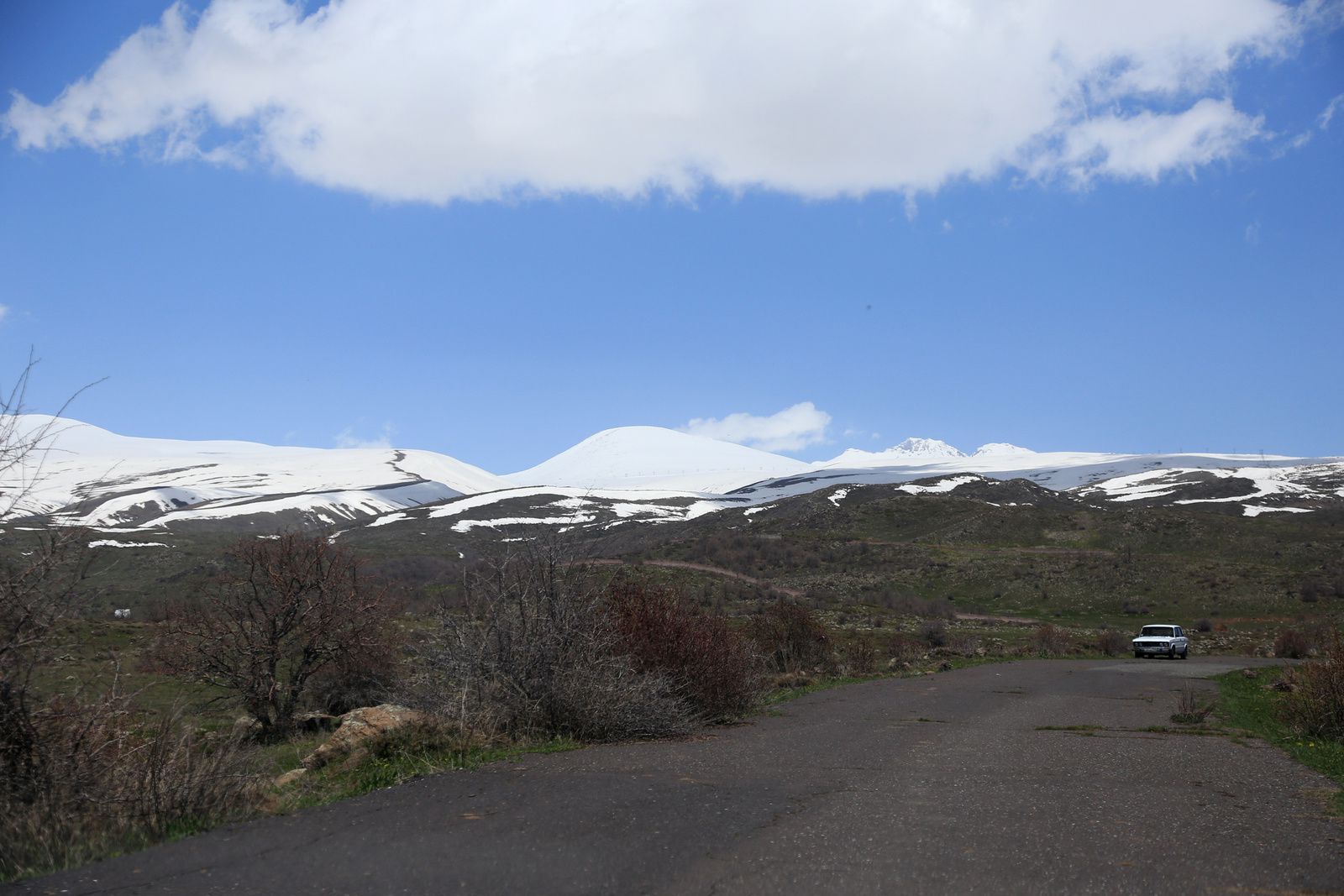 Armenia - Aragats, highest volcano and top of the country - some peaks of this great stratovolcano on the left - photo © Bernard Duyck 2019
The Aragats (or Arakatz), the highest peak in Armenia at 4,095 meters, is a large, dacitic, andesitic sratovolcano with sloping flanks of glacial valleys dating from the Pliocene to the Pleistocene.
Satellite cones and cracks are located on all sides of the volcano and have been responsible for large lava flows that have descended its lower flanks. Potassium-argon dating indicates ages ranging from Middle Pleistocene (650,000 to 16,000 years) to Late (126,000 to 12,000 years). The most recent flows on the lower flank have not been accurately dated, but are limited between the late Pleistocene and 3000 BCE (Kharakanian et al., 2003).
A 13 km long line of craters and pyroclastic cones, with a WSO-ENE trend, cuts the edge of the northern crater and is the source of young lava flows and lahars; these were considered characteristic of the eruptions of the Holocene summit. (in GVP)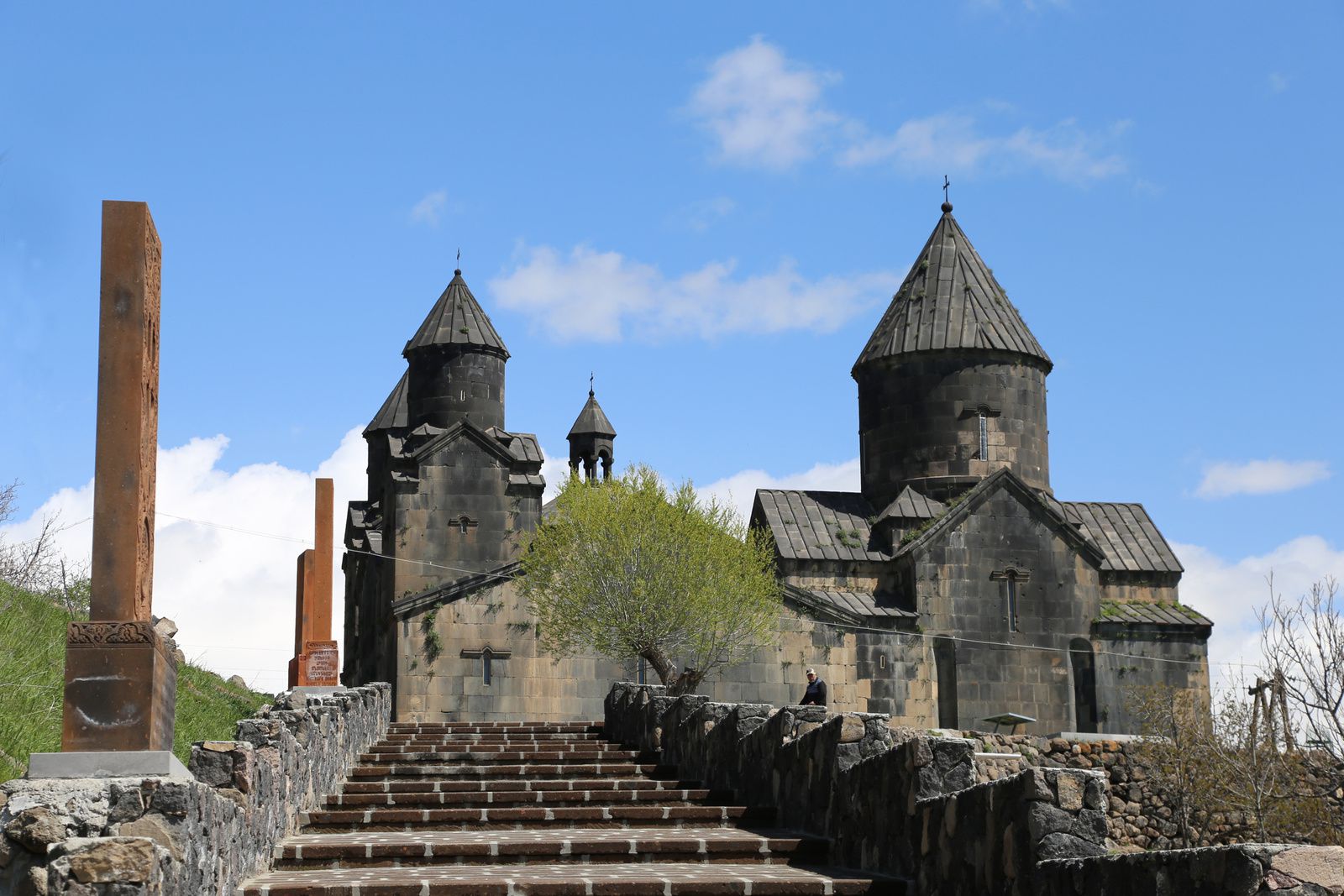 Armenia - climb to the Aragats - Tegher Monastery in black volcanic stones - photo © Bernard Duyck 2019
The climb to the moraine lake Kari Lidj, at 3,207 meters, at the foot of the four peaks of the Aragats, is done in stages from Yerevan.
The road crosses a section covered with cork oaks which testifies to the ancient forest cover of the volcano. We then arrive at the pasture floor, strewn with volcanic scree.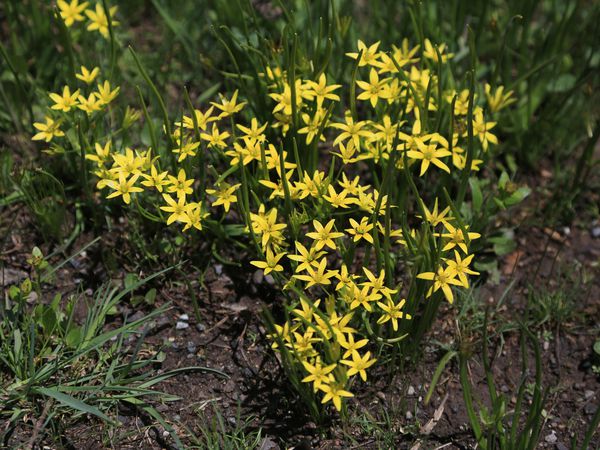 Armenia - climb to the Aragats - one goes from a flora of plateau to the mountain flora - a click to enlarge - photos © Bernard Duyck 
At an altitude of 2,300 meters, the dark silhouette of the medieval fort of Amberd dominates the plain, with the Katoghiké church below.
The fortress of Amberd ("the fort of the clouds") dates mainly from the 9th century, under the Pahlavuni dynasty. Renowned impregnable, it will fall in the 13th century under the blows of the Mongols.
Large blocks of basalt form the staircase to the ruins of the castle which develops on two floors.
Below, and dominating as the fortress the confluence of the rivers Amberd and Arkachen, the church of Vahramashen was built from 1213 to 1221 in black volcanic stones.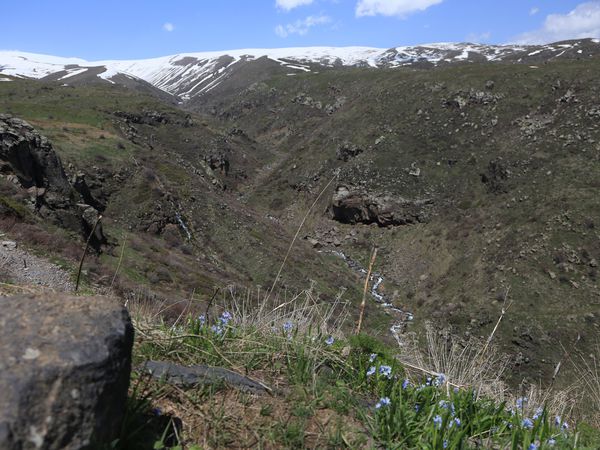 Armenia - Amberd Fortress and Vahramashen Church dominate  two valleys - one click to enlarge - photos © Bernard Duyck 2019
The road then climbs by laces, in an environment where snow is more and more present.
Dismayed only on the width of a car, we soon move between two walls of snow to suddenly find ourselves stranded, near the destination !
If you can not climb the mountain, turn around ... that's what we'll do the next day.
Sources:
- Global volcanoism Progran - Aragats
- Quaternary geochronology of the volcanic aragats center, Armenia - Evidence from K-Ar dating - I.V.Chernyshev & al.
- Guides on Armenia