Publié le par Bernard Duyck
The Aragats is an andesito-dacitic stratovolcano, 40 km in diameter basal, surmounted by a crater partially collapsed (2.000 x 1.500 m on 400 m of depth) and has four peaks, respectively high of 4.095 m. to the north, 4.080 m. to the west, 3.916 m. to the east and 3,879 m. South.
His formation was done in four stages:
- The first is an andesito-basaltic phase, dated about 2.5 Ma and concerns the main crater and secondary vents.
- The second phase, from 0.97 to 0.89 Ma, and the most important one, is basaltic and andesitic, with ignimbrites emission, production of tuffs and lava flows from satellite centers, including the Shamiran and Egvard centers. .
- The third phase is similar to the second, dated between 0.74 and 0.68 Ma, but only affected the Mantash River basin in the north.
- The fourth, from 0.56 to 0.45 Ma, involves mafic flows from parasite vents south of the volcano.
("Quaternary geochronology of the Aragats volcanic center, Armenia - Evidence from K-Ar dating" I.V.Chernyshev & al.)
Quaternary eruptions from an intraplate multilevel magma reservoir of the Aragats stratovolcano formed pyroclastic density currents and deposition, deposited in an area of ​​approximately 2,000 km², including six ignimbrite units and three fallout deposits.
Located on a steppe plateau north-west of the volcano, the village of Artik owed its development to the vast tuff quarries, and the extraction since medieval times of building materials of Armenian buildings.
On the slopes of the Aragats, the Haritch Monastery (Haritchavank) was built by the Zakarid princes from the 13th century.
Victim of the general decline of the monasteries from the XV-XVI century, it was almost abandoned before being reborn in the middle of the XIX century. It then becomes the summer residence of the Catholicos of Edjmiatzin.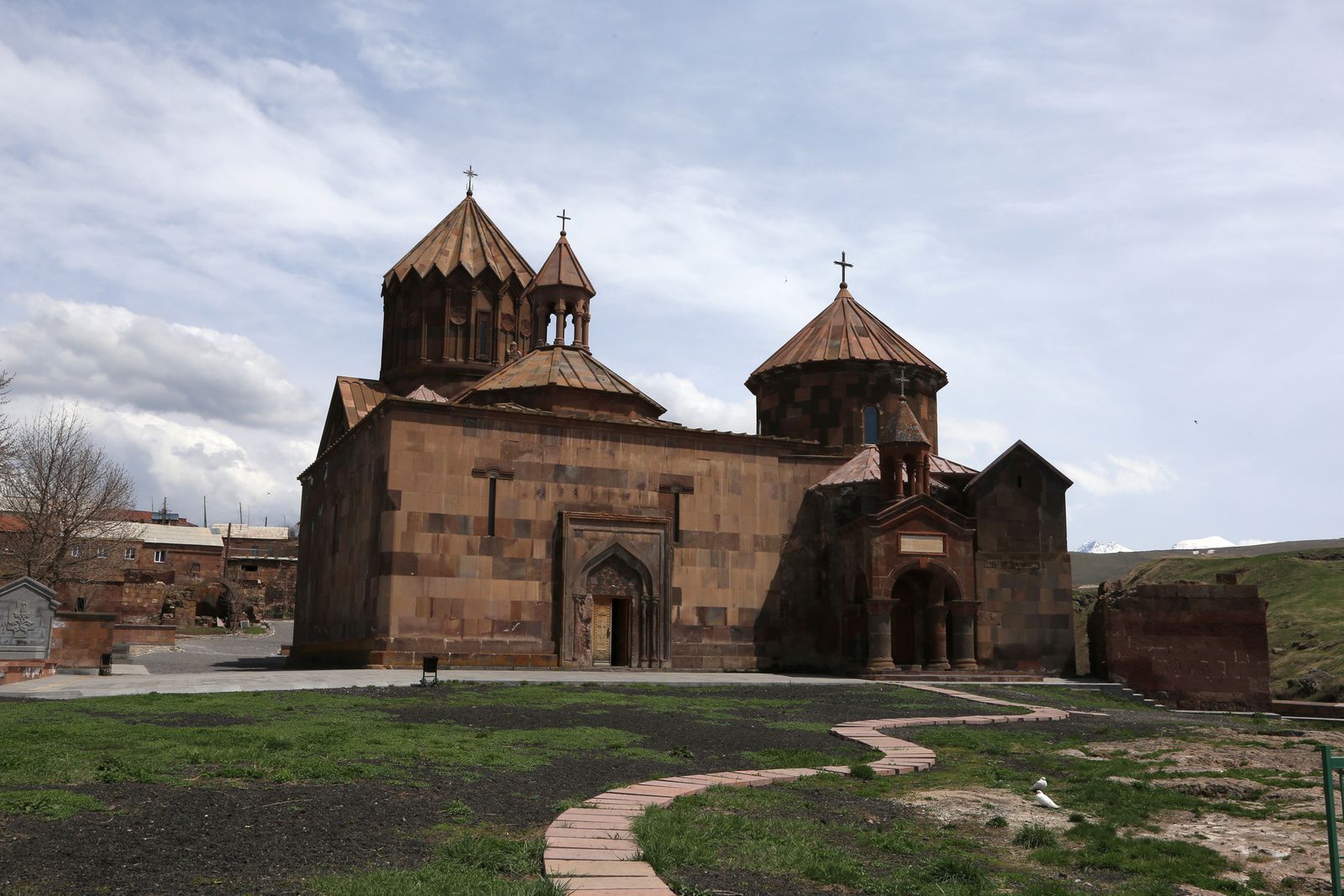 Haritchavank, the Haritch monastery, with its churches :  Sourp Astvatsatsin, Sourp Grigor and the gavit - photo © Bernard Duyck 2019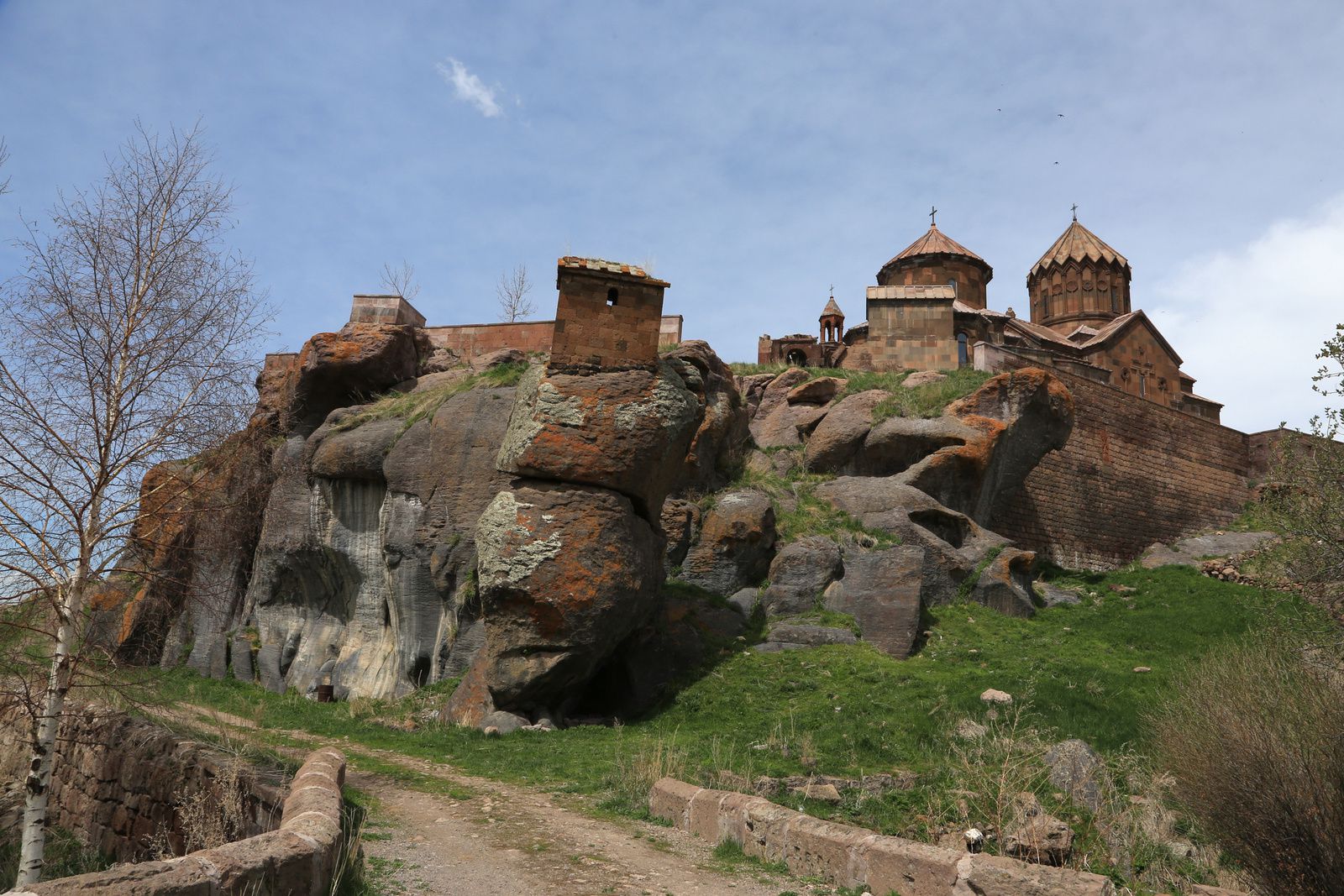 Haritchavank stands on the edge of a ravine, prized by the monks, with fish farming - photo © Bernard Duyck 2019
Other tuff quarries exist southeast of the volcano, still in operation.
Sources:
- Quaternary geochronology of the Aragats volcanic center, Armenia - Evidence from K-Ar dating - I.V.Chernyshev & al
- Decoding a post-collisional multistage magma system: the quaternary ignimbrites of stratovolcano aragats - Western Armenia - Hripsime Gevorgyan & al.
- Ignimbrites of Armenia - Paleomagnetic constraints on flow and stratigraphy of pyroclastic activity of Mount Aragats
- Aragats stratovolcano in Armenia - Khachatur Meliksetian, deputy director for science, head of Laboratory of volcanology.