Publié le par Bernard Duyck
According to Boris Behncke, Marco Neri and Vincenza Maiolino's report, on INGVvulcani, on the eruption of Etna which began on the night of 29 to 30 May 2019 :
" During the first eruptive phase, a dense column of ash was issued by the New South East Crater.This activity ended on the afternoon of May 30. Instead, a fairly sustained strombolian and effusive activity continues on the two fissures that opened in the northeastern and southeastern sectors of the new southeastern crater (NSEC).
The images recorded by the INGV infrared surveillance cameras and the ground done by the staff of the INGV show the expansion of two separate lava flows in the Valle del Bove ...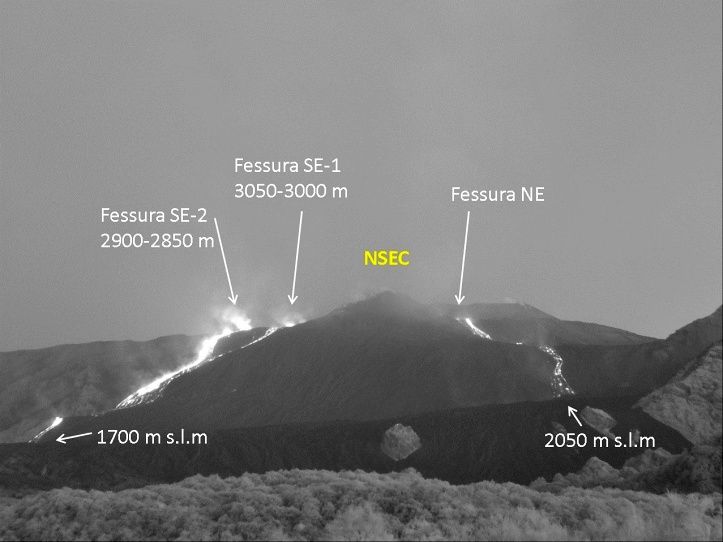 Etna - The eruptive site at dawn on May 31, 2019, as recorded by the high-resolution surveillance camera installed in Monte Cagliato, on the eastern slope of Mount Etna, at the lower end of Valle del Bove. - Doc. INGV Catania
... The northern lava flow extends to the north wall of the Valle del Bove and then heads east, reaching a maximum distance of about 2 kilometers on the morning of May 31, at an estimated altitude of about 2050 meters .
The second southern lava flow is apparently more vigorously fed than the previous one and emerges from a fissure on the ground near the top of the eruptive fissures that fed the December 2018 eruption. This flow expands to the southeast along of the western interior wall of the Valle del Bove, partially covering the lava flows of 2018. After having bypassed Serra Giannicola Piccola, in the early hours of May 31, the lava flow reached the bottom of the valley, with rising lava fronts located at about 1,700 meters above sea level. Its estimated total length is about 3 kilometers. "
The INGV communicates, that following a survey carried out in the early morning hours of June 1, 2019 by the staff of the INGV, it was possible to ensure that the effusive activity by the igneous fissures continues.
The effusive activity continues, as well as the spattering, which characterizes the segment of altitude 2850 m. from the eruptive fissure at the southeastern base of the NSEC (see the video of Marco Neri: https://www.facebook.com/1716786028369949/videos/350295012175472/)

The meteorological conditions, characterized by the persistence of a significant cloud cover, did not permit precise observations of the lava fronts, but which remain confined inside the Valle del Bove.
The evolution of the average amplitude of the volcanic tremor continues to show a slight downward trend, being on average levels but not comparable with those recorded before the onset of the eruption.
Sources:
- INGVvulcani & INGV Catania
- Mirova