Publié le par Bernard Duyck
The second eruption of the year at Piton de La Fournaise continues under the clouds, which forced the observatory to cancel the air mission this Wednesday morning.
The lava spreads at the foot of the summit cone on a shelf, fed from a vent at 2200-2250 meters; it will have to cross this zone before reaching the Great Slopes and be visible from the RN2.
Rudy Laurent, from Kokapat-Rando, tells us through these pictures (to see on Facebook) a night in red and gold, after a difficult approach.
The OVPF reports for Tuesday, June 11 a total of 178 volcano-tectonic earthquakes under the summit cone, the strongest being of magnitude 1.38 and lasting 13.4 sec.
Sources: OVPF and Kokapat Rando
Piton de la Fournaise - thermal anomalies on 12.06.2019 / 6:05 / disturbances due to cloud cover in addition to fluctuations in activity - Doc. Mirova - one click to enlarge
At the Popocatépetl, the Cenapred recorded for the last 24 hours 77 exhalations of water vapor, gas and a little ash, as well as an explosion at 2h16 local, accompanied by a plume of ash with a height of about 1,000 meters high and ballistic projections on 1 km distance on the east flank.
Ash falls are reported on Tetela del Volcán / Morelos.
The seismicity is characterized by a volcano-tectonic earthquake at 19:49 and 185 minutes of tremor.
Source: Cenapred
link to the video of the explosive episode:
Heavy rains in the region of Poas in Costa Rica since Saturday, June 8 have allowed a buildup of water in the crater that can lead to the reconstruction of a crater lake.
This phenomenon could be beneficial and decrease or buffer the release of gases in the open air, or on the contrary prove be negative, in case of possible phreatic eruption, by lifting water and sediments ... To be followed in the next days.
Source: Red Sismologica Nacional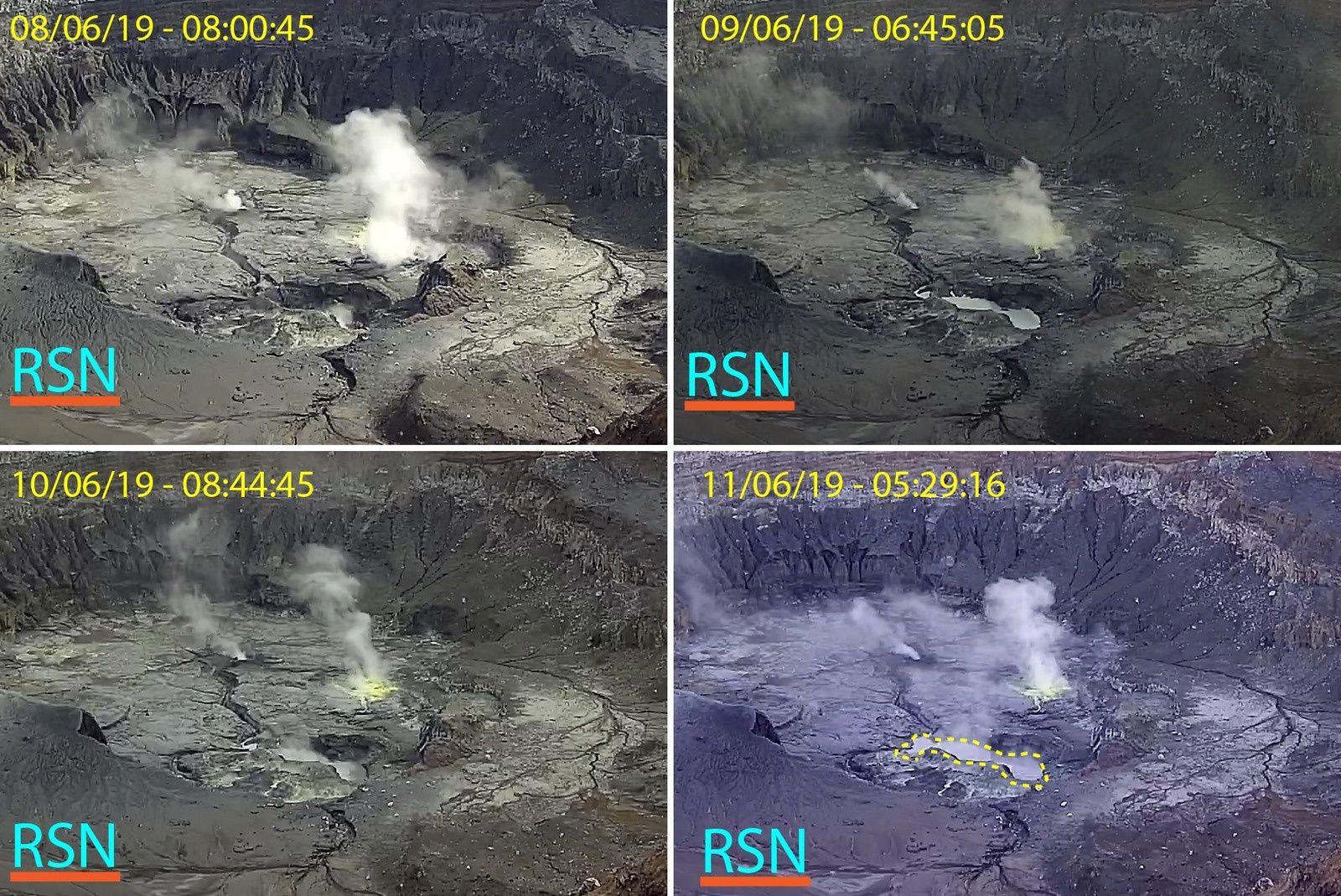 Poas - towards a possible reconstitution of the lake in the crater - photos RSN 06-11.06.2019 - one click to enlarge
In Peru, Instituto Geofisico reports a moderate eruptive activity at Sabancaya between 3 and 9 June.
Seismicity was characterized for this period by 2,404 earthquakes of volcanic origin, including a high percentage associated with magmatic fluid movements.
A daily average of 12 low to medium intensity explosions is recorded, accompanied by ash and gas plumes at 2,900 meters max. above the summit, with dispersion to NO, SO and SE.
The deformation does not show significant anomalies and thermal anomalies, numbering 11, oscillate between 7 and 32 MW, characterizing the presence of a hot body close to the surface and explosions.
The alert remains in Naranja, with a prohibited area of ​​12 km.
Sources: IG Peru, OVI, Ingemmet