Publié le par Bernard Duyck
A short break in our Armenian journey, for a return on the volcanic news:
In the Kuriles, a sudden powerful eruption of the Raikoke volcano occurred on 21 June 2019 at 21:50 UT; the plume of gas and ashes reached an altitude of 13,100 meters asl. according to VAAC Tokyo.
After a fall in ash emissions around 3h UTC, new emissions occurred during the day of 22 June.
The aviation code remains orange this June 23, according to the VAAC Anchorage.
A plume rich in sulfur dioxide has spread over the North Pacific, detected by the Sentinel 5 / Tropomi satellite; the current eruption emitted according to sources between 0.3 and 0.4 Tg of SO2. (via Simon Carn)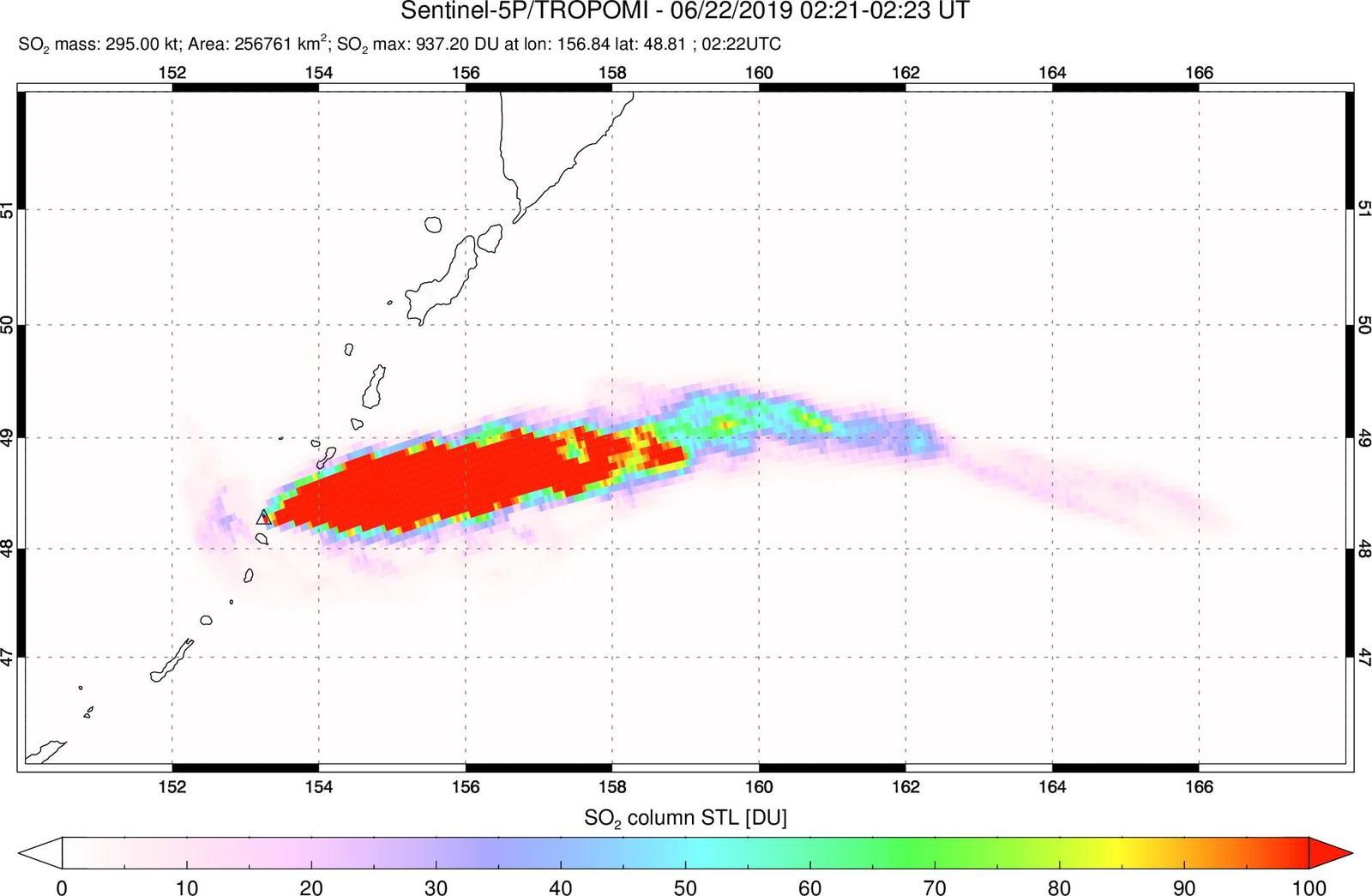 Raikoke - plume loaded with SO2 seen on 22.06.2019 / 02: 21-23 on the North Pacific - image Sentinel 5 /Tropomi via S. Carn
Raikoke Island, oval-shaped and 2.5 km long, located in the Golovnin Strait in the central Kuril Islands, is formed by a low truncated volcano dominating an underwater terrace.
A crater, 700 meters wide and 200 meters deep, was formed on the southeast side. Its last eruptions of VEI 4, go back respectively to 1778, with a destruction of the upper third of the volcano, and to February 15, 1924, which deepened the crater and modified the contours of the island.
Sources: VAAC Tokyo and VAAC Anchorage, Simon Carn, AIRS.EO & Global Volcanism Program.
Popocatepetl has experienced 137 exhalations during the last 24 hours, accompanied by water vapor, gas and small quantities of ash, and an explosion on June 21 at 8:58 pm, which emitted an ash plume. at 2,500 meters and incandescent fragments 1 km from the crater.
Ash falls are reported on Ozumba, Atlautla y Ecatzingo in the state of México and on Tetela del Volcán, in the state of Morelos.
The seismicity is marked by 76 minutes of low amplitude tremorde and a volcano-tectonic earthquake of M 2.0.
This activity continued on June 22, with ash plumes reported by VAAC Washington.
Sources / Cenapred, Webcams from Mexico
The heavy rains on the Fuego, in Guatemala, generated the descent of lahars in the Las Lajas and Jute, Seca and Mineral barrancas, carrying pasty materials, blocks of 2-3 meters in diameter and tree trunks and branches, and raising steam columns.
The insivumeh advises not to park in the barrancas, because of new lahars possible.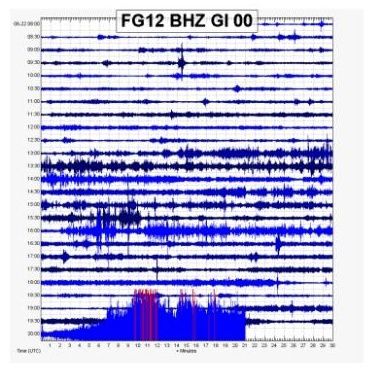 At night and early June 22 in the morning, incandescence was observed at a height of approximately 350 meters above the crater, causing weak to moderate avalanches in the crater contour, some over long distances to vegetation in the direction of the crater. Seca, Taniluyá, Ceniza, Trinidad, El Jute, Las Lajas and Honda. Ash fallout is reported from Morelia, Santa Sofia, El Porvenir, Palo Verde, San Pedro Yepocapa, Panimache I and II.
Sources: Insivumeh & Conred