Publié le par Bernard Duyck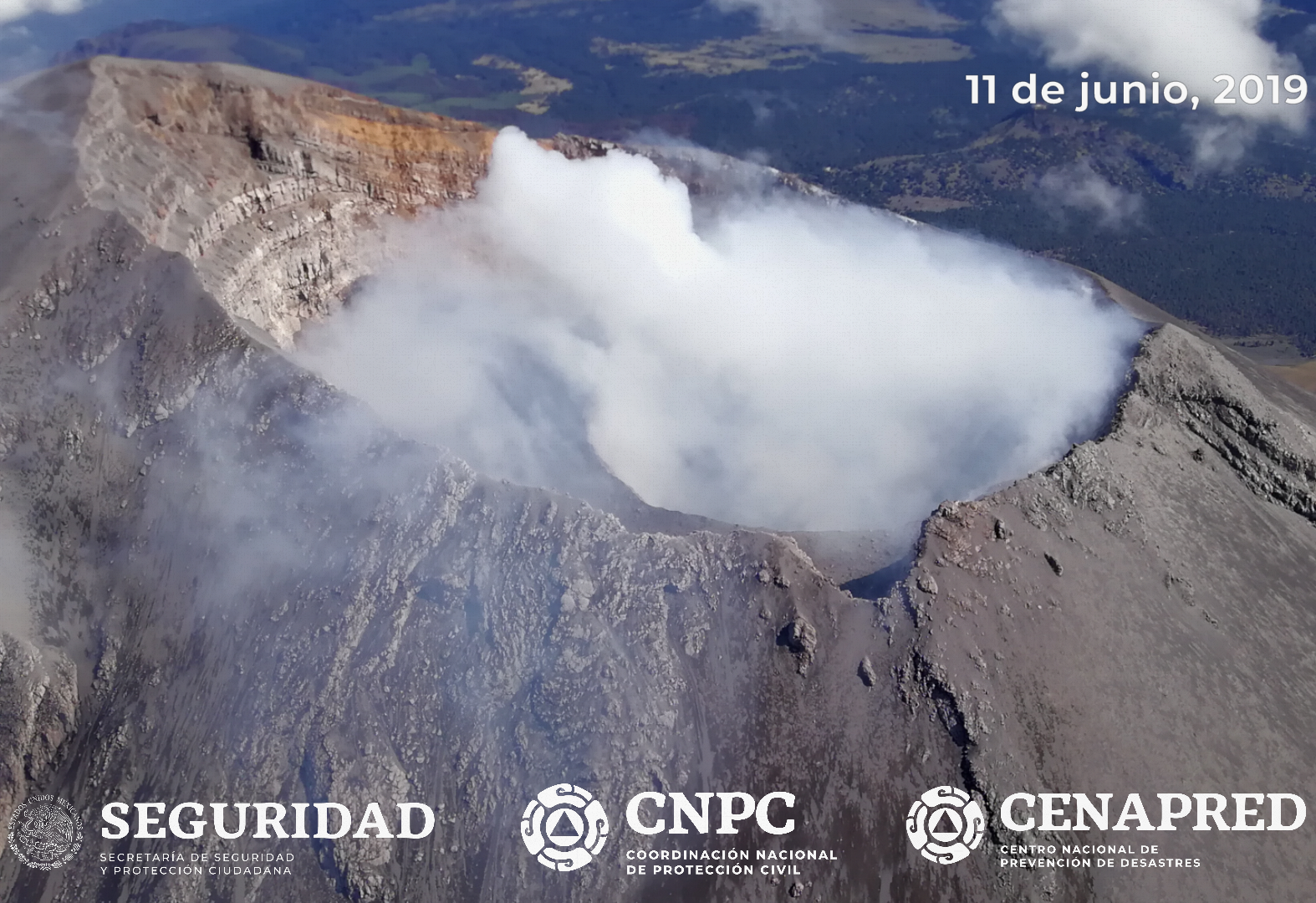 Popocatépetl - significant degassing of the summit crater, in open system on 11 June 2019 - Doc. Cenapred / Seguridad / CNPC
On June 11, with the support of the federal police, a survey was conducted to recognize the state of the crater of Popocatépetl.
Although the degassing was intense, it could be corroborated that no dome was formed inside the inner crater, which retains its dimensions of 350 m in diameter.
During the last 24 hours, 87 exhalations of water vapor, gas and a little ash were observed. The seismometers recorded 177 minutes of tremor.
Source: Cenapred
After a long period of calm, a minor eruptive activity marks this 13th of June the Voragine of Etna.
Sudden ash emissions occurred through a mouth inside the crater of La Voragine, during the day and continued at sunset ... this type of activity dates back to the summer of 2016.
Video of Alessia Donatucci on Facebook: https://www.facebook.com/EtNativo/videos/473201213223633/UzpfSTE0Mzc4MTczMjY0NTg2NDc6Vks6NDczMjAxMjEzMjIzNjMz/
There is currently no variation in the magnitude of the volcanic tremor and the location of its source, and no thermal anomalies are observed.
Sources: INGVvulcani and Boris Behncke
Etna Voragine - 13.06.2019 - Vidéo INGV / Alessia Donatucci and Boris Behncke.
Several explosions occurred at Sakurajima on June 13 and plumes rose 2,000 m above the edge of the crater.
The volcanic ash is washed in Kanoya direction and Kagoshima city.
Source: JMA
As a bonus, videos of the first day of the short eruption of Piton de La Fournaise, by Eric Gentelet and Cedric Norman.
On June 13, the OVPF reports no volcano-tectonic earthquake; deformations, both at summit and far field, are not indicated.
CO2 emissions from the soil show high and stable values ​​in the distal zone (Plaine des Cafres) and again increasing in the proximal zone (Gite du Volcan).

Video of June 11, 2019, after 8 hours of a difficult approach by Gentelet Eric
Difficult conditions, with sloping terrain and high flow that have generated beautiful and fast flows - video June 11, 2019 by Ced Northman