Publié le par Bernard Duyck
Considered extinct until the end of 2017, the Bolshaya Udina could be reconsidered as a potentially active volcano.
It is located in the Udina complex, consisting of two conical stratovolcanoes built along an ONO - ESE line at the southern end of the Klyuchevskaya volcanic group, and SE of Tolbachik.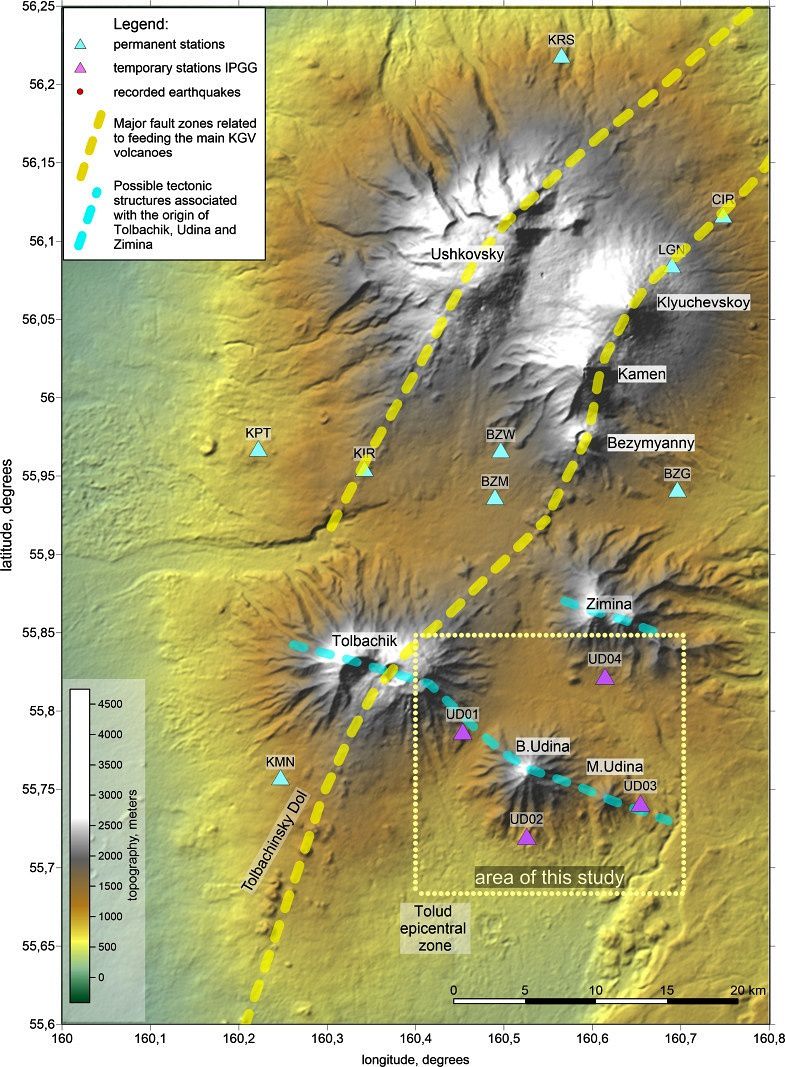 Kluychevskaya group and Undina - the study area in the dashed square - Doc. Kulakov & al. / references in sources
Persistent seismic activity under Bolshaya Udina in 2018 initiated a process investigation; Four temporary seismic stations were installed and were operational from May to July 2018 : they recorded 559 local events.
A tomographic inversion was performed to specify the location of the sources, leading to a stable model, and verified by other tests.
The seismicity forms an NNE-SSO oriented elliptical group with hypocenters more than 5 km below the volcano. Magmatic intrusions with a high content of melt and fluids are suspected.
This comes to add to the seismicity noted in previous years under the Tolud zone, at a depth of 10-20 km.
It is considered as a magma storage area in the lower crust, which has contributed to the feeding of fissural eruptions in Tolbachinsky Dol.
The study interprets these parameters as a migration of the magmatic source of Tolud from 2018 to another path to Bolshaya Udina.
It is not possible to predict when an eruption can occur, but this volcano is to be watched closely.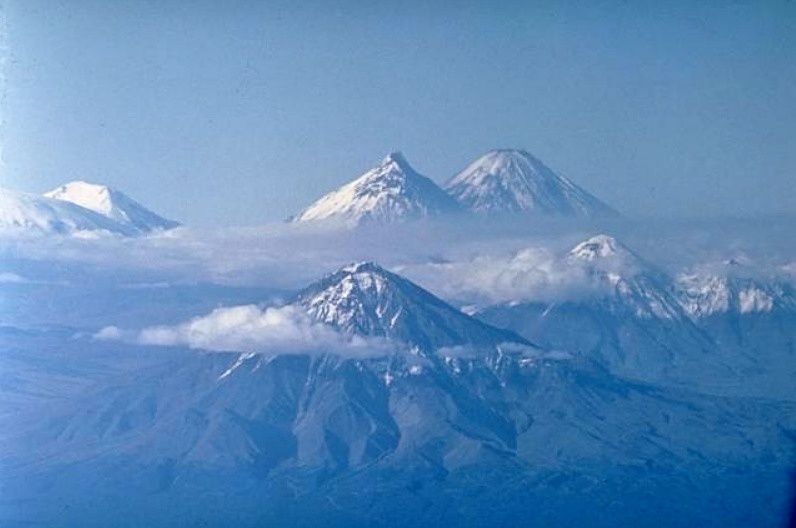 This dramatic photo looks north along the cluster of large stratovolcanoes forming the Kliuchevskaya volcano group. Udina volcano (foreground) and the twin Zimina volcano (middle right) are Holocene centers without historical eruptions. Kamen volcano (top center) and Kliuchevskoi (top right) are Kamchatka's two highest peaks. Ushkovsky volcano (top left) lies at the NW end of the volcano group and has had a single historical eruption. Bezymianny volcano is hidden by clouds below Kamen. Photo by Oleg Volynets (Institute of Volcanology, Petropavlovsk) via GVP
Sources:
- "Unrest of the Udina volcano in Kamchatka inferred from the analysis of seismicity and seismic tomography" - Ivan Kulakov et al. - Journal of Volcanology and Geothermal Research / Universal CC0 1.0 / Public Domain Dedication / https://doi.org/10.1016/j.jvolgeores.2019.05.006
- Global Volcanism Program - Undina