Publié le par Bernard Duyck
Sernageomin and OVDAS report an explosion at Nevados de Chillan on July 14, 2019 at 6:57 local time, associated with incandescence following the emission of gases and high-temperature pyroclastic materials, which were deposited around the active crater ; the episode was accompanied by an LP seismic signal, related to the dynamics of internal fluids at a depth of 800 meters.
Video on twitter: https://twitter.com/i/status/1150380997898330112
The volcanic technical alert remains orange.
Sources: Sernageomin / Ovdas
In Kamchatka, the activity has been going on for weeks in Sheveluch and Karymsky, unfortunately not commented by the KVERT, while the VAAC Tokyo is issuing ash dispersion notices and the images of the Sentinel 2 satellite are showing hot spots.
In Sheveluch, hot spots mark the summit of the volcano, corresponding to the continuous growth of the dome, and the phenomenon of construction - destruction that is accompanied by sporadic emissions of ash and / or degassing.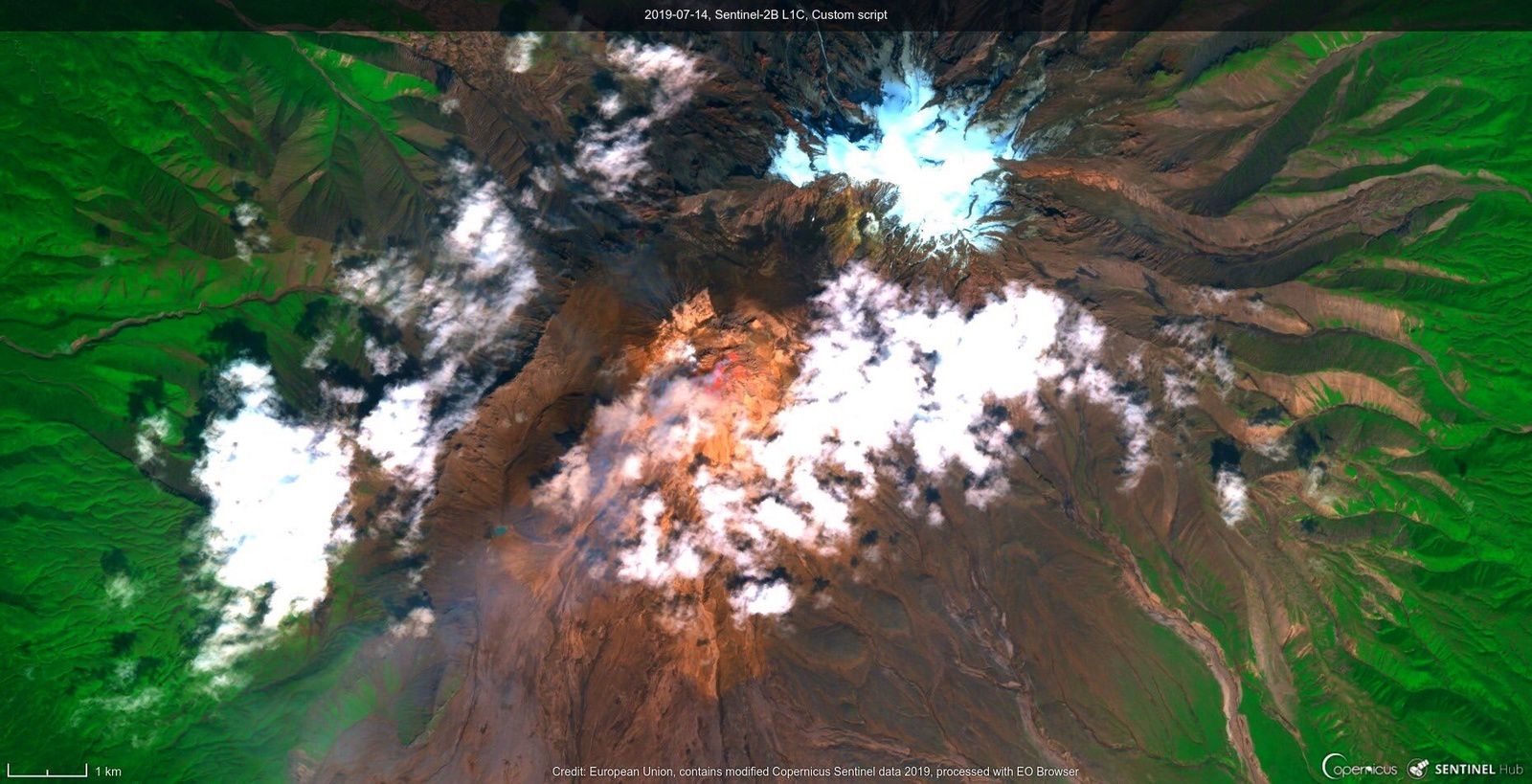 Sheveluch - image Sentinel 2B L1C of 14.07.2019 - hot spots at the top and degassing - Doc. Copernicus - one click to enlarge
In Karymsky, the eruptive activity is manifested by ash explosions between 2,000 and 6,000 m. asl. drifting according to the prevailing winds.
Sources: VAAC Tokyo & Sentinel 2
On the island of Java, the activity of Merapi remained intense during the day of July 14, 2019.
The PVMBG provides records of 4 earthquakes related to pyroclastic flows, 36 eruption earthquakes, one blast earthquake, three low frequency earthquakes, four hybrid earthquakes and three distant tectonic earthquakes.
The activity level remains at 2 / waspada.
Sources: PVMBG / BPPTKG, Merapi News & Oystein Lund Andersen
News from Raikoke, in the Kuril archipelago, after the 22 June 2019 eruption by Chris Burkard:
On July 13, her team arrived in front of an island completely changed: completely green and lined with cliffs before the explosive eruption, it became ash-colored, with zones of beaches, from where steam escapes from the layer of ashes and burns the sole of the shoes.
Numerous pelagic birds are found on these beaches, and the colony of sea lions destroyed, leaving only a few stubborn males.
Source: Chris Burkard and his team, via Shérine France