Publié le par Bernard Duyck
Stromboli shows a high explosive activity, mainly in central / southwest and northeast craters, with ash-rich explosions and ejection of centimeter sized projectiles.
An active overflow of lava marks the upper area of ​​the Sciara del Fuoco, visible on July 30 at 12:49 local / 10:49 UTC on the thermal camera on the northern edge of the Sciara at 400 m. altitude, and from the ROC camera at 11:52.
The parameters are consistent with the explosive and effusive activity: oscillations of the tremor at high values, an average of 28 VLP earthquakes / hour, thermal anomalies between 202 MW and 49 MW, tendency of the flow of sulfur dioxide to the increase /
Sources: INGV and LGS
In Colombia, continuous volcanic tremor is recorded in Nevado del Ruiz, associated with gas emissions and minor ash emissions, visible on the different webcams; Ashes are dispersed to the northwest.
The level of activity remains at Amarillo III / behavioral change of volcanic activity.
Source: Servicio Geologico Columbiano
In Indonesia,
At Anak Krakatau, an eruption accompanied by an ash plume was observed on July 30 at 7:25 local / 14:25 UTC. His imprint lasted 72 seconds.
The activity level remains at 2 / waspada, with a 2 km radius prohibited area around the crater and an orange VONA.
In Karangetang, night glow and thermal signals reported by Mirova (335 MW July 29), as well as an increase in earthquakes related to block avalanches (71 earthquakes on July 29 and 109 earthquakes on July 30 ) show increased eruptive activity.
Testimonials from local guides confirm this activity.
The level of activity remains at 3 / siaga since November 25, 2018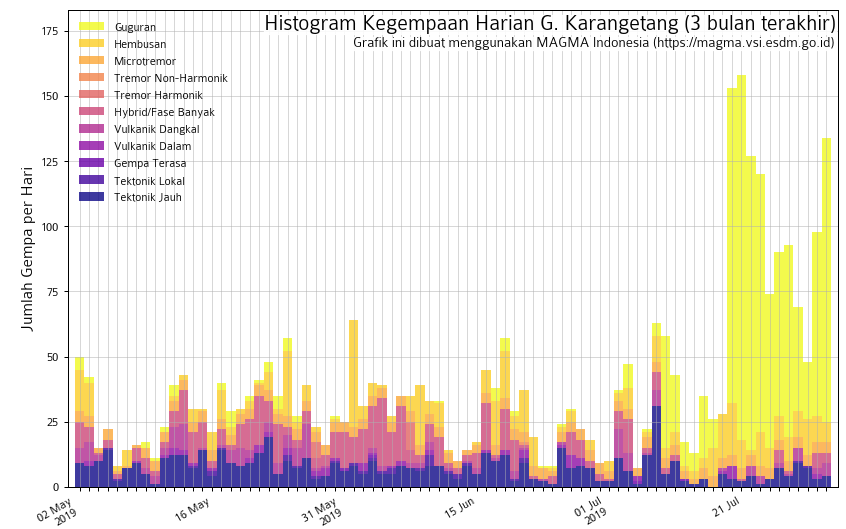 Karangetang - seismicity at 30.07.2019 - increase in the number of collapse earthquakes since 21.07 (in yellow, on the right of the document) - Doc. Magma Indonesia
At Merapi, on Java, the dome's growth is impressive, and marked by regular collapses reaching 800 meters in Kali Gendol on 30.07.2019.
The activity level remains at 2 / waspada, with a prohibited area of ​​3 km radius.
Sources: PVMBG - BPPTKG, Sentinel 2, Mirova, VAAC Darwin.