Publié le par Bernard Duyck
From 8 pm local time on July 8, 2019, an overflow of lava from the south-west crater of Stromboli generated a lava flow of up to 500 m along the Sciara del Fuoco. The overflow is also confirmed by the analysis of the images of the thermal camera of Punta Dei Corvi, restored after the paroxysmal explosion of July 3
A thermal anomaly of 125 MW recorded at 20:50 UTC on 08.07, and 211 MW at 01h UTC, by Mirova
This heat flux value is in agreement with the current lava overflow, indicating an effusion rate of about 0.5 mc /s (LGS - 08.07.2019)
Sources: LGS & Mirova
http://lgs.geo.unifi.it/index.php/blog/trabocco-lavico-stromboli-08-luglio-2019
On Java, the VAAC Darwin informs an emission of ash by the Semeru, reaching 4,000 meters of altitude (flight level 130), moving on 15 km in direction north-west this 8 of July; the ashes quickly dispersed, but a hot spot remains, and emissions remain possible.
The aviation code has changed to orange.
Source: VAAC Darwin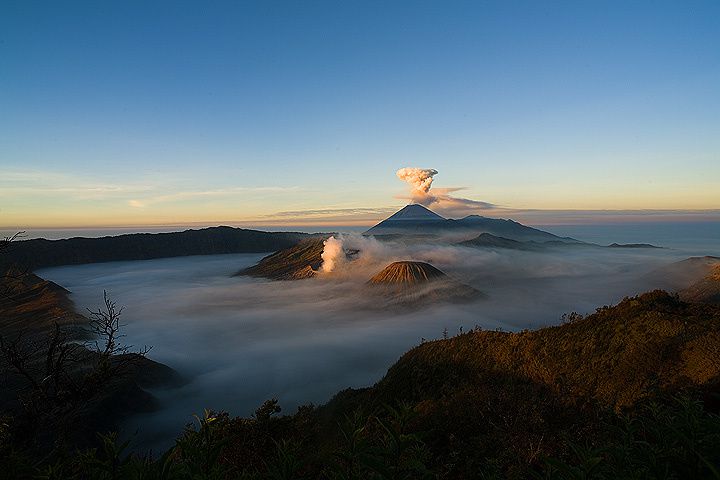 The Semeru, in the background, seen from the Tengger / Bromo caldera - as the guides say, the Semeru "coughs often" - archive photo unreferenced author
Following heavy rains in the region, a moderate to strong lahar was recorded by the STG8 seismic station of Santiaguito in Rio San Isidro on 7 July at about 23:00; its measurements are a height of 2 meters, width of 20-25 m, it carries blocks with a diameter of 2 to 3 meters, branches and tree trunks and sediments.
Source: Insivumeh
The bad weather prevailing in Central America makes any observation very difficult of the volcanoes of Costa Rica by the webcams.
The RSN teams made some photos of the Turrilaba in the field during a seismograph network maintenance day. We can observe a degassing mainly composed of water vapor at the active crater, and the presence of two small lakes in the summit zone.
Sources: Ovsicori & RSN