Publié le par Bernard Duyck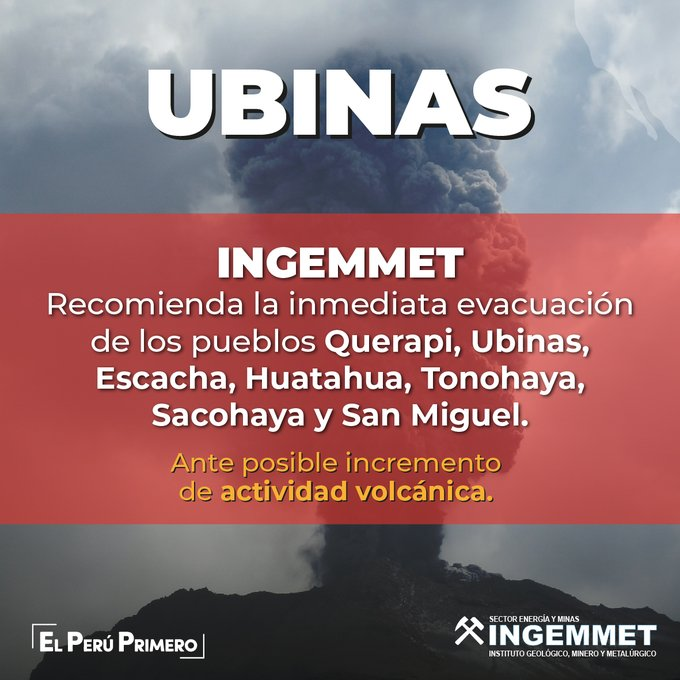 The Peruvian authorities updated the information on Ubinas' activity on July 23rd at 8pm.
Anomalies in the various geophysical parameters are associated with the rise of magma and the increase of seismic energy, LP and hybride, similar to the scenario that preceded the 22 July explosion at 23:25.
Due to rainfall in the volcano area, lahars are possible.
The Ingemmet recommends to the populations of the villages of Querapi, Ubinas, Escacha, Huatahua, Tonohaya, Sacohaya, and San Miguel, to evacuate immediately, before a possible increase of the volcanic activity.
Sources: IGP, Ingemmet, Instituti IICSV
In Chile, Sernageomin / OVDAS reports changes in the behavior of volcanic activity in Villarica.
At the seismicity level, the LP earthquakes ceased, with an evolution towards a discrete tremor, at the rate of 2 episodes per hour.
The webcams record a major incandescence, evidence of a more intense surface activity attributed to the presence of the lava lake closer to the surface and whose dynamics is fluctuating, which generates small Strombolian explosions reaching a diameter of 200 meters, accompanied by ballistic projections around the crater and on the upper flanks.
The level of the volcanic technical alert remains green.
Source: Sernageomin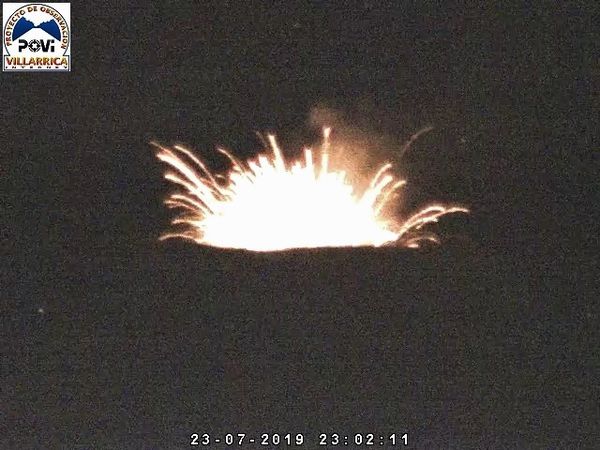 Villarica - intensification of activity in the evening of 23.07.2019, respectively at 19:14, 19:17 and 23:02 - Photos POVI - one click to enlarge
In the past 24 hours, Popocatepetl volcano monitoring systems have identified 291 exhalations, accompanied by water vapor, gas and light amounts of ash, as well as 23 additional low ash explosions. Also recorded were 90 minutes of tremor and a volcanic earthquake with a magnitude of 1.5.
In the night, incandescence marks the crater. Around 4:00 pm on July 23rd, the crater is visible and there is a continuous emission of steam, volcanic gases and some amounts of ash that the wind disperses to the west - southwest direction.
Alert level remains at amarillo fase 2
Source: Cenapred