Publié le par Bernard Duyck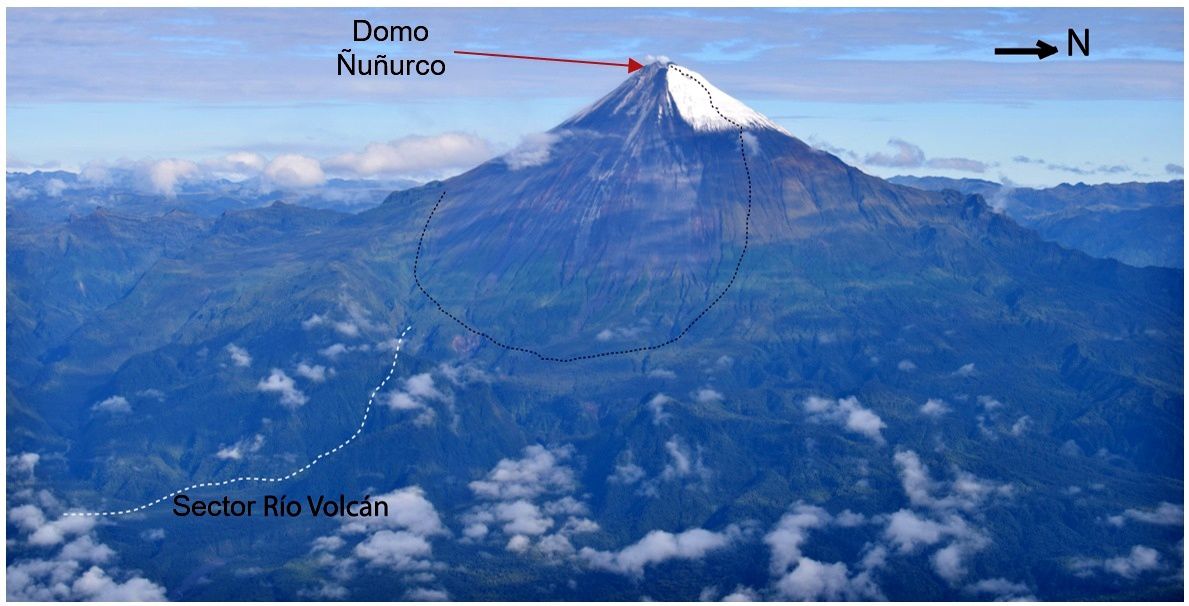 Sangay flank E and SE - zone of pyroclastic deposits of dome Ñuñurco in black dashed - sector of Volcán rio is white dotted - Photo M. Almeida / IGEPN 17.05.2019
The Sangay volcano in Ecuador is continuing its new eruptive phase, which began on May 7th with the publication of this report (57 days). The activity is highlighted from two eruptive centers, the central crater and the Ñuñurcu dome (southeast). The central crater has explosive activity and produces small ash clouds less than 2 km above the crater, facing west and southwest. He throws blocks and deposits pyroclastic materials on the flanks. The Ñuñurcu dome exhibits effusive activity associated with the emission of lava flows which are then deposited along the south-east flank. Collapses of the front of these flows also occur during their progression, causing the fall of blocks and small pyroclastic flows (hot avalanches of gases, ashes and blocks).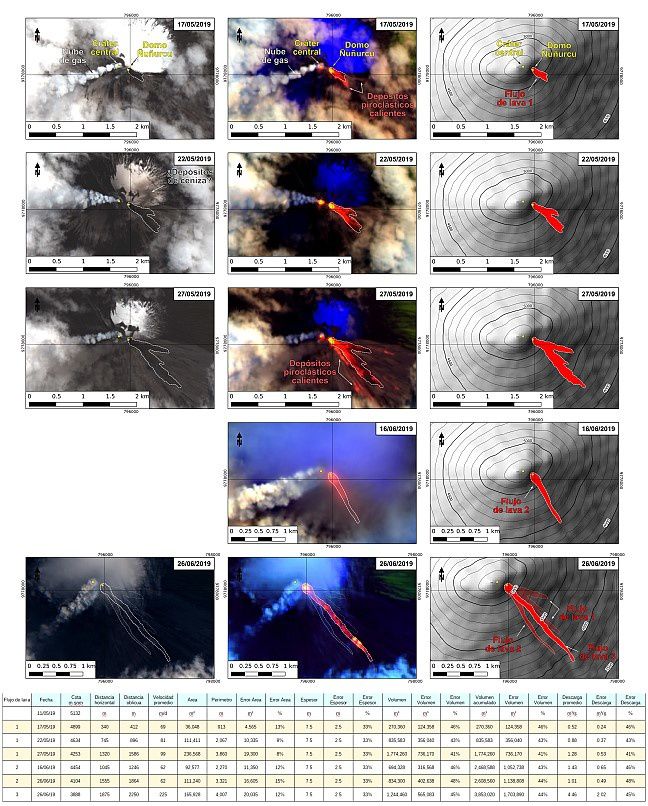 Sangay - evolution of the Ñuñurcu dome flows between May 17, 2019 and June 26, 2019 (based on Sentinel 2 band 12,11,4 images and 1: 50000 maps / 30 m digital terrain model - Benjamin Bernard / IGEPN
At present, this behavior of the volcano is maintained, however, it is important to indicate that the volcanic materials coming from this activity would eventually reach the upper tributaries of the Volcán rio and that because of the heavy rains of the last days, these materials are mobilized downstream, being incorporated into Rio Upano, which would explain the presence of volcanic sediments in it, as was reported the previous days, and which worries the residents.
Source : IGEPN
In recent months, earthquake and soil deformation rates at the Mauna Loa Volcano have exceeded long-term background levels. An eruption is not imminent and current rates are not alarming.
During the past week, about 95 low-magnitude earthquakes (below M2.0) occurred under the summit and flanks of the volcano, compared to about 115 earthquakes the previous week. Most earthquakes occurred at depths less than 5 km. Further deeper seismicity at depths less than 10 km (6 miles) was mainly scattered beneath the southwestern flank of the volcano.
Global Positioning System (GPS) and Interferometric Interference Synthesis (InSAR) measurements indicate continued peak inflation, suggesting a new recharge of the shallow magma storage system of the volcano. This rate of inflation has not changed since the raising of the alert level on 2 July 2019 and remains consistent with the rise in inflation rates following the October 2018 earthquake swarm.


No significant changes in sulfur cone volcanic gas emissions from the Southwest Rift Zone were measured. The temperatures of fumaroles at the sulfur cone and at the summit remain unchanged.
The Mauna Loa volcano is not erupting. The slightly elevated deformation and seismicity rates have not changed significantly over the past week. The current volcanic warning level is ADVISORY and the current aviation color code is YELLOW.
Source: HVO