Publié le par Bernard Duyck
The National Institute of Geophysics and Volcanology, Etnéan Observatory, reports that at 10.33 UTC hours on 6 July, there is a sudden increase in the average amplitude of the volcanic tremor. INGV staff observed a Strombolian activity in the field at the new crater southeast of Etna, with products falling down the sides of the crater.
Source: INGV - Volcanic Activity Press Release 2019-07-06 10:43:05 (UTC)
After the paroxysm that hit Stromboli this week, all measuring stations affected by pyroclastic flows and fires are again operational, following the intervention of specialists in charge.
A Sentinel 2 image shows that much of the vegetation was burned or covered with ash, especially towards Ginostra; the lava flow, during cooling in the Sciara del Fuoco, is distinct.
Sources: LGS and Sentinel 2
Stromboli, the sismo-acoustic SCI station (Sciara) before and after its recovery - LGS photos 05.07.2019 - a click to enlarge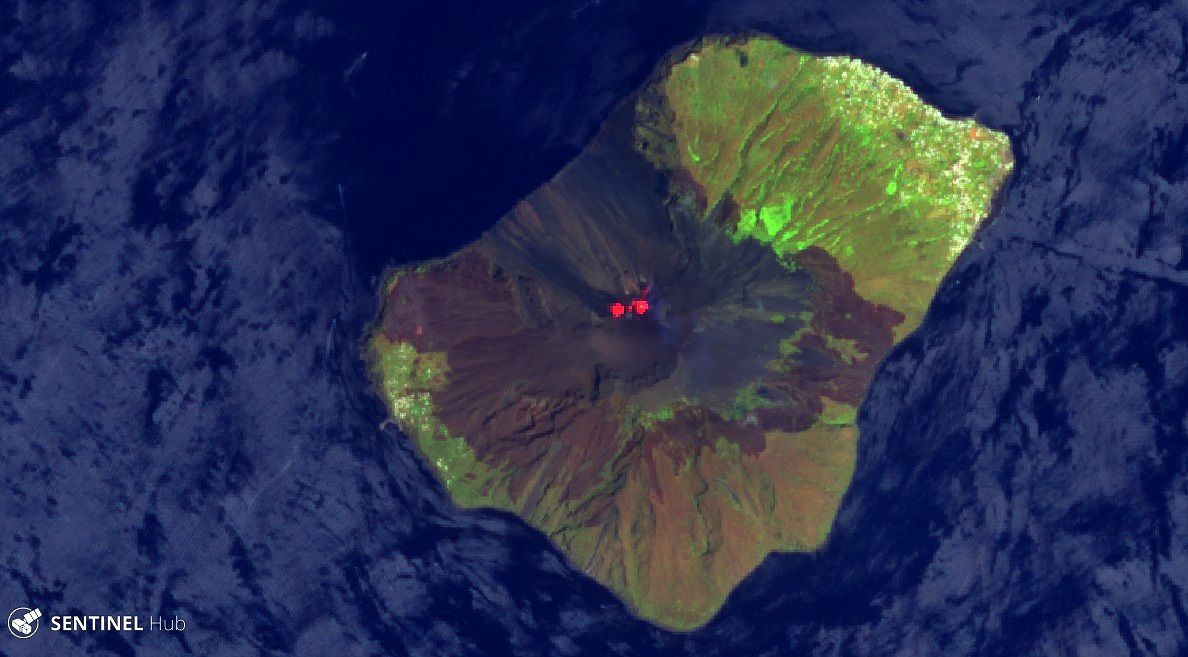 Stromboli - extension of burned or ash-covered areas, particularly in the direction of Giostra (left of the image) and cooling lava flow in the Sciara del Fuoco - Sentinel-2 image bands 11,8,2 agriculture / 07.07. 2019
In the last 24 hours, 22 low-level exhalations have been reported at Popocatépetl, accompanied by low ash emissions.
In addition, three explosions occurred : two, of low intensity, were recorded at 4:14 and 7:58, producing columns of ash in small quantities and whose height does not exceed 1 km. The dispersion, in general terms, has been directed to the western sector; the activity continued with the emission of a plume of gas and steam.
At 23 h 27, a third, moderate explosion, projected incandescent fragments on the east flank of the volcano over a distance of about 1500 m. The column of ash generated reached a height of 1 km above the crater, moving later to the west.
Similarly, 70 minutes of low-level tremor were recorded.
The volcanic alert remains at amarillo fase 2.
Source : Cenapred
The Copahue stations in Chile recorded a volcano-tectonic earthquake associated with rock fracturing of local magnitude 3.4 and a depth of 3.4 km on July 7 at 03:03 local time, followed by five aftershocks of lower magnitude.
Volcanic technical alert level remains in Amarillo.
Source: Sernageomin
In the Philippines, although the Taal warning remains at level 1 - non-imminent hazardous eruption - there is a growing number of volcanic earthquakes: 21 reported on 5 July, 13 on 6 July, 19 on 7 July, and 26 on 8 July.
The temperature measured in the eastern part of the main crater lake did not move, at 34 ° C; only small changes in pH and levels are noticed. The building still shows a slight inflation.
Source: Phivolcs