Publié le par Bernard Duyck
The activity of Santiaguito, reported up since June 28, 2019 by Insivumeh, is maintained at the rate of 40-45 explosions a day, moderate, and accompanied by plumes of gas and ash at 3,800 meters asl. Strong avalanches generate small pyroclastic flows on the east and southeast flanks.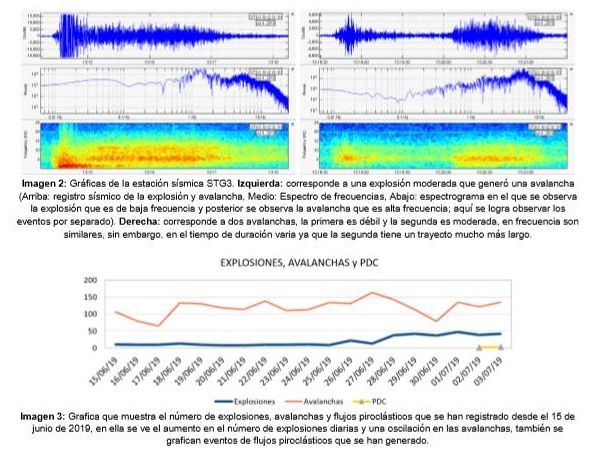 Santiaguito - Image 2: Data from the seismic station STG3 - on the left, for a moderate explosion with avalanche - on the right, two avalanches, first weak, the other moderate and longer in time. Image 3: Number of explosions, avalanches and pyroclastic flows between June 15 and July 3, 2019. Doc. Insivumeh report of 04,07,2019
It is inadvisable to stay close to the Caliente dome, and to take into account the composition of the Santiaguito magma, characterized by a high silica content and a more explosive activity than those of the Fuego and Pacaya volcanoes. Over the 97 years of Santiaguito's existence, its activity has been characterized by moderate to strong explosions, accompanied by ash plumes of up to 5,000 meters above the crater, and pyroclastic flows following the partial collapse. the dome can travel more than 10 km.
Sources: Insivumeh & Conred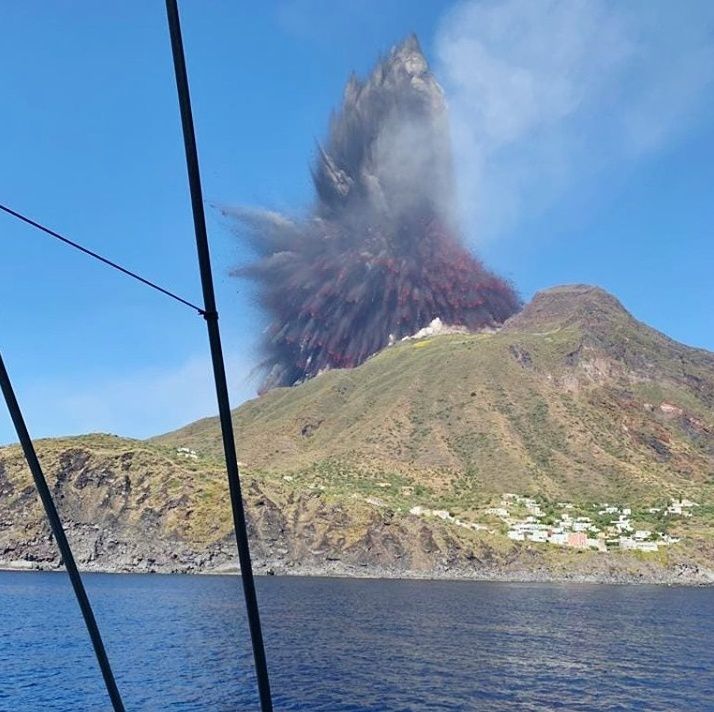 Stromboli - beginning of the paroxysm of 03.07.2019 - photo Francisco Rinauro via Facebook different sources
The beginning of the paroxysm, photographed from the sea by Fabrizio Schiano or Francesco Rinauro (according to sources disseminated by social networks), shows an eruptive plume in two simultaneous phases:
- incandescent fragments in all directions projected by the huge gas bubble,
- and the vertical ejection of gas and ashes, apparently through the bubble, and responsible for the great plume, which, according to the latest data, rose to 4 km above the summit area.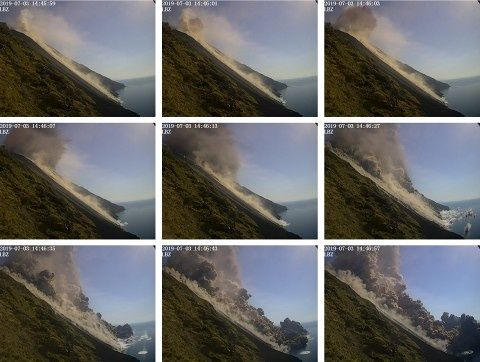 Stromboli - The sequence of the collapse of part of the platform on 03.07.2019 - Doc. telecamera visibile of Punta Labronzo - LGS
The sequence of the collapse of a part of the platform, which generated pyroclastic flows in the Schiara del Fuoco and their propagation over 400-800 meters at sea, was put online by L.G.S. / Laboratorio Geofisica Sperimentale.
Infrared images, made by the coast guards on the one hand, and the Aeronautica Militare, also document these flows.
L.G.S. further clarifies that, following the paroxistic explosion, the explosive activity of the summit craters has increased in intensity, with a doubled infrasonic pressure compared to ordinary activity, and the ejection of fine ballistic material at 300 meters height , in the evening of July 3rd.
The sliding of hot materials from the crater terrace in the Schiara del Fuoco no longer reaches the sea level.
The level of activity in the morning of July 7 seems to remain quite high.
Sources: INGV, L.G.S., Guardia Costiera, Aeronautica Militare, and the photographers mentioned.