Publié le par Bernard Duyck
On Java, the Gunung Slamet, now on alert level 2, with closure of all hiking routes, still has a high seismic activity, with earthquakes related to gas emissions and continuous tremor of low amplitude (max 1mm )
On the surface, there is a slight white plume 5 meters high above the edge of the crater. The VONA is Yellow.
Source: PVMBG & Magma Indonesia
At Tangkuban Parahu, after its eruptions of July 26, 2019 at 15:48, followed on August 1 at 20:46 by a second, accompanied by a plume at 180 meters above the bottom of the crater, then August 2, by eruptions at 0:43 and 4:56 WIB, the volcano did not calm down
On August 8 and 9, a white to gray plume 80 to 100 meters above the bottom of the crater is observed.
On the picture of the PVMBG of August 10 at 9:59 am WIB, there is a high white plume, and dark gray "cypressoids" jets, suggesting a phreatic-type activity.
The level of activity remains at 2, with a forbidden zone of 1.5 km radius around the active crater. The nature park is recommended to close temporarily at a greater safety distance.
Source: PVMBG
Tangkuban Parahu - white plume of steam and gas 07.08.2019 / 7h41 - photo BPBD
In Kilauea, the pond in the bottom of the Halema'uma'u crater has turquoise to greyish colors, indicating the presence of dissolved sulfur and metals from magmatic gases or rock particles in the crater. The thermal images show surface temperatures of about 70 ° C, and the laser measurements confirm an increase in level and a widening of the pond during the week.
Direct sampling (difficult to operate) and chemical analyzes should provide information on the origin of this water:
- accumulation of rainwater,
- surface expression of a deeper layer of groundwater,
- or water condensation water vapor released by the magma.
Depending on its origin, this water may or may not increase the potential for explosive activity ... however, other parameters do not show signs of imminent instability at the top of Kilauea.
Source: HVO
News from Lengai, Tanzania:
Emma Liu, a volcanologist and drone observation specialist, is currently investigating the structural stability of the Ol Doinyo Lengai peak cone; this one measured more than 300 meters wide and 100 meters deep.
Several flows, of colors and therefore different emission dates, are visible on the current floor of the crater.
Source: Emma Liu / Twitter / ES_UCL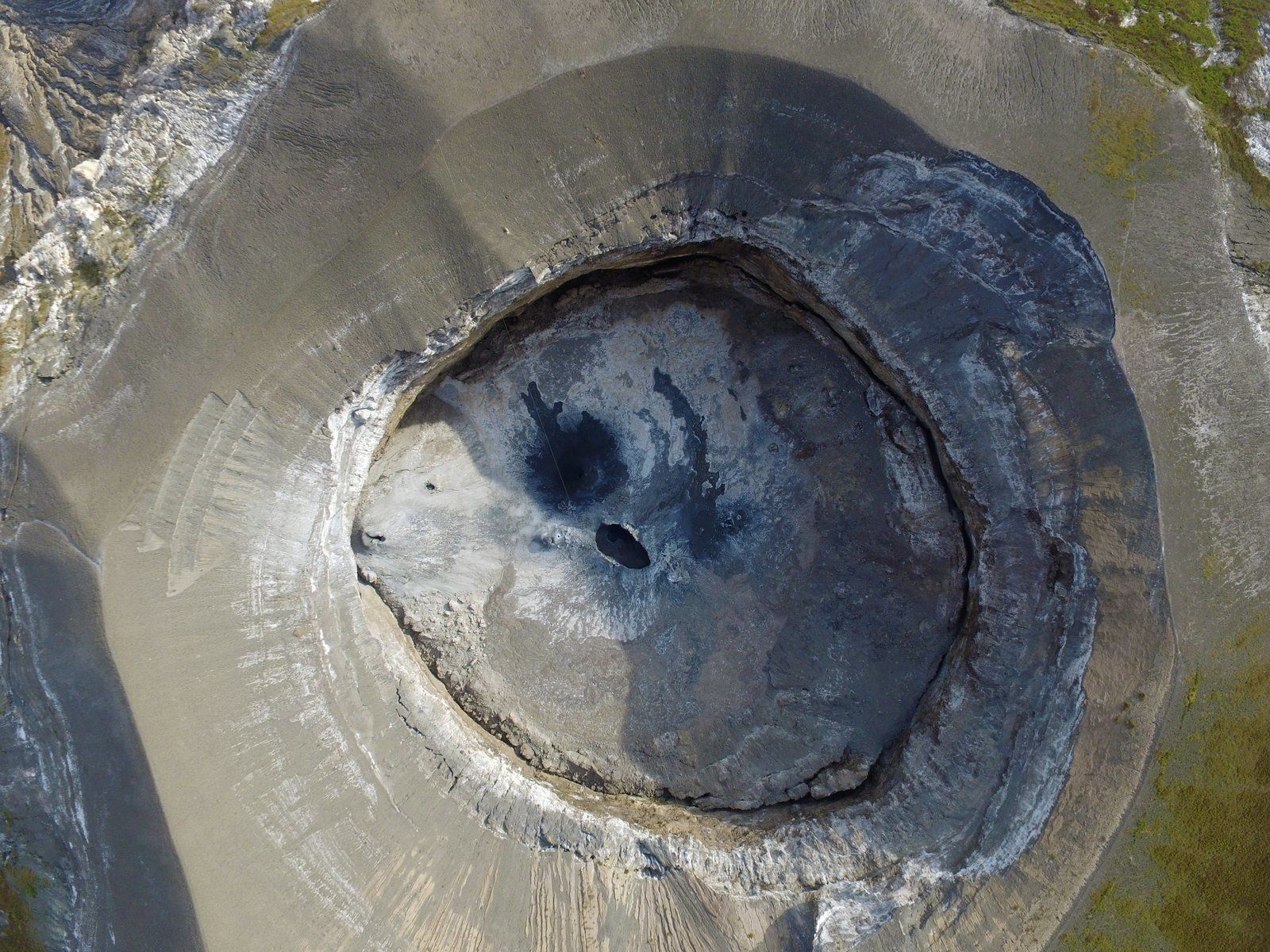 Ol Doinyo Lengai - zenith view of the active crater - photo Emma Liu posted on 09.08.2019 on Twitter