Publié le par Bernard Duyck
After a few weeks of calm, the Ubinas was the site of emission of ashes on August 26 at 10:30, following a phreatic activity; the plume reached 1,600 meters above the crater, then dispersed to a north and northwest sector (San Juan de Tarucani district).
The emission of ashes was followed by the release of steam.
Source: I.G.Peru
In Krakatau, after the intense eruptive activity of August 22nd and 24th, the "Son of Krakatau" again manifested on the 25th by two earthquakes of eruption, two breath earthquakes and this 26 of August, by 3 earthquakes of breath. During the last two days, continuous tremor was recorded, with a dominant at 20 mm.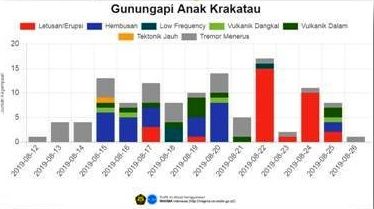 The activity level remains at 2 / waspada, with a forbidden area of ​​2 km radius around the crater.
Sources: PVMBG & Sentinel-2
In Karangetang, the PVMBG reports lava flows over 1.500 meters in Kali Sense and Kali Nanitu, and 2.000 meters in Kali Pangi; flushes of burning ash alternate with low vapor plumes.
Seventeen families were evacuated from the village of Winangun Lindongan and relocated temporarily to Kinali, in Siau NW, following this activity.
The PVMBG still sets the level of Mount Karangetang activity at level III / standby. People and visitors or tourists are advised not to approach, climb or do activities in the 2.5 km danger zone from the peaks of Kawah Dua (North crater) and the main crater (South) . The community was also urged to stay away from the Kawah Dua sectoral expansion zone northwest to north-west for a distance of four kilometers, the area between Kali Batuare and Saboang River.
Source: PVMBG & Medcom