Publié le par Bernard Duyck
The Piton de La Fournaise erupted yesterday around 16:30 ... but because of a very high cloud cover and rains, only a weak glow could be observed from the RN2, at the level of the lava flow of 2007, either at SSE in the Great Slopes. The weather does not look better on Monday. Patience, then!
Source: OVPF.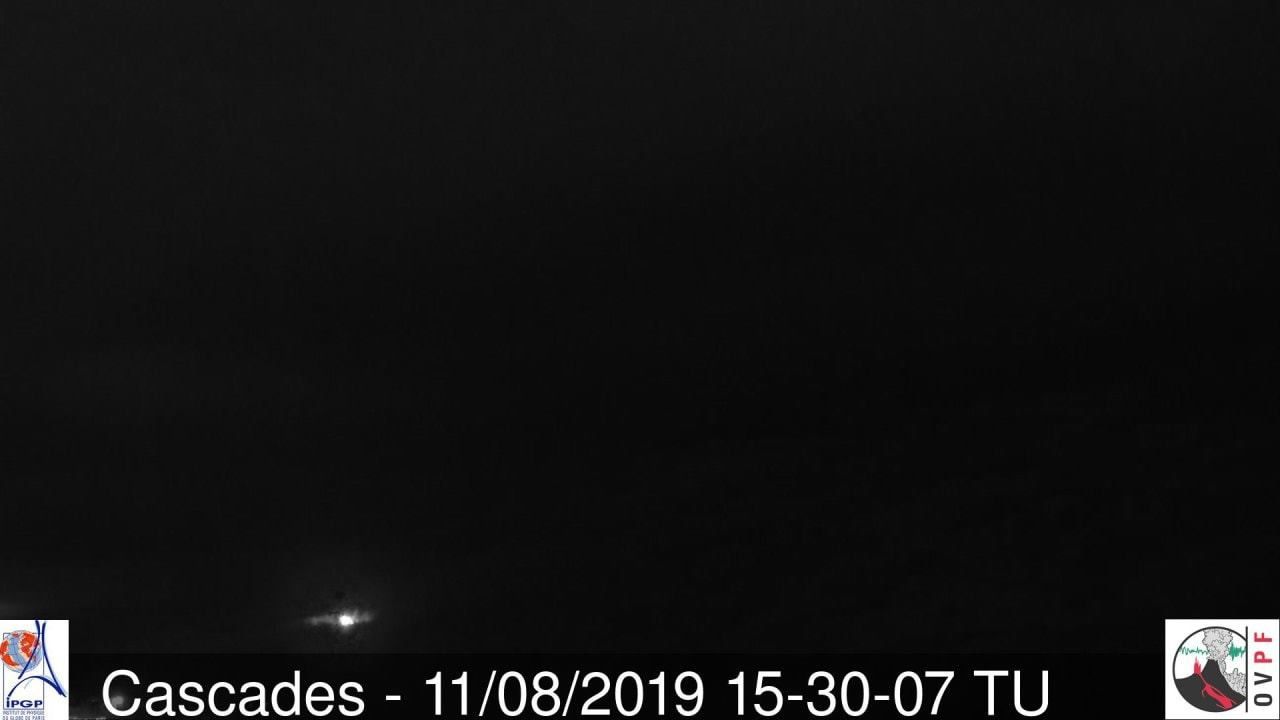 Piton de la Fournaise - faint glow of eruption on 11.08.2019 / 15:30 UT - on the camera Cascades / OVPF
Images of the summit of the Nevados de Chillan complex and the Nicanor crater were captured by a member of the Volcanologia Chile team, thanks to a drone piloted by Nicolas Luengo, by a situation outside the exclusion zone, currently in a radius 3 km around the crater in activity
The lava dome inside the Nicanor Crater shows obvious signs of destruction as a result of explosive activity, which has generated a ring / or crater of explosion around it. The ring would correspond to the upper limits of what was the dome before larger explosions like the one that happened on 04/08. During these explosions, there is a partial collapse of the dome which has emitted fragments towards the N-NE flank by pyroclastic flows.
These, when they fall on the snow / ice cover, form flows called "mixed avalanches", such as those documented on 04/08.
The magma continues to reach the surface and the gases it contains are constantly emitted into the atmosphere, escaping at high pressure, producing whitish eruptive columns.
Source: Volcanologia Chile / N.Luengo via Twitter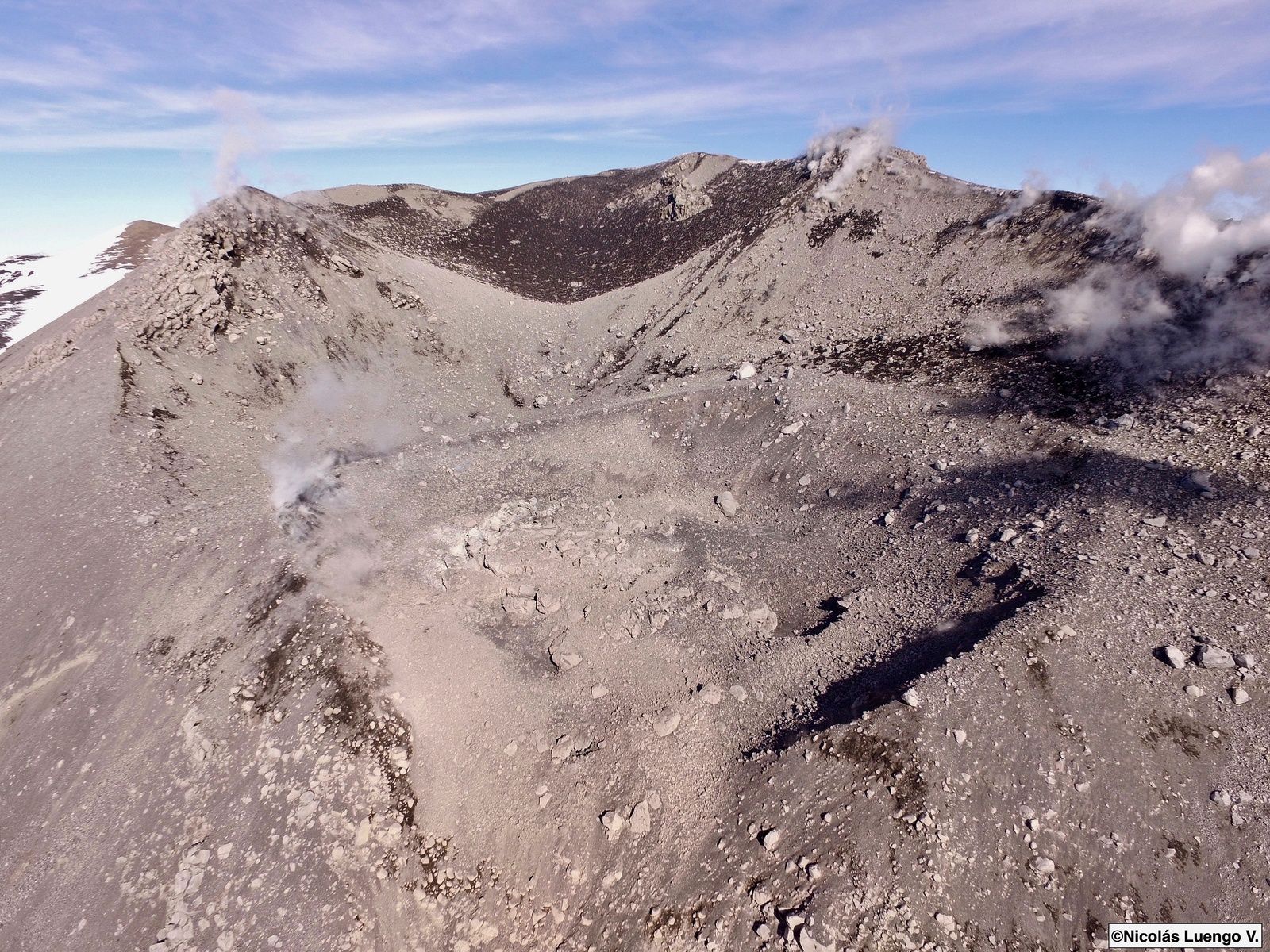 Nevados de Chillan - new appearance of the crater Nicanor and the upper flanks dotted with blocks - photos by drone of Nicolas Luengo / Volcanologia Chile 11.08.2019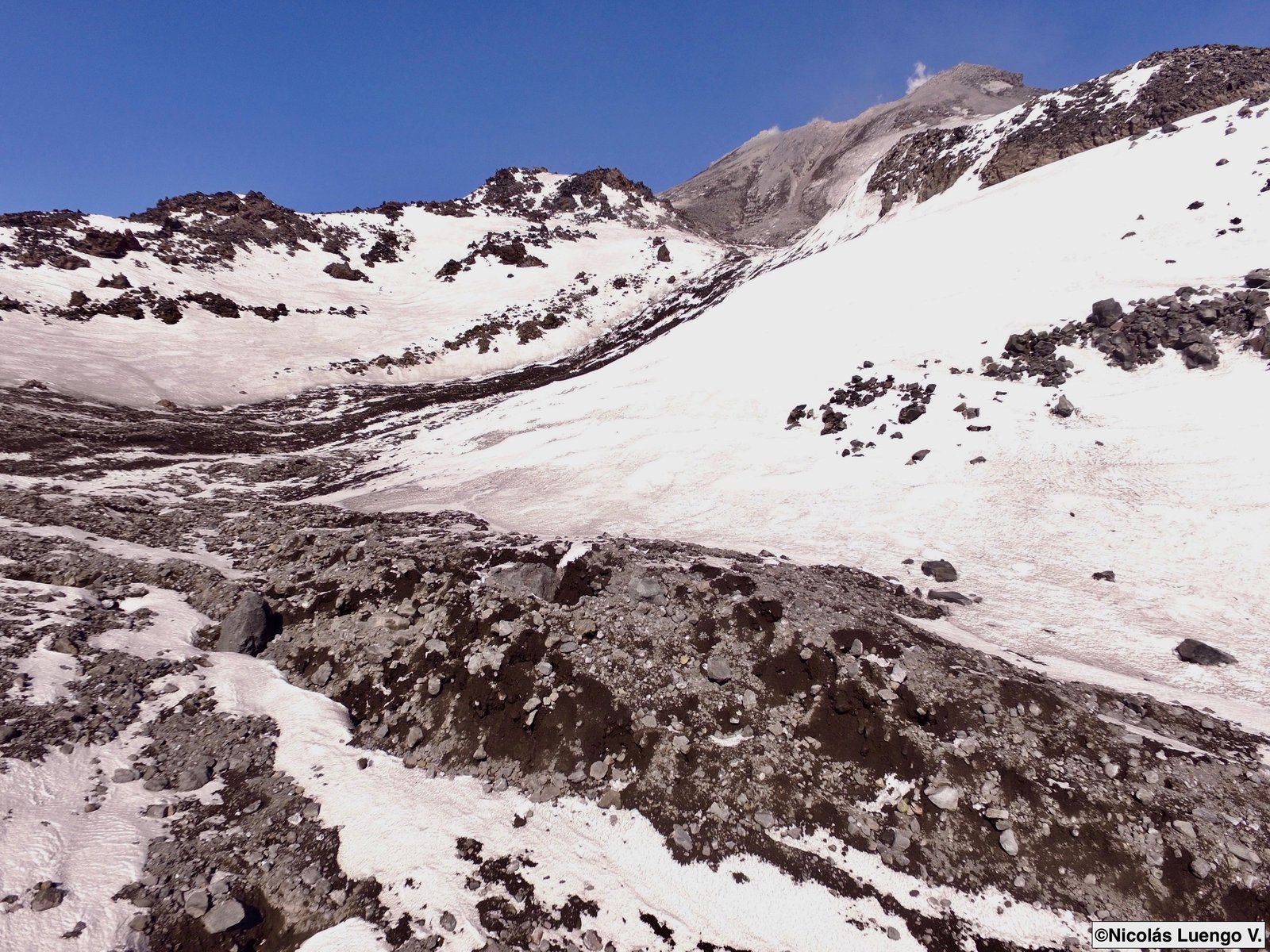 Nevados de Chillan - mixed avalanche - photos by drone of Nicolas Luengo / Volcanologia Chile 11.08.2019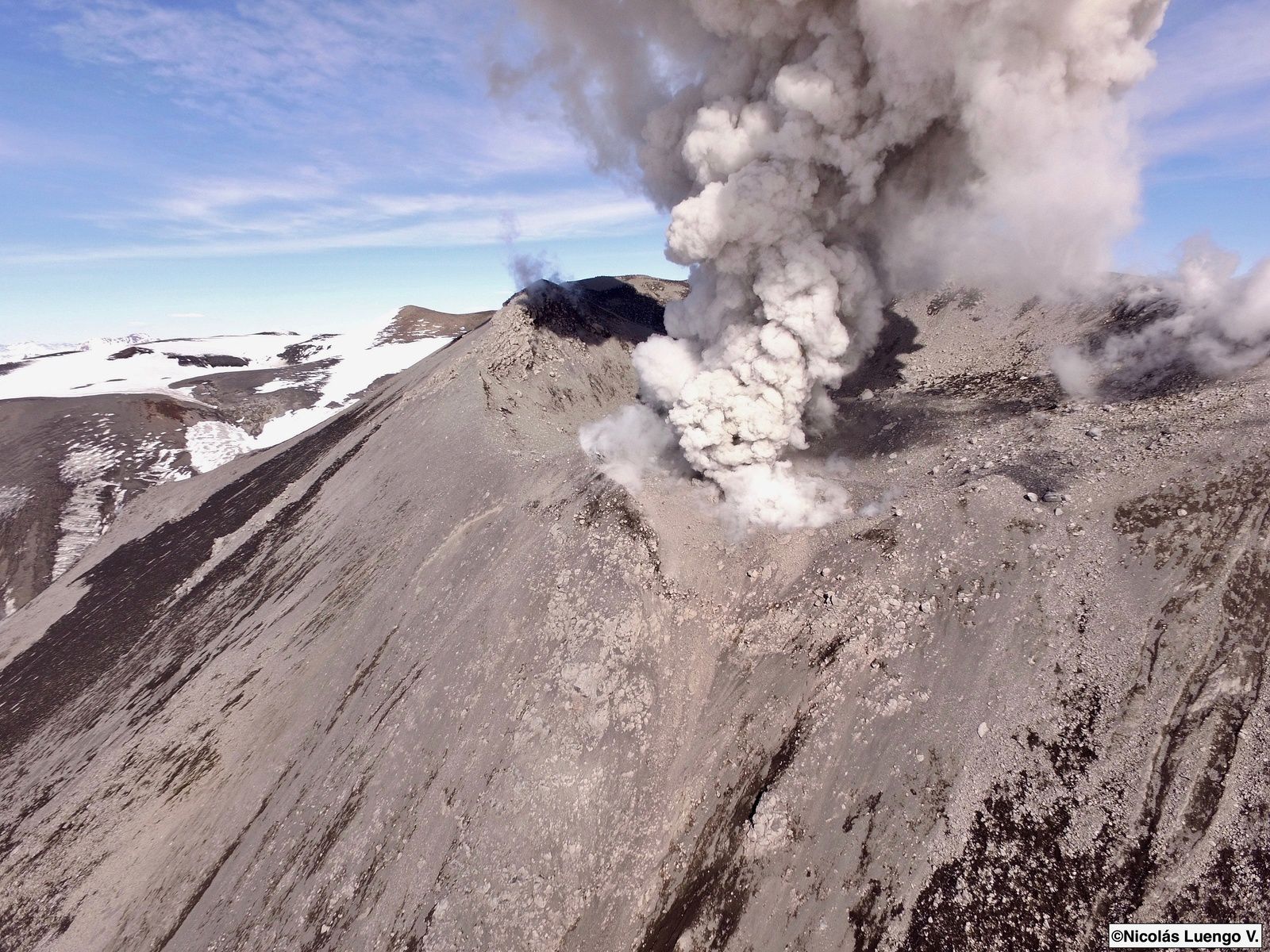 Nevados de Chillan - intense degassing - photos by drone of Nicolas Luengo / Volcanologia Chile 11.08.2019
Some recent images of Anak Krakatau, kindly shared by our friend Jean-Michel Mestdagh, on the volcano on August 10, with his wife and Igan S. Sutawijaya (former PVMBG).
He was able to make an incursion on the beach around the lake, colored from brown to black, with parts covered with sulfur. The lake, with greyish tints, had convective cells and an aggressive degassing; it is surrounded by fine ash slopes and gullies.
The activity of the gases under the sea level remains present, considering the discoloration of the waters near the shore.
Sources: J-M. Mesdagh & Sentinel 2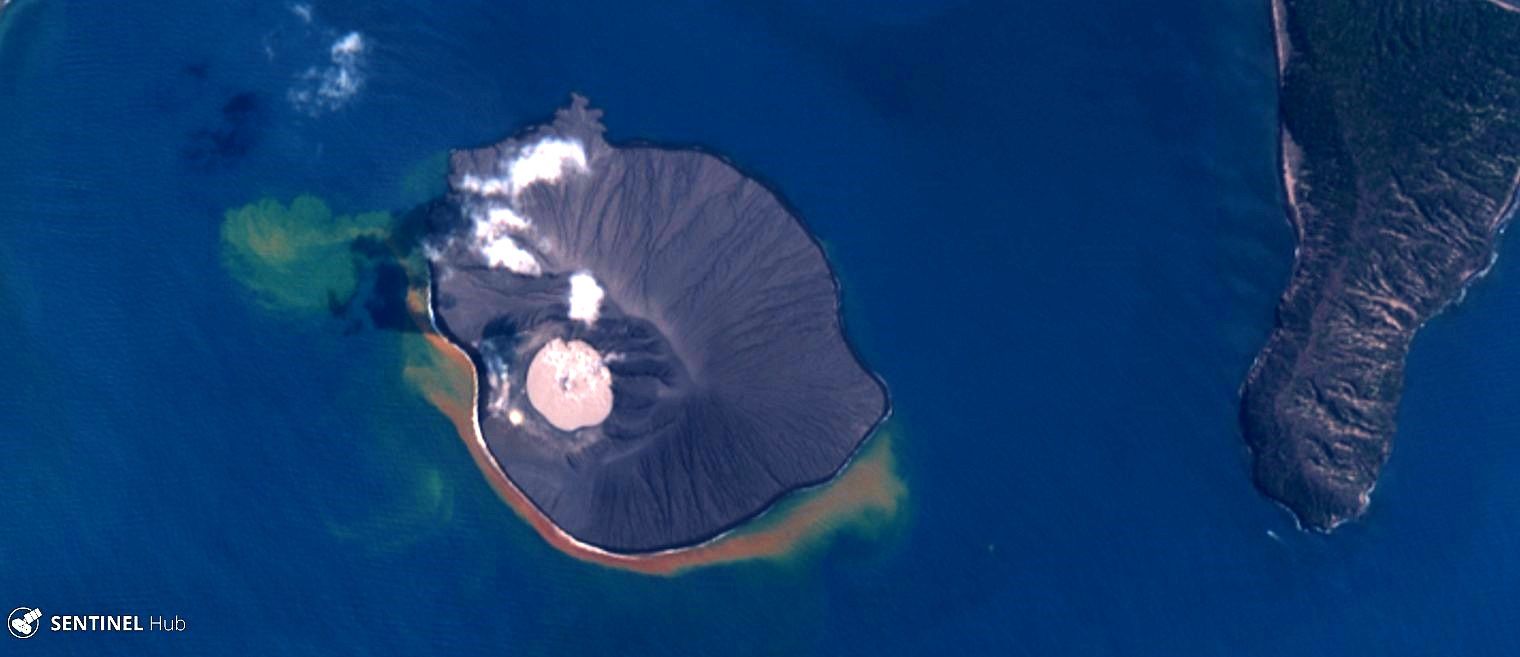 Anak Krakatau - discoloration of costal waters and convection cells on the lake - image Sentinel-2 L1C nat. colors of 11.08.2019 - one click to enlarge
In central Java, the Gunung Merapi, in activity level 2, continues in the usual way, characterized yesterday by a plume at about twenty meters max. above the summit, and a fall of incandescent blocks about 500-800 meters towards Kali Gendol.
Source: PVMBG